Innovators sought for business accelerator programme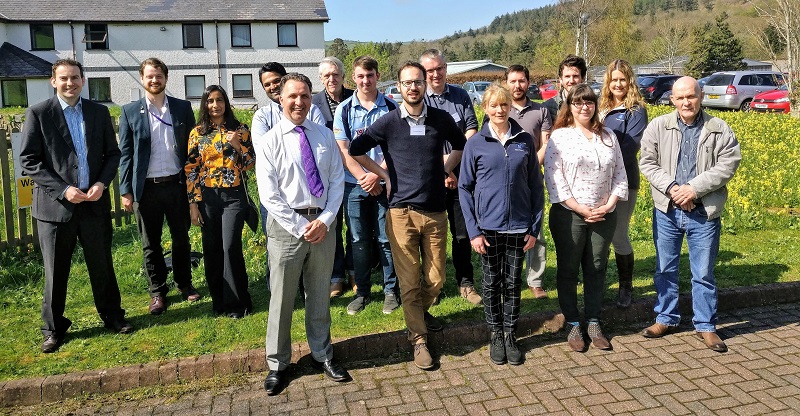 Members of the BioAccelerate 2018 cohort.
Aberystwyth Innovation and Enterprise Campus has teamed up with financiers Nurture Ventures to offer an exciting opportunity for ambitious innovators based in Wales.
Launched in 2018, BioAccelerate is a business accelerator helping to commercialise innovation in the biosciences, healthcare, agri-tech and food and drink sectors.
Now in its second year, the scheme is seeking up to twelve budding innovators for its 2019 cohort.
The programme will help participants develop their innovations into market-ready propositions and will culminate in an opportunity to pitch to a panel of business leaders and industry experts.
BioAccelerate 2019's first workshop kicks off on Thursday 2 May 2019.
The 8-week programme will blend intensive workshops with hands-on mentoring and support from the programme's sponsors enables BioAccelerate to be offered free of charge to selected participants.
Topics will include investment finance, R&D tax credits, intellectual property law, and defining a value proposition.
Each workshop will also feature successful entrepreneurs sharing their stories and offering invaluable advice to participants.
Applications for BioAccelerate 2019 will be open between Monday 4 and Thursday 28 March, when a selection panel will evaluate the Expressions of Interest with the potential for the highest commercial and social impact.
Participants who complete the BioAccelerate programme can expect to develop their own business model canvas, financial projections, a defined market opportunity, a prospective company valuation and a pitch deck.
Dr Rhian Hayward MBE, Chief Executive Officer of Aberystwyth Innovation and Enterprise Campus said: "I am delighted that we can offer BioAccelerate again this year to early stage companies and entrepreneurs. Our 2018 entrepreneurs have gone from strength to strength since last year's programme and we are looking forward to welcoming another group. The business community engaging with our experts continues to grow rapidly and the Aberystwyth Innovation and Enterprise Campus is now well underway in developing networks and connections through BioAccelerate and other initiatives towards a larger cluster."
The impact of last year's BioAccelerate is clear to see, with many participants having made stark progress on their businesses since benefitting from the tailored support programme.
Four of the previous cohort have since incorporated their companies at the Aberystwyth Innovation and Enterprise Campus, and continue to access the business support offered.
Jeff Bartlett, founder and director of Nurture Ventures, said: "When we launched BioAccelerate in 2018 we aimed to support our indigenous Welsh innovators with practical hands-on advice, mentoring and learning all focused towards investment readiness. The success of last year's programme resulted in fully-funded businesses being launched and others continuing to develop their ideas to market readiness. For 2019 we've put together an intensive 8 week, interactive programme culminating in a pitch day allowing us to fast track the commercialisation of breakthrough ideas and help to create some standout Wales-based businesses."
The Aberystwyth Innovation and Enterprise Campus aims to help companies at all stages of development in Wales and beyond to realise their ambition and to grow, prosper and drive economic growth in the food and drink, biotechnology and agri-tech sectors.
The ambitious £40.5m development is funded by the European Regional Development Fund, through the Welsh Government; the Biotechnology and Biological Sciences Research Council (part of UKRI); and by Aberystwyth University.
Aberystwyth Innovation and Enterprise Campus (AberInnovation) | Innovation in the Heart of Wales
Aberystwyth Innovation and Enterprise Campus (AberInnovation) will provide world leading facilities and expertise for the agri-tech industry and the bioscience sector.
Set between the Cambrian Mountains and the Irish Sea, this £40.5M campus will provide a progressive environment to encourage business and academic collaboration to flourish.
AberInnovation will offer a range of high quality facilities to support innovation, enabling commercial enterprises to grow, prosper and drive economic growth in the food and drink, biotechnology and agri-tech sectors throughout Wales and beyond.
Nurture Ventures
Nurture Ventures help entrepreneurs, with innovative ideas, products a technologies, to produce investment ready market propositions and business plans.
Nurture Ventures work with start-up & early stage businesses seeking investment finance in the £100k to £1m range.
The focus is to create compelling Business Plans & "Pitch Decks" to help maximise your potential with investors. We can also identify & help connect you with active business angels, crowdfunding platforms, private equity & others.