Aberystwyth students set for New York film festival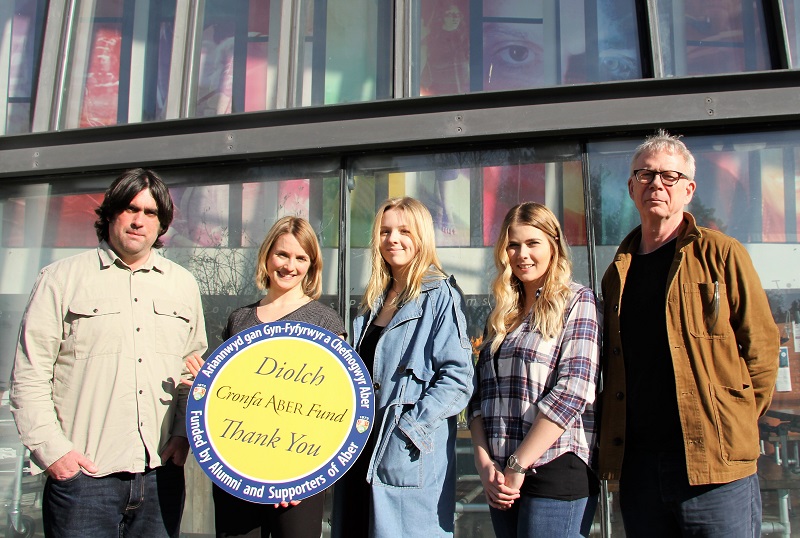 Left to right: Dr Greg Bevan, Lecturer in Film and Media Practice at Aberystwyth University; Hayley Goddard Individual Giving Officer at Aberystwyth University; undergraduate students Ola Tomkiewicz and Jenny Edwards; and Mr Simon Banham, Head of the Department of Theatre, Film and Television Studies.
Aberystwyth University students will rub shoulders with some of the biggest names in film and cinema when they attend one of the world's leading film festivals in April.
Jenny Edwards and Ola Tomkiewicz from the Department of Theatre, Film and Television Studies have won a four-day visit to New York's Tribeca Film Festival which takes place from 24 April – 5 May 2019.
Founded by Robert De Niro, Jane Rosenthal and Craig Hatkoff to revitalize downtown Manhattan following 9/11, the Tribeca Film Festival is now in its 18th year.
It brings together filmmakers, artists, innovators, and the global creative community in New York for what is described as a 'storytelling festival'.
Funded by contributions from Aberystwyth University alumni via the Aber Fund, Jenny and Ola will receive travelling and accommodation in New York for their visit.
Also included will be a free festival delegate pass, giving them access to many screenings, events, filmmaker's lounges and VIP areas.
Jenny, from Stourbridge in the West Midlands, is in her final year studying Film and Television Studies. Her primary interests are cinematography and editing.
Jenny said: "It has always been a dream of mine to visit New York and the Tribeca Film Festival. It is an absolute honour to be able to have this opportunity - all my hard work has paid off. I can't wait to experience all that Tribeca and the city of dreams have to offer in person. I am going to learn so much and it's going to increase my motivation to be even more creative in the future."
Originally from Warsaw in Poland, Ola is also in her third year studying Film and Television Studies. Her interests are in film archives, preservation and photography, and experimental cinema.
Speaking ahead of the trip to New York, Ola said: "I am excited about meeting a lot of creative filmmakers and everything that comes with it – sharing ideas, seeing their work. I am looking forward to taking a ton of photos and making use of every opportunity I come across. My goal is to become even more inspired to make films."
During their time in New York, Jenny and Ola will also meet with Ben Thompson, Short Film Programmer for the Tribeca Film Festival.
Ben is an Aberystwyth University Drama, Theatre, Film and Television graduate and one of a number of prominent Creative Associates who contribute to the Department's rich and varied teaching programme.
Dr Greg Bevan and Dr Kate Woodward, both Lecturers at the Department of Theatre, Film and Television Studies at Aberystwyth University, will accompany Jenny and Ola to Tribeca.
Mr Simon Banham, Head of the Department of Theatre, Film and Television Studies said: "The department is delighted to have such a strong connection with the Tribeca Film Festival. This allows us to celebrate the work of young film makers such as Jenny and Ola and provide them with a wonderful opportunity and experience. Their work is also a recognition of the quality of our teaching staff here at Aberystwyth."
Dylan Jones, Alumni Engagement and Individual Giving Manager at Aberystwyth University, said: "We are so grateful to our alumni and supporters who choose to give to the Aber Fund, helping to provide such life-changing opportunities for Aberystwyth University students, like the Tribeca Film Festival. A huge congratulations to Ola and Jenny for winning the competition. I have no doubt that they will benefit hugely from the experience."
Jenny and Ola are the fourth pairing of students from Aberystwyth University to attend the prestigious Tribeca Film Festival with the support of the Aber Fund.
Confirmed speakers at Tribeca 2019 include Martin Scorsese, Robert De Niro, Guillermo del Toro, David O Russell, Queen Latifah, Michael J Fox, Denis Leary, Sarah Silverman, Rashida Jones, Questlove and Jaron Lanier.
Full festival details are available on the Tribeca Film Festival website, with the latest available on Twitter: www.twitter.com/tribeca, Facebook: www.facebook.com/tribeca and Instagram: www.instagram.com/tribeca. #Tribeca2019