Wriggle! The wonderful world of worms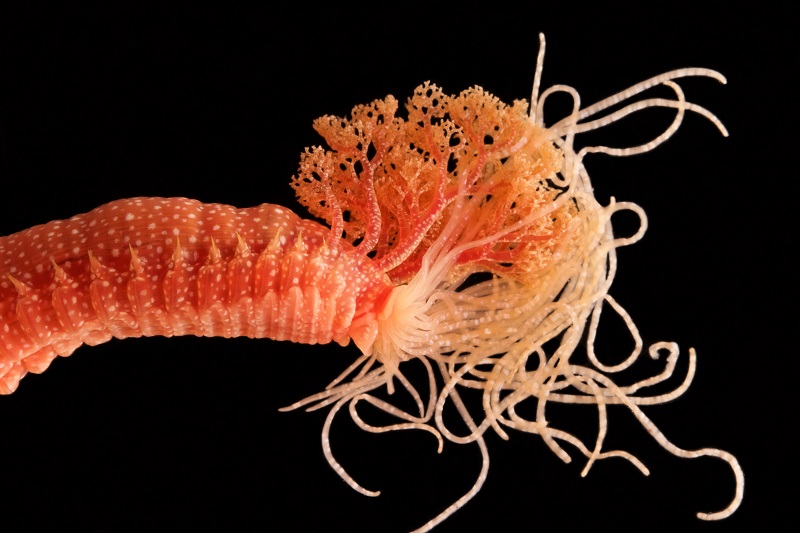 Strawberry Spaghetti Worm
An exhibition exploring the wonderful world of worms opens at Aberystwyth University's Old College on Thursday 11 April 2019 from 6pm until 8pm.
On loan from Amgueddfa Cymru - National Museum Wales, Wriggle is a family friendly, hands on exhibition which looks at the extraordinary diversity of worm species and how they have crawled into all areas of popular culture, from books and movies to heavy metal music.
Highlights include:
Awesome Worms – images of some of the most weird and wonderful worms and a spectacular model of a Strawberry Spaghetti Worm.
From Fossils to Fantasy - including a model of the fossil worm named after Lemmy (from rock band Motorhead) and a variety of fossil worms from the Museum's collections. You can even work out what kind of worm you'd be with our interactive game!


The Wriggloo – see the world from a worm's point of view. Explore an earthworm's habitat and see what animals live alongside them.
The exhibition will officially be opened by Georgia Ruth, a song writer and musician from Aberystwyth who is currently recording her latest album at the University. Her debut album – Week of Pines won the Welsh Music Prize 2013-14 and she was nominated in the 2014 BBC Radio 2 Folk Awards. She presents a weekly music show on BBC Radio Cymru.
The University's Vice-Chancellor, Professor Elizabeth Treasure will also launch the Old College Appeal to the local community. Following the footsteps of Aber's 'crowd-funding' trailblazers of the 1870s and the impact achieved by the 'pennies of the people', the appeal aims to raise £3 million in philanthropic income from alumni and friends, locally and around the world, and help to unlock the full grant of £10.5 million from the Heritage Lottery Fund and other matched funding to secure the future of the Old College.
Rhodri Llwyd Morgan said: "Wriggle is an exciting and visual exhibition which families will really enjoy.  It looks at all types of worms and highlights the important and diverse worm collections held at the National Museum in Cardiff. It's a hands on, interactive exhibition where visitors can either crawl into the Wriggloo or use microscopes and magnifies to see these wonderful worms up close.
"Wriggle is the latest in a series of exhibitions held at Old College and is part of our ambitious long-term plan to create a vibrant centre for learning, culture and enterprise which will act as an economic and regeneration driver for the area. We are grateful to Amgueddfa Cymru-National Museum of Wales for their support and loan of the exhibition, as well as the National Heritage Lottery Fund whose generous Development Grant is helping us develop the vision to restore and repurpose this wonderful building."
David Anderson, Director General, Amgueddfa Cymru, added: "We're committed to making the national collections as widely available as possible and delighted to be working in partnership with Aberystwyth University on displaying the Wriggle exhibition. Wriggle was hugely popular with families in Cardiff and I hope visitors to Aberystwyth also take the opportunity to enjoy this interactive exhibition seeing wonderful worms up close!"
This exhibition and related events are generously supported by Amgueddfa Cymru National Museum Wales and The National Lottery Heritage Fund.
The exhibition will be open from Friday 12 April until Saturday 1 June 2019, between 10am and 4pm every day except Sunday. Please note that the Old College will be closed from Good Friday 19 April until Tuesday 23 April.