Rutherford fellows build on new Africa partnership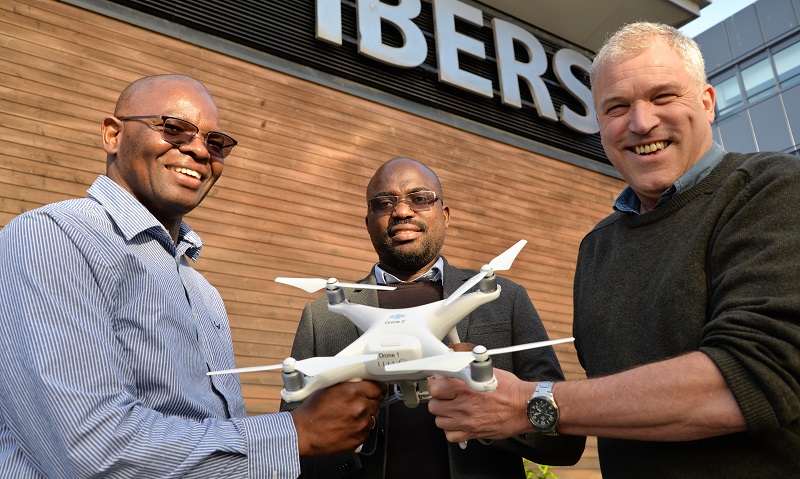 Left to right: Rutherford Fellows Dr Frans Persendt and Dr Eliakim Hamunyela from the University of Namibia with Professor Chris Thomas from Aberystwyth University. They have been exploring the application of remote sensing technology such as low-cost drones to tackle malaria in northern Namibia.
Fellowships awarded to two researchers from the University of Namibia are set to build on a new strategic partnership between Aberystwyth University and the southern African institution.
At the end of March 2019, Dr Frans Persendt and Dr Eliakim Hamunyela will complete short term Rutherford Fellowships at Aberystwyth where they have been working on research projects related to the management of water resources in arid environments.
Based in the Geography Department at the University of Namibia, Dr Persendt has been at Aberystwyth since November 2018 and Dr Hamunyela since January of this year.
At Aberystwyth they are being mentored by Professor Chris Thomas in the Institute of Biological, Environmental and Rural Sciences, working with Professor Stephen Tooth, Professor Andrew Thomas and Dr Andrew Hardy in the Department of Geography and Earth Siences.
In addition to developing collaborative research ideas, the team is working to explore the links between malaria risk and hydrological and geomorphological processes in the 'wetlands-in-drylands' of northern Namibia.
Dr Persendt said: "These habitats form vector breeding habitats that needed to be identified and eradicated to enable Namibia to scale up its malaria control intervention programme that is entering the elimination phase."
Dr Persendt and Dr Hamunyela have been exploring the application of remote sensing technology - both satellite based and unmanned aerial vehicles such as low-cost drones - to identify these habitats at very high spatial and temporal resolutions.
Dr Hamunyela said: "Together with scientists from the Aberystwyth University, we are exploring new ideas to develop scientific research proposals to conduct challenge-led disciplinary and interdisciplinary research with a special focus at the interface of global change and One Health."
Aberystwyth University and the University of Namibia are looking to develop collaborative research projects in areas such as remote sensing, forage crops, veterinary diseases and marine resources.
Professor Chris Thomas, Pro Vice-Chancellor for Research, Knowledge Exchange and Innovation, said: "The Rutherford Fellowship scheme has been a great success here at Aberystwyth and hosting Frans and Eliakim as our final two Rutherford Fellows will not only lead to exciting collaborative research proposals but has also greatly enhanced the development of our new strategic institutional partnership with the University of Namibia (UNAM). The timing has been ideal as it has also tied in very well with the work of CIDRA, our new Centre for International Development Research at Aberystwyth, and we look forward to developing future collaborative research projects with the UNAM."
Aberystywth University has been awarded five fellowships under the Rutherford Fund Strategic Partner Grants scheme administered by Universities UK International (UUKi).
During 2018 Dr Benjamin van der Waal from Rhodes University in Grahamstown, South Africa, and Drs Peyton Lisenby and Paul Harvey from Macquarie University in Sydney, Australia, spent time working at Aberystwyth University.
The short-term fellowships are funded by the UK Department for Business, Energy and Industrial Strategy (BEIS) through the Rutherford Fund, with the aim of attracting global talent and strengthening the UK's research base.
Aberystwyth is one of only 24 universities in the UK to be selected for the prestigious research fellowships.