Work on new vet research centre begins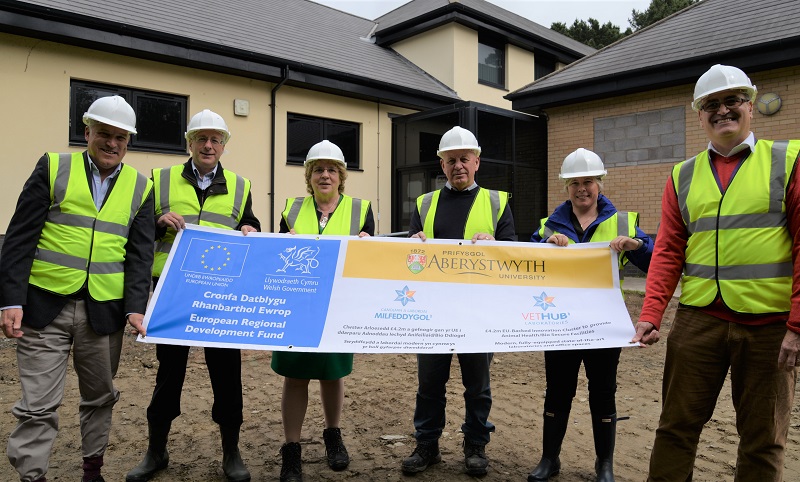 Making the commencement of work on the £4.2m VetHub1 which is expected to be fully operational by spring 2020
Work is underway on a new £4.2m state of the art veterinary hub to drive forward research to protect both animal and human health.
Led by Aberystwyth University and backed with a £3m grant from the European Regional Development Fund (ERDF) through the Welsh Government, VetHub1 will provide fully-equipped, high-specification laboratories and office spaces.
Researchers at the centre will work with industry to develop tests and vaccines that will help reduce losses in the livestock industry and improve animal health.
The researchers will be looking particularly at developing solutions for animal borne diseases that could pass to humans.
The facility will also lead to the further development of veterinary practices and other animal health care as well as biotechnology, animal food manufacture and other allied industries.
Based in the Carwyn James building on the University's Penglais Campus, VetHub1 is expected to be fully operational by spring 2020 with enabling works already underway.
Professor Chris Thomas, Pro Vice-Chancellor for Research, Knowledge Exchange and Innovation at Aberystwyth University said: "We are delighted to see work commence on this development. Universities have an important role to play in developing research which has an impact on the communities they serve. VetHub1 will make a valuable contribution to the rural economy and to the livestock industry in Wales and farther afield. The facility also heralds another step forward in the development of Aberystwyth as a centre for veterinary expertise and animal health care as well as biotechnology."
In addition to ERDF funding, Aberystwyth University has secured a further £650k investment from CIEL (Centre for Innovation Excellence in Livestock) through funds from Innovate UK for an animal sciences facility to work alongside VetHub1.
The University is one of the 12 elite research institutions within the CIEL framework across the UK to provide a focussed gateway to world-class research institutes to develop new industry-needed solutions in partnership with a network of 50 commercial companies.
The involvement with CIEL will strengthen the commercial partnership within VetHub1 and ensure that it retains its focus on bringing new products to market.
For the latest news on VetHub1, follow the project's new twitter account @vethub1 which was launched on Thursday 9 May to mark Europe Day.