Developer appointed for Pantycelyn renovation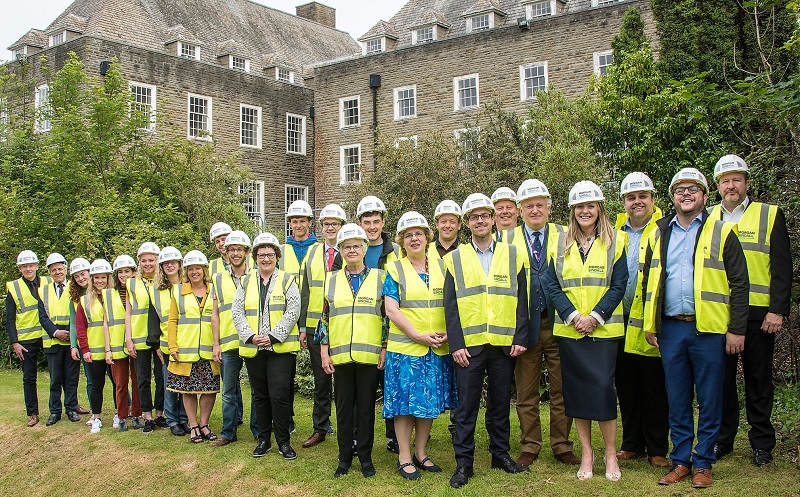 Professor Elizabeth Treasure, Vice-Chancellor of Aberystwyth University (4th from right), Gwerfyl Pierce Jones, Chair or the Pantycelyn Project Board (5th from right), and Gerallt Evans (3rd from right) from Morgan Sindall, along with students and representatives from the University and Morgan Sindall, mark the awarding of the contract for the renovation of Pantycelyn.
Aberystwyth University has appointed construction company Morgan Sindall to refurbish its historic Welsh-medium hall of residence, Neuadd Pantycelyn.
The ambitious project to transform Neuadd Pantycelyn will offer high-quality, contemporary, en-suite accommodation for up to 200 students.
Originally opened in 1951, the Grade-2 listed building will also provide offices for Aberystwyth's Welsh students' union UMCA, a refectory and attractive social spaces for use by students, staff and the local community.
Major construction work on the £16.5m project is set to begin on 3 June 2019, with the first students moving in to the refurbished building in September 2020.
Professor Elizabeth Treasure, Vice-Chancellor at Aberystwyth University said: "We are delighted to be working with Morgan Sindall on the redevelopment of Pantycelyn, and to bring to life once more a hall that has been the focus for the Welsh culture at Aberystwyth University for almost half a century. This project represents an investment in the future of Welsh speaking students for generations to come and a unique addition to the excellent portfolio of student accommodation we offer here at Aberystwyth. We are also grateful to Welsh Government for their support for the project, which will help enhance further the excellent student experience offered by Aberystwyth."
Aberystwyth University marked the awarding of the contract to Morgan Sindall at Neuadd Pantycelyn on Friday 24 May 2019.
Rob Williams, Morgan Sindall Construction Area Director, said: "We're incredibly proud to be working with the university as its construction partner on such a prestigious project. Pantycelyn's significance, both in terms of its history and the role it can play in nurturing future generations of passionate Welsh-speaking students, is lost on no one involved in the project. We'll work closely and meticulously with the university to ensure the work is completed sympathetically and in time for the halls to reopen in 2020."
The project has received £5m from Welsh Government as part of its 21st Century School and Education Programme.
Welsh Government Education Minister, Kirsty Williams, said: "It's rare to be able to describe a students' halls of residence as 'iconic' – but Neuadd Pantycelyn is just that. I'm pleased the Welsh Government is able to support this work with £5m of funding, which will help modernise the halls so they are fit for the 21st Century and will support even stronger civic and community engagement."
Gwerfyl Pierce Jones, Chair of the Pantycelyn Project Board, said: "This is the most significant step in our attempt to reopen the doors of Pantycelyn and ensure this splendid building once more becomes the focus for the Welsh speaking community here at Aberystwyth University. I would like to thank everyone who has worked unstintingly to reach this milestone and I wish Morgan Sindall well as they embark on the work."
Anna Wyn Jones, President of UMCA, the Aberystwyth Welsh Students' Union, said: "The plans for Neuadd Pantycelyn are very exciting and we look forward to seeing construction work getting underway and the first students moving in to the refurbished building in September 2020. It will be great to see Pantycelyn once again providing a home for the work of UMCA, Y Geltaidd, Aelwyd Pantycelyn and the vibrant community of Welsh-speaking students at Aberystwyth University."