Aberystwyth University announces Honorary Fellows for 2019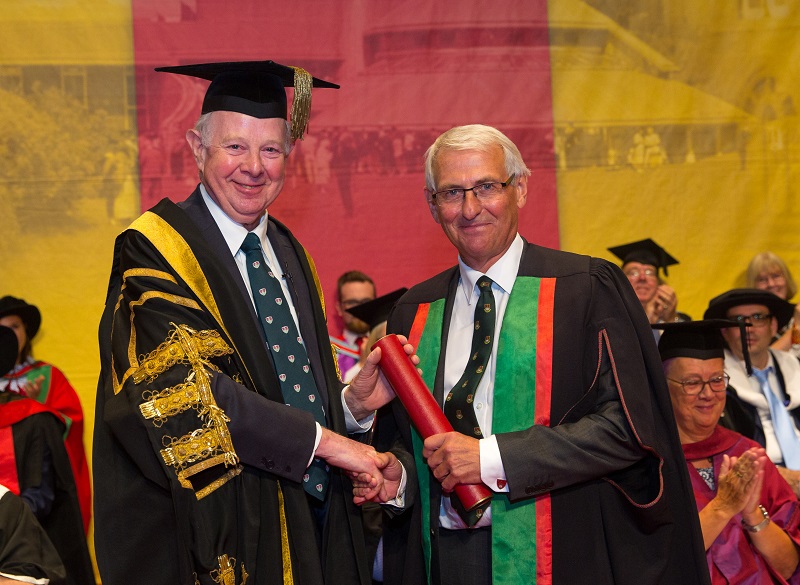 His Honour Judge Milwyn Jarman QC was among those presented with an Honorary Fellowship in 2018.
A leading global figure in the campaign to eradicate polio, a former First Minister of Wales and a retired peripatetic music teacher are amongst those who will be honoured during this year's degree ceremonies at Aberystwyth University.
Graduation Week 2019 takes place from Tuesday 16 until Friday 19 July in the Great Hall at Aberystwyth University's Arts Centre.
Nine Honorary Fellowships will be presented to individuals who have or have had a connection with Aberystwyth or Wales, and who have made an outstanding contribution to their chosen field.
Professor Elizabeth Treasure, Aberystwyth University's Vice-Chancellor said: "Graduation is an occasion when we celebrate the success of our graduates and welcome their families and supporters to Aberystwyth. It is also the week when we honour those who have made an outstanding contribution in their chosen discipline and I am delighted that we will be presenting Honorary Fellowships to nine exceptional individuals this year across a diverse range of spheres. It is a particular pleasure that several remarkable Aberystwyth alumni are amongst this year's Honorary Fellows. Our students and staff will be proud to share the stage with them."
The 2019 Aberystwyth University Honorary Fellows are (in order of presentation):
Alan Phillips
Peripatetic music teacher Alan Phillips, was born in Treherbert in the Rhondda Valley. Whilst at school he played brass with the local Treherbert Band. After leaving school he learned bricklaying - a skill which took him all over the UK and to Europe over the next five years. Then, in 1978 he embarked on a Music degree at Aberystwyth and graduated in 1981. After gaining a Post Graduate Certificate in Education from Cardiff, a chance encounter with some of his Aberystwyth friends led him to apply for the vacant brass peripatetic post in Ceredigion, to which he was duly appointed. Over a 35 year career working for Ceredigion Music Service, Alan started the Aberystwyth Town Youth Band, and took numerous groups of young musicians to competitions at home and abroad.
Frank Hogg OBE
Professor Frank N. Hogg OBE was educated at the University of Manchester Institute of Science and Technology and the University of Liverpool. He spent 25 years as the founding Principal of the College of Librarianship Wales (1964–89) during which time the College rapidly developed into an international institution, attracting students (and future library and archive leaders) from all over the world. In 1989 CLW became a constituent department of the University - now Information Management, Libraries and Archives. Professor Hogg had a significant influence on the library and information science discipline and profession in Wales and globally. He was awarded an OBE in 1988. He still lives in Llanbadarn and remains actively involved with local and community issues in Aberystwyth.
Ruth Bidgood
Welsh poet and local historian, Ruth Bidgood, was born in Seven Sisters in Neath Port Talbot in 1922. She attended grammar school at Port Talbot, and went on to read English at St Hugh's College, University of Oxford (1940-3). During World War II she served as a Wren in the Women's Royal Naval Service, mainly as a coder in Alexandria, Egypt. After the war she worked in London helping to prepare a new edition of Chambers's Encyclopaedia. It was a move to Abergwesyn, near Llanwrtyd Wells in Powys in 1965 which marked the beginning of Ms Bidgood's writing and local history research. During a writing career spanning more than four decades, she has published thirteen books of poetry, finding inspiration in the history, landscape, and contemporary life of Mid Wales where she has made her home. She has also published a prose book about Wales and published many articles in county historical journals.
R Geoff Richards
Born and schooled in Llanfyllin, Powys, Professor R Geoff Richards graduated from Aberystwyth with a BSc in Cell and Immunobiology in 1990, followed by a Masters in 1991 and a PhD in 1997. Since 2009, he has been Director of the AO Research Institute Davos (Switzerland) – a leading body in the field of orthopaedics, including the global implants industry and training surgeons. His research work on metal implant interfaces in the trauma area of orthopaedics has led to major improvements in the design and manufacture of fracture fixation products. He is an Honorary Professor at the School of Biosciences, Cardiff University, and the Faculty of Medicine, University of Freiburg (Germany), and a Distinguished Professor at the First Affiliated Hospital, Sun Yat-sen University, Guangzhou (China). He is President of the Tissue Engineering & Regenerative Medicine International Society and Chair of the International College of Fellows for Orthopaedic Research. In 1999 he co-founded eCM journal, a pioneer in open access publishing.
Emyr Jenkins
Physics alumnus, Emyr Jenkins has given a lifetime's service to the arts in Wales. Born and educated in Machynlleth, he graduated from Aberystwyth in 1961. He then went on to work for the BBC in Cardiff presenting news bulletins on radio and television in Welsh and English, commentating on events, and from 1971-78 working as program organiser for Wales. As the inaugural Chair of Mudiad Ysgolion Meithrin in the early 1970s, he played a key part in the campaign for Welsh medium education. In 1978 he was appointed Director of the National Eisteddfod, a post he held for fifteen years. In 1993 he became Director of the Welsh Council of the Arts and the following year became the first Chief Executive of the devolved Arts Council of Wales, a position he held until his retirement in 1998.
Virginia Gamba
International Politics alumna, Professor Virginia Gamba, has more than thirty years' experience as an expert on strategic issues relating to peace and security, human security and disarmament. She is currently Under Secretary General of the United Nations with the function of Special Representative of the Secretary General for Children and Armed Conflict. Born in the San Martin province of Buenos Aires in 1954, Professor Gamba holds an MScEcon in Strategic Studies from Aberystwyth University. Throughout her career she has worked in universities, research institutes, multinational organisations, non-governmental organisations, governmental organisations and foundations in Europe, Africa and the Americas, and has led multinational research projects on issues related to arms control, arms management and disarmament. In 1995 she shared the Nobel Peace Prize awarded to the Pugwash Conferences on Science and World Affairs for efforts toward nuclear disarmament.
Ian Hopwood
International Politics alumnus, Ian Hopwood has worked in the field of development for over 40 years, mainly in Africa and Asia. As UNICEF Representative in Guinea, Zambia and Senegal, he was actively engaged in child rights advocacy, aid effectiveness and UN reform, poverty reduction strategies, and Millennium Development Goals action plans. He has continuously sought to improve evaluation quality and organisational learning, and to strengthen links between research, policy formulation, programming practice and evaluation, and was UNICEF's Evaluation Chief from 1996-2000. Since retiring from UNICEF, he has guided the Senegalese Evaluation Association (of which he is Honorary President), lectured on monitoring and evaluation and the rights of children at Sciences Po (Paris) and Cheikh Anta Diop University (Dakar), and undertaken consultancies for a number of charities, aid agencies and global development programs.
The Rt Hon Carwyn Jones AM
Former First Minister of Wales and Leader of the Welsh Labour Party, the Rt Hon Carwyn Jones AM was born in Swansea and brought up in Bridgend. The son of Welsh speaking school teachers, he graduated in law from Aberystwyth in 1988. After training as a barrister in London, he practised as a barrister in Swansea for ten years before being elected to the first National Assembly for Wales in May 1999. Over the following two decades he held a number of positions in Welsh Government, including serving as Secretary for Agriculture and Rural Development (2000-02) and Minister for the Environment, Planning and Countryside (2003-07). Following a brief period as Minister for Education, Culture and the Welsh Language, he became Counsel General for Wales and Leader of the House. He served as First Minister of Wales and Leader of the Welsh Labour Party from 2009 to 2018.
Judith Diment
Judith Diment, who studied geology and geography at Aberystwyth, has been a leading global figure in the campaign to eradicate polio for more than two decades. She is Coordinator of the Rotary International Polio Eradication Advocacy Task Force, UK National Advocacy Adviser for Polio, a member of Rotary's International PolioPlus Committee (IPPC), and Chairs the IPPC Grants Sub Committee. In 2013 she was appointed Rotary International Representative to the Commonwealth. She has organised many polio advocacy and media events at the Houses of Parliament, European Parliament and Chatham House. Judith ran an independent award-winning public relations consultancy and has held senior positions in marketing and communications including the Natural History Museum in London. In 2016 she was elected as a Councillor for Royal Borough Windsor & Maidenhead.