New E-bike charging stations and cycle shelters installed at University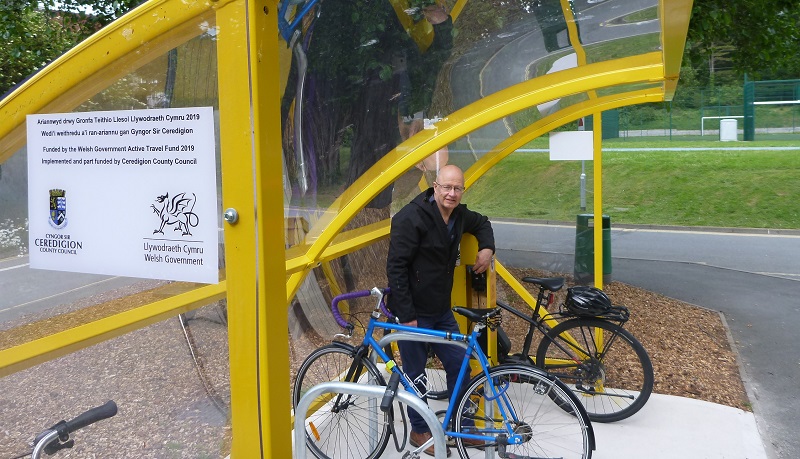 Councillor Alun Williams, Member Champion for Sustainability from Ceredigion County Council, at the new yellow cycle shelter and yellow charging station outside the University's Sports Centre
New E-bike charging stations and cycle shelters have been installed on Aberystwyth University's Penglais Campus, as part of a wider project to install such facilities at sites across Aberystwyth.
Two new charging stations have been fitted at Aberystwyth University Sports Centre and at the rear of the Arts Centre. There are plans to install two further stations near the Porters Lodge at the entrance to Penglais Campus, and another at Fferm Penglais.
The facilities are free of charge to all and are accessible for students, staff and visitors.
The project to install cycle shelters incorporating E-bike charging stations in Aberystwyth has been led by Ceredigion County Council using an Active Travel Fund grant from the Welsh Government, and working in partnership with the University and the National Library of Wales.
Mr Dewi Day, Sustainability Advisor at the University, said ''Thanks to our work with Ceredigion County Council, cycle parking provision has improved and these new E-bike stations are a great addition to our campus facilities. Cyclists can either remove the battery from their bike and place it on charge, securely inside the station, or they can plug into the station and run their charging cable to the battery on their bike.''
The aim is to encourage more people to make Active Travel journeys and if these stations prove to be successful, the Ceredigion County Council will seek to roll out more units in the future.
Visit www.ceredigion.gov.uk/resident/travel-roads-parking/active-travel for more information on Active Travel.