Aberystwyth University celebrates teaching excellence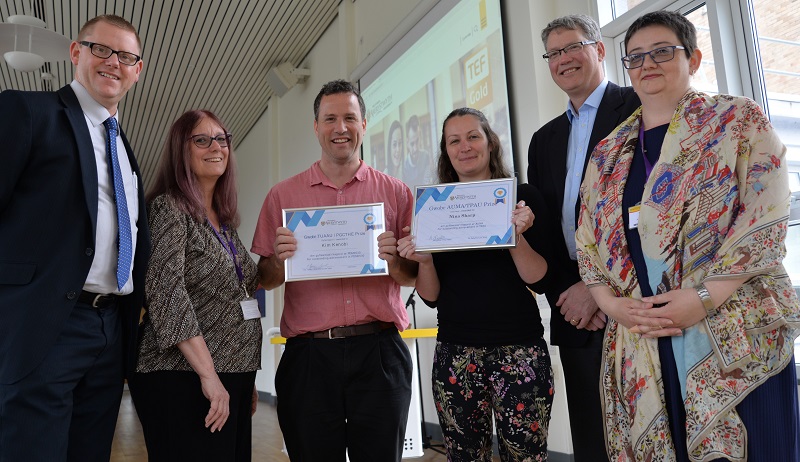 Left to right: Tim Davies, Director of Information Services; Mary Jacob, Learning and Teaching Enhancement Unit; Kim Kenobi Outstanding Achievement prize winner in the Postgraduate Certificate in Teaching in Higher Education, Nina Sharp winner of the Teaching for Postgraduates at Aberystwyth University Prize, Professor Tim Woods, Pro Vice-Chancellor and Annette Edwards from the Learning and Teaching Enhancement Unit
The latest cohort of postgraduate and academic staff to attain professional higher education teaching qualifications have been recognized by Aberystwyth University.
Staff who have achieved Fellowship in AdvanceHE, formerly the Higher Education Academy, were congratulated at a reception hosted by the University's Learning and Teaching Enhancement Unit (LTEU) on Monday 24 June 2019.
53 members of Aberystwyth University postgraduate and academic staff have gained professional teaching qualifications during the 2018/19 academic year.
One postgraduate tutor and two lecturers were also recognized for outstanding achievement.
Nina Sharp from the Department of Geography and Earth Sciences was presented with the Teaching for Postgraduates at Aberystwyth University Prize for the most reflective and well-thought-out piece about her teaching journey.
Yvonne Rinkart from International Politics and the International English Centre and Kim Kenobi from the Department of Mathematics were presented with prizes for outstanding achievement in the Postgraduate Certificate in Teaching in Higher Education.
Professor Tim Woods, Pro Vice-Chancellor for Learning, Teaching and Student Experience at Aberystwyth University said: "Our warmest congratulations to colleagues on their success. Excellent teachers foster excellent learning and AdvanceHE Fellowships are widely recognised as indicators of teaching excellence. Aberystwyth University encourages staff to enter Fellowship at all levels. Participants have opportunities to mentor colleagues and participate in a community of practice."
Tim Davies, Director of Information Services at Aberystwyth University, said: "AdvanceHE Fellowship is the hallmark of professionalism in higher education learning and teaching. These successful candidates join a world-wide community of over 100,000 Fellows. For Aberystwyth University, alongside our TEF Gold and leading student satisfaction results, AdvanceHE Fellowships are a badge of quality in learning and teaching."
Support for postgraduate tutors and others seeking to develop excellent practice at Associate level is provided by the Teaching for Postgraduates at Aberystwyth University (TPAU) which is led by Annette Edwards.
Academic staff who wish to develop their professional teaching ability at Fellow level can study for the Postgraduate Certificate in Teaching in Higher Education (PGCTHE) led by Mary Jacob.
Direct application via ARCHE (Aberystwyth Recognition of Continuing Professional Development in Teaching and Supporting Learning in Higher Education) validates existing good practice at all levels.
Aberystwyth University staff interested in participating should contact fellows@aber.ac.uk (ARCHE), pgcthe@aber.ac.uk (PGCTHE) or tpau@aber.ac.uk (TPAU).