Teaching award goes behind the headlines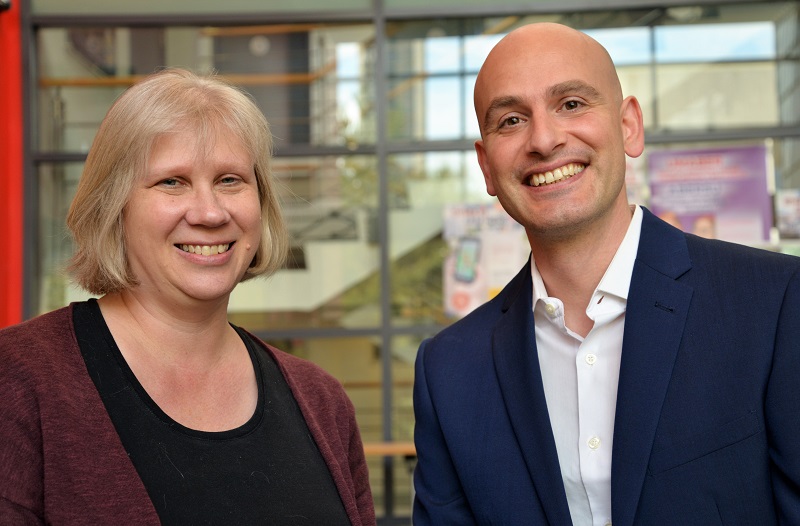 Dr Jenny Mathers (left) and Dr Alexandros Koutsoukis from the Department of International Politics, winners of the British International Studies Association Excellence in Teaching International Studies Prize for 2019
The innovative use of topical news stories to teach international politics at Aberystwyth University has been recognised by the British International Studies Association.
"Behind the Headlines", a teaching module developed by Dr Alexandros Koutsoukis and Dr Jenny Mathers from the Department of International Politics, has been awarded the Association's Excellence in Teaching International Studies Prize for 2019.
Created to encourage the curiosity of the Department's first year students, the module has featured contributions by guest speakers including the BBC Middle East Editor Jeremy Bowen and Head of Communications at the Welsh Assembly Non Gwilym.
It also features interactive workshops including public affairs strategy development and a crisis simulation, and structured, student-led discussions and debates.
This module was also a winner of Aberystwyth University's Exemplary Course Award in 2019.
Professor Richard Beardsworth, Head of the Department of International Politics, said; "This is excellent news and our warmest congratulations to Alexandros and Jenny on their success. As the first Department in the world dedicated to the study of international relations we take great pride in the excellence of teaching here, and it is entirely fitting that their hard work and innovative use of the current affairs news agenda to enrich the learning experience of our students has been recognised by the British International Studies Association, and particularly as we celebrate our centenary."
Dr Alexandros Koutsoukis completed his PhD in the Department of International Politics in 2017. He has been teaching in the Department since 2012, and his work has been previously recognised with the student-led awards Post-Graduate Teacher of the Year (2017) and Outstanding Feedback (2018). He is currently a Leverhulme Trust post-doctoral researcher for Professor Andrew Linklater on the role of symbols in world politics.
Dr Jenny Mathers is a Senior Lecturer in the Department of International Politics with more than 25 years' worth of teaching experience in higher education. She was a pioneer in the University in the use of Twitter in teaching and regularly organises panels on learning and teaching at national and international conferences of scholars of International Relations.
Previous winners of the prize with links to the Department of International Politics include Elena Korosteleva-Polglase (2009) and Ayla Gol (2011), both staff members at the time, former PhD students Adam Morton (2012) and Erzsebet Strausz (2017), and former postdoctoral fellow Naomi Head (2018).