Welsh poet and local historian receives Honorary Fellowship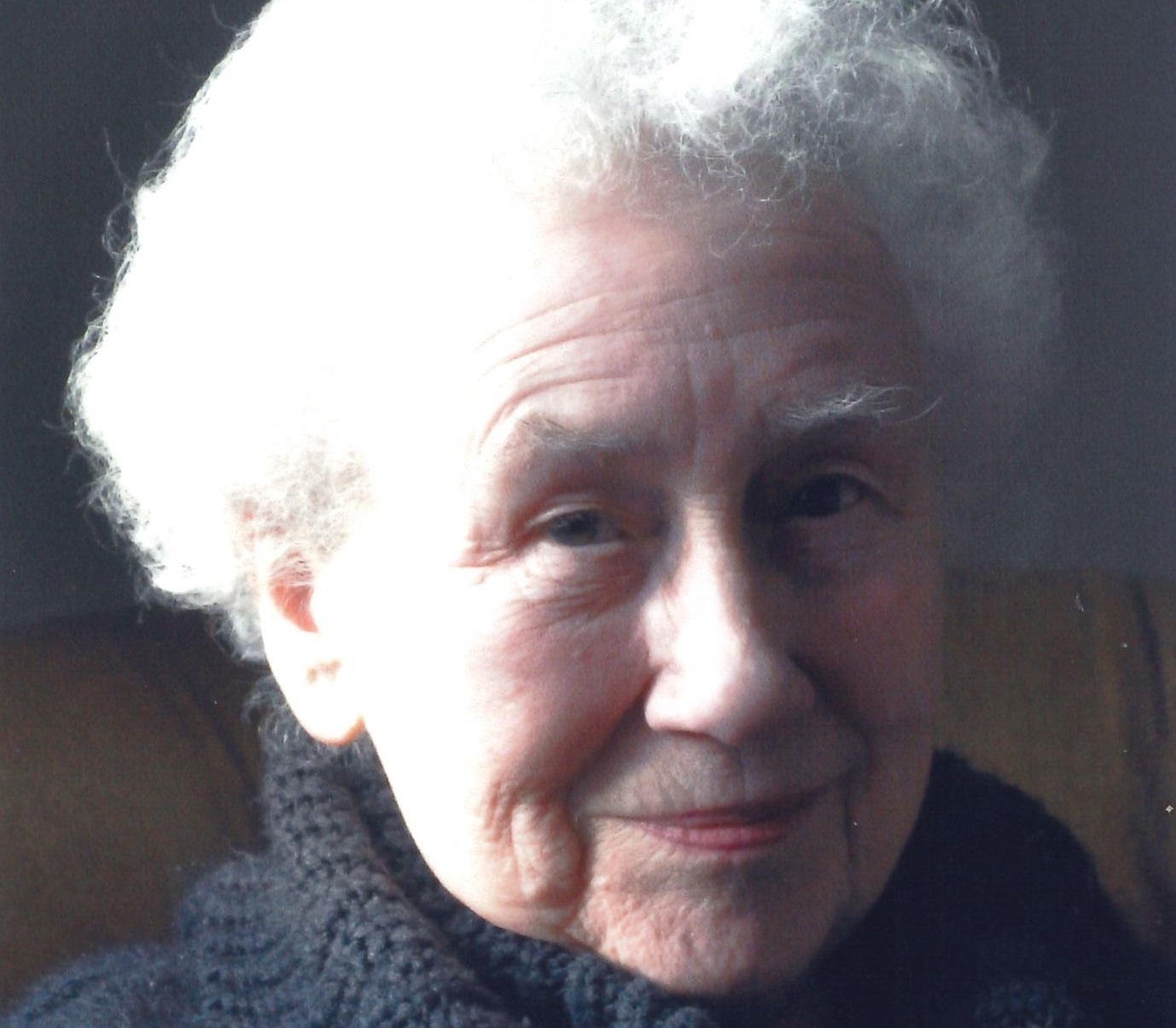 Ruth Bidgood (Photo: Liz Flemming-Williams)
Welsh poet and local historian, Ruth Bidgood, has been awarded an Honorary Fellowship by Aberystwyth University.
Originally from Seven Sisters in Neath Port Talbot, Ms Bidgood attended grammar school at Port Talbot and read English at St Hugh's College, University of Oxford.
During World War II she served as a Wren in the Women's Royal Naval Service, mainly as a coder in Alexandria, Egypt.
After the war she worked in London helping to prepare a new edition of Chambers's Encyclopaedia.
It was a move to Abergwesyn, near Llanwrtyd Wells in Powys in 1965 which marked the beginning of Ms Bidgood's writing and local history research.
During a writing career spanning more than four decades, she has published thirteen books of poetry, finding inspiration in the history, landscape, and contemporary life of Mid Wales where she has made her home. She has also published a prose book about Wales and published many articles in county historical journals.
Ruth Bidgood was presented as Honorary Fellow on Wednesday 17 July 2019 by Dr Louise Marshall, Head of the Department of English and Creative Writing at Aberystwyth University.
Ms Bidgood was not able to attend the ceremony, and the Fellowship was received in her absence by Mrs Mary MacGregor.
The full conferral presentation is available below, in the language in which it was delivered.
Presentation of Ms Ruth Bidgood by Dr Louise Marshall:
Ganghellor, Is-Ganghellor, graddedigion a chyfeillion. Pleser o'r mwyaf yw cyflwyno Ruth Bidgood yn gymrawd Prifysgol Aberystwyth.
Chancellor, Vice-Chancellor, graduates and supporters. It is an honour and a privilege to present Ruth Bidgood as a Fellow of Aberystwyth University.
Ruth Bidgood, with a publishing career that began during the late-1960s and continues apace to the present day, is widely regarded as one of Wales's most significant English-language poets. A Fellow of the Welsh Academy, a poet, and a local historian, Ruth's career is as varied as it is well-regarded. In an interview for the magazine Planet in 1999 Ruth notes, 'I've never written a word or a line that didn't express the value I set on Wales as my country'. Indeed, Ruth's oeuvre is not only written in Wales, but it is written of Wales. Ruth's poetics of Welshness places her writing at the forefront of contemporary Welsh poetry in English and testifies to the relevance of a locative lyrical voice that continues to speak to her readers as clearly and precisely now as it did when it first emerged from the mid-Wales landscape forty-seven years ago.
Ruth Bidgood (née Jones) was born in Blaendulais, Glamorgan, in July 1922. When she was seven the family moved to Aberafan where her father served as the Vicar of St Mary's Church. Having spent her childhood in South Wales, in 1940 she went up to St Hugh's College Oxford where she read English. After graduating in 1943 Ruth served as a coder in the WRNS based in Alexandria. Then, at the end of the war, she moved to London and worked on a new edition of the Chambers Encyclopaedia. Ruth moved to Surrey after marrying David Bidgood and it was here that she raised her family, two sons and a daughter. Throughout this period Ruth remained drawn to Wales and in 1964 she bought a house in the remote north Breconshire village of Abergwesyn, the place she was to make her home in 1974.
It was this return to Wales that unleashed Ruth's literary creativity. She started writing poetry in 1965, inspired by the landscape, the people, and communities she discovered around her in mid-Wales. Ruth's first poetry collection The Given Time was published in 1972. Since the mid-1960s Ruth has published an impressive range and variety of critically-acclaimed and prize-winning poetry. Her second collection, Not Without Homage, received a Welsh Arts Council award, and two of her more recent collections were short-listed for Welsh Book of the Year. Time Being, published in 2009, won the prestigious Roland Mathias Prize in 2011. Her most recent collection (her fourteenth full-length collection of poetry), Land-Music/Black Mountains, was published in 2016 and her next poetic project, Lights, is currently forthcoming with Cinnamon press. In addition to her outstanding contributions to poetry over the past five decades Ruth also has an impressive publication record in local history, most notably perhaps in her volume Parishes of the Buzzard (2000) which traces the history of the Abergwesyn area.
Ruth's significance to the literary landscape of Wales is unequivocal. She is without doubt one of Wales's most notable English-language poets, and her extensive work in the field of Anglophone Welsh letters has been long due the recognition that the award of this honorary fellowship represents. Indeed, not only has Ruth made a permanent mark on twentieth and twenty-first century poetry from Wales but she stands as an exceptional role model to us all, here today and for the generations to come after us. In her own words taken from the poem 'All Souls':
I am a latecomer, but offer
speech to the nameless, those
who are hardly a memory, those
whose words were always faint.
Ganghellor , mae'n bleser gen i gyflwyno Ruth Bidgood i chi yn Gymrawd.
Chancellor, it is my absolute pleasure to present Ruth Bidgood to you as a Fellow of Aberystwyth University.
Aberystwyth University Honours 2019
Nine individuals are being honoured by Aberystwyth University during the 2019 graduation ceremonies, which take place at the University's Arts Centre from Tuesday 16 until Friday 19 July.
Honorary Fellowships are presented to individuals who have, or have had, a connection with Aberystwyth or Wales, and who have made an outstanding contribution to their chosen field.
The 2019 Aberystwyth University Honorary Fellows are (in order of presentation):
Alan Phillips, retired peripatetic music teacher who worked for Ceredigion Music Service for 35 years
Professor Frank N. Hogg OBE, the first Principal of the College of Librarianship Wales
Ruth Bidgood, Welsh poet and local historian
Professor R Geoff Richards, Director of one of the world's leading orthopaedic research institutes, the AO Research Institute in Davos (Switzerland)
Emyr Jenkins, first Director of the National Eisteddfod and former Chief Executive of the Arts Council of Wales
Professor Virginia Gamba, leading expert in the field of disarmament research and policy formulation
Ian Hopwood, who has worked in the development field for over 40 years in UNICEF HQ and in field assignments in Africa, Asia, and the Arab Gulf States
The Rt Hon Carwyn Jones AM, former First Minister of Wales and Leader of the Welsh Labour Party 2009-18
Judith Diment, a leading global figure in the campaign to eradicate polio