Aberystwyth University launches new rural crime study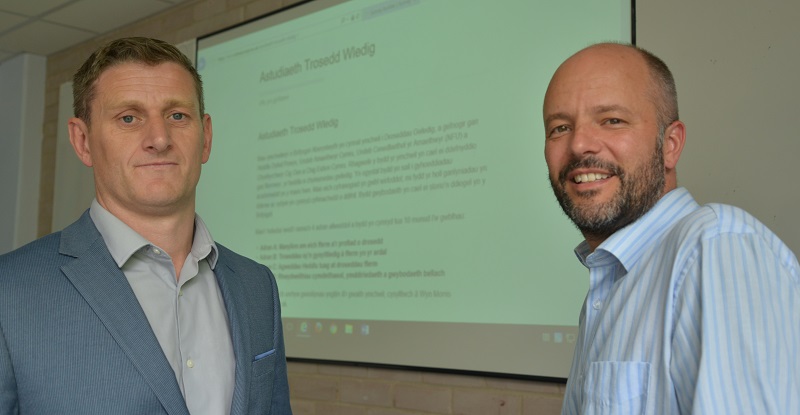 Dr Wyn Morris (left) from Aberystwyth Business School and Dr Gareth Norris from the Department of Psychology at Aberystwyth University who have developed the rural crime study.
Researchers at Aberystwyth University are asking farmers for their views on how rural crime is being tackled in the Dyfed-Powys Police area.
Dr Wyn Morris from the Aberystwyth Business School and Dr Gareth Norris from the University's Department of Psychology want farmers and other key stakeholders to share their experiences of farm-related crime, police attitudes towards farm crime and the effectiveness of crime-prevention measures in rural areas.
Funded by the office of the Dyfed-Powys Police and Crime Commissioner, the study is being launched during the Royal Welsh Show 22-25 July 2019.
The new research project will build on the Rural Crime Survey carried out by the University in 2017 and used to inform Dyfed-Powys Police's Rural Crime Strategy for 2017-2021.
Responses and comments will be collated using an online questionnaire which will be available until 30 September 2019.
Speaking ahead of the launch, Dr Morris said: "Rural crime is a serious problem for farmers, the police and our communities in general. Our new research aims to capture the changes in police responses and attitudes towards farm and rural crime since the implementation of the 2017-2021 Rural Crime strategy. It will also evaluate the interventions introduced by the police since 2017 and will inform future crime-prevention measures."
Dafydd Llywelyn, Police and Crime Commissioner for Dyfed-Powys, said:
"My office has worked with Aberystwyth University in 2017 on our first Rural Crime Survey which ultimately informed the Dyfed-Powys Police Rural Crime Strategy. It is important to have an assessment of the efficiency of our work, and equally important to have an independent body to conduct the assessment. I encourage you to call over to our stand on the Showground to share your views, or you can easily access the survey online."
The findings of the latest research project will be published in a report later this year.