Former students and staff celebrate 100 Years of Plant Breeding in Aberystwyth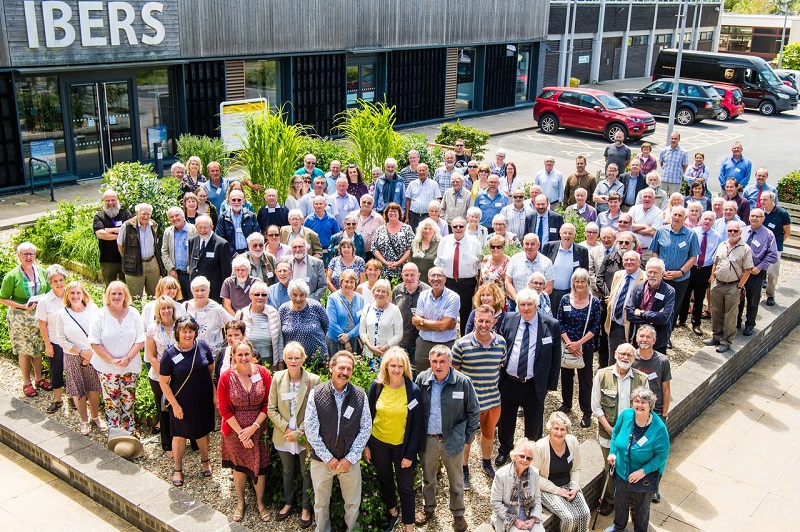 Ex members of staff come together to celebrate 100 Years of Plant Breeding in Aberystwyth
100 years of world renowned and award winning plant breeding expertise in Aberystwyth is being celebrated with a series of events organised and hosted by Aberystwyth University's Institute of Biological, Environmental and Rural Sciences (IBERS).
The Welsh Plant Breeding Station was established in Aberystwyth in 1919, originally in the old foundry on Alexandra Road, before moving to the Cledwyn Building on Penglais Hill in the late 1930s and then to Gogerddan, its current location, in 1954.
The Old Students Association visited the Gogerddan campus as part of its annual reunion held on 21 and 22 June 2019.
During a tour of the facilities Emeritus Professor Desmond Hayes presented a bench to the University to mark this historical milestone.
Addressing fellow alumni and staff, Professor Hayes, whose illustrious career at Aberystwyth University spanned 5 decades from the 1940s to the 1980s remarked; "The Station has made an immense contribution in improving grasslands throughout the world."
The bench for contemplation was presented by his family "with gratitude to the University for the scholarship, friendship and satisfying career over the years"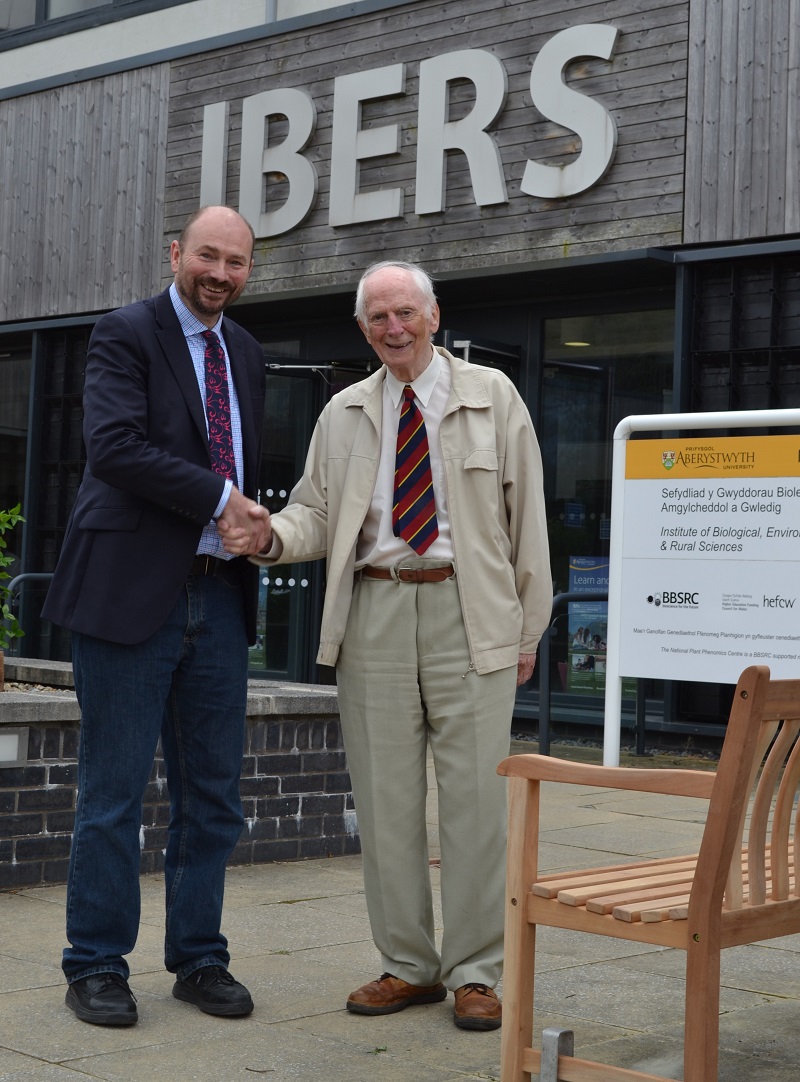 Emeritus Professor Desmond Hayes with Professor Iain Donnison, Head of IBERS
On Tuesday 2 July, former Gogerddan staff members came together for a day of celebration including presentations from the plant breeding experts of today and tours of the site.
The tour included a visit to the National Plant Phenomics Centre, the BEACON Biorefining laboratories and a preview of the brand new seed biobank facility located in the new Aberystwyth Innovation and Enterprise Campus at Gogerddan.
Professor Iain Donnison, Head of IBERS said: "It is a real honour to welcome back those who have made a significant contribution to the success of IBERS. We are standing on the shoulders of giants and proud to be continuing this world renowned research; responding to the grand challenges of today in feeding the world and responding to the effects of climate change."