Comic Relief funding for dementia and domestic abuse research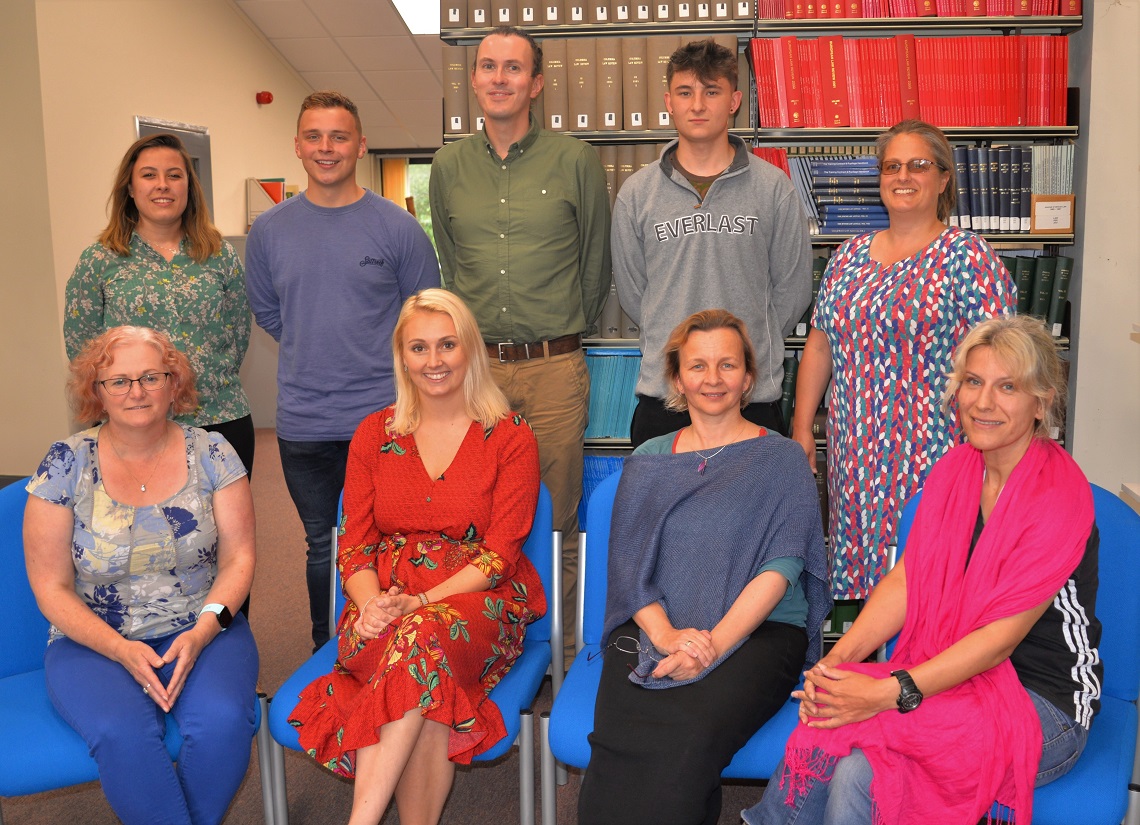 Members of the Dewis Choice team (left to right) front row: Elize Freeman, Rebecca Zerk, Sarah Wydall, Jose Owen; back row: Cara Fisher, Christopher Neville, David Cowsill, Tom Chapman and Ruth Jenkins
The link between dementia and domestic abuse will be the focus for a new study for researchers at Aberystwyth University looking into abuse of older people.
Funded by a £70,000 Comic Relief grant, the twelve month study will examine the co-existence of domestic abuse and dementia in people aged 60 years and over.
The work will be undertaken at the Centre for Age, Gender and Social Justice at the Department of Law and Criminology at Aberystwyth University as part of the longitudinal research project Dewis Choice which was established in 2015.
The new study will build on the centre's work on domestic abuse in later life and opens up a new area of research that has largely been neglected.
According to the Alzheimer's Society, there are 850,000 people living with dementia in the UK with the figure expected to rise to over 1 million by 2025.
Sarah Wydall, Principal Investigator on the Choice/Dewis project, said: "This is an exciting and unique project that builds on our previous research with older people. We know that dementia increases a person's vulnerability to economic, physical, sexual and psychological abuse by family members.
"Women more likely to be diagnosed with dementia, and are also more likely to experience domestic abuse than men. Where care-givers are domestic abuse perpetrators, female survivors may be subject to coercive controlling behaviours, whilst simultaneously coming to terms with a diagnosis and cope with their declining cognitive function. Support often is a 'dementia-led' model making disclosure of deliberate harm to professionals extremely difficult."
Elize Freeman who leads on the Dewis Choice service said: "This the first research project in the UK to look at this issue and build a specialist team of support around the person and the family, where it is safe to do so. The research funding will help to develop new guidance on safety and enhancing quality of life on this context and we will gain further insights into research in the area of dementia and domestic abuse."
The project will deliver 'dementia-friendly' training workshops within local community settings to help generate referrals into the research study.
Further training will be delivered on healthy relationships and coping, to equip people with the skills to identify and respond to cases where dementia and domestic abuse co-exist.
Further information is available about the Dewis Choice Project online at http://choice.aber.ac.uk or on Twitter @choiceolderppl.