New exhibition reveals Wales' changing landscape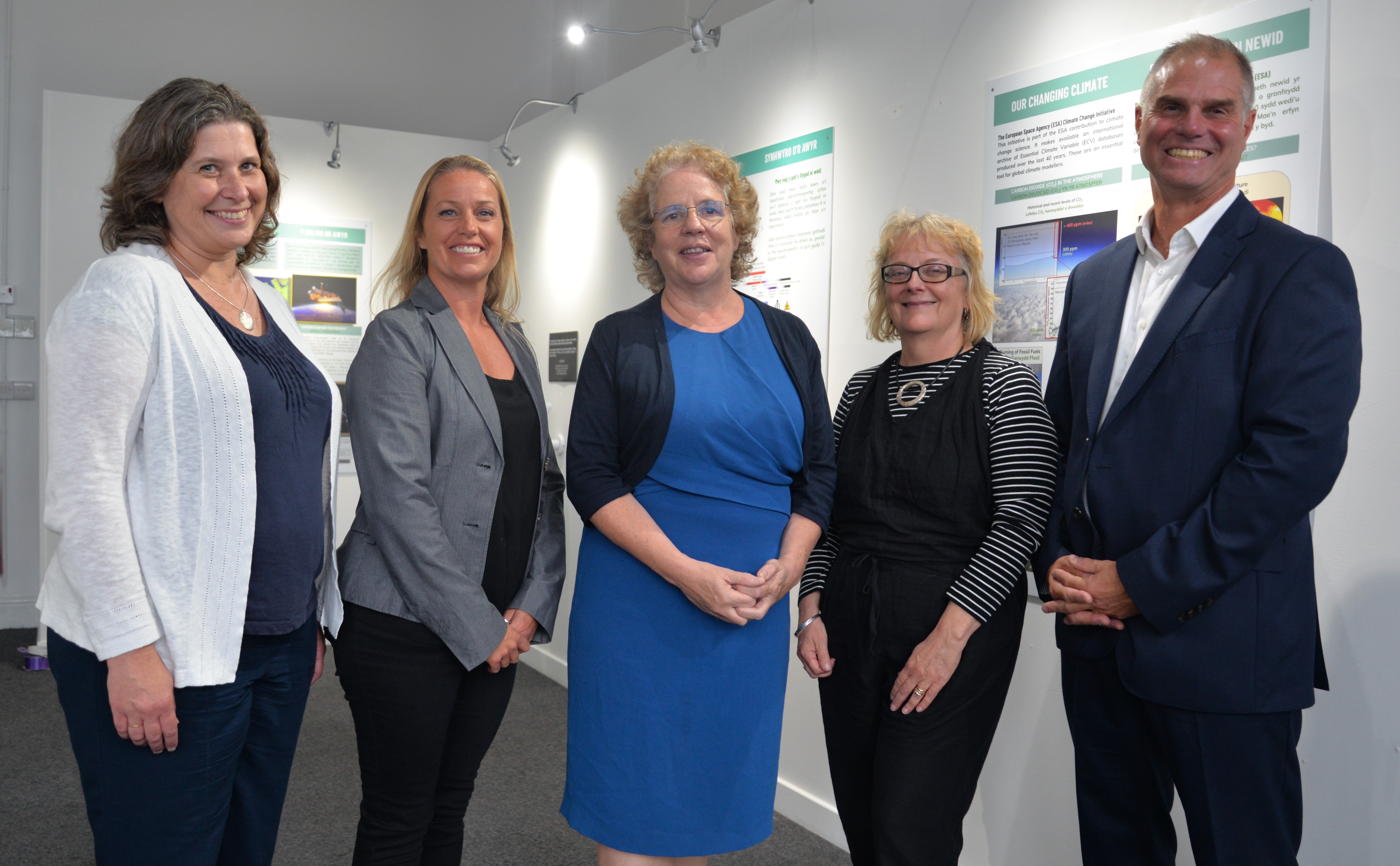 Pictured at the opening of the Living Wales exhibition at Old College are (left to right) Dr Sarah Davies, Head of the Department of Geography and Earth Sciences at Aberystwyth; Claire Horton, Geospatial and Earth Observation Manager, Welsh Government; Professor Elizabeth Treasure, Vice-Chancellor Aberystwyth University; Amanda Smith from the Centre for Alternative Technology and Professor Richard Lucas, Sêr Cymru Chair, Department of Geography and Earth Sciences.
Satellite images that reveal how the global environment has changed over the past 35 years and the impacts on the Welsh landscape are at the heart of a new exhibition at Aberystwyth University's Old College.
The 'Living Wales' exhibition has been developed by Professor Richard Lucas and the Earth Observation and Ecosystem Dynamics Research Group at the Department of Geography and Earth Sciences in collaboration with the Centre for Alternative Technology (CAT) and Welsh Government.
Using a combination of cutting edge satellite observation, computer analysis and input from the public on the ground, Professor Lucas' team has captured incredible details and information on the states and dynamics of the Welsh landscape.
In a series of fascinating interactive displays at Old College, the exhibition places these changes in context of those observed globally.
Professor Lucas said: "Living Wales is a dynamic exhibition that is providing new perspectives of the impact of mankind on the global environment over the past 35 years but also how these have contributed to the changes we are now seeing and hearing about every day, including climatic variability and biodiversity loss."
"This exhibition is very timely, given last Friday's Climate Strike and the opening of the United Nations Climate Summit in the United States on Monday 23 September, with both addressing the issue of climate change and the need to take greater action."
"We want to give the public an understanding of our changing environment but also convey how we can all make a contribution to making a better place for ourselves and future generations, in Wales but also globally", he added.
The exhibition was opened by Professor Elizabeth Treasure, Vice-Chancellor at Aberystwyth University on Monday 23 September and runs until Friday 20 December 2019.
Professor Treasure said: "I am delighted to be opening the new Living Wales exhibition at the Old College and I encourage everyone to see for themselves how our world is changing. Our planet faces many challenges associated with climate change and loss of biodiversity and it gives me great please to see Aberystwyth University taking a proactive role in addressing many of these challenges. As a University, we pride ourselves on the excellence of our teaching and research, and Living Wales is just one example of how Aberystwyth is leading the world in terms of quality, innovation and outreach."
Professor Lucas is one of two Sêr Cymru Chairs at Aberystwyth University and a leading member of an international team that is using satellite technology to monitor changes to the natural environment around the world.
He established the concepts behind Living Wales, a Welsh Government and European Regional Development Fund funded research project.
The aim is to capture the state and dynamics of Wales' landscape in near real time, historically and into the future.
Living Wales builds on extensive and long-established research in Australia and other countries that has focused on quantifying the state and changes over several decades to vegetation at local to continental scales using satellite data.
A permanent sister Living Wales exihibition was opened to the public at CAT at the end of July 2019.
The exhibition has been supported by the Sêr Cymru programme funded by the European Regional Development Fund, Welsh Government and the Joy Welch Foundation (Aberystwyth University) as well as CAT.