Aberystwyth University pledge to reduce its use of single use plastic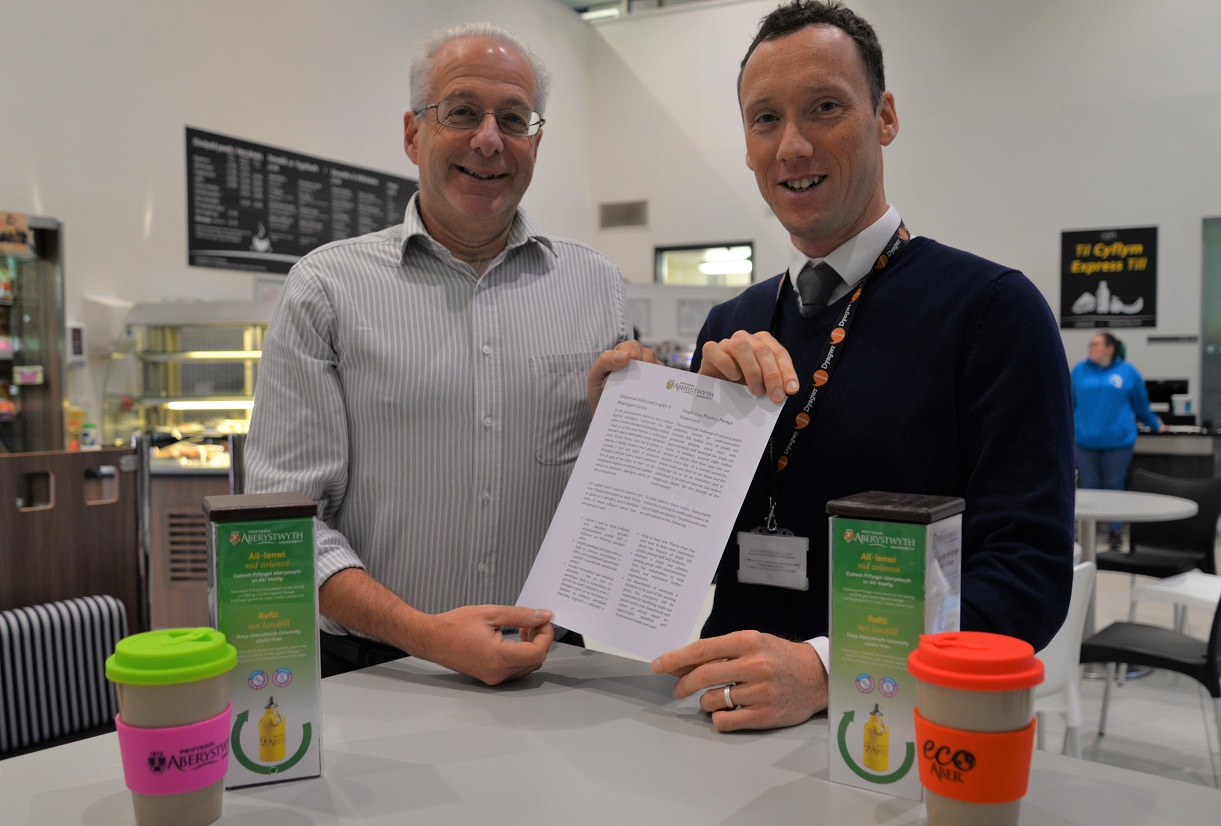 Professor Neil Glasser, Pro Vice-Chancellor with responsibility for sustainability and Dewi Day, Sustainability Advisor
Aberystwyth University has pledged to continually reduce its use of single use plastic. Led by the University's Sustainability and Hospitality teams, the pledge includes:
Holding at least one 'Plastic Free Day' each year to help raise awareness about the impacts of single use plastics among staff and students.
Maintaining a single use plastics working group with representation from key stakeholders to help identify and implement further improvements.
Nominating a champion from key departments to be part of the working group. The champions will be responsible for identifying single use plastics within their department and submit an annual report on opportunities identified and improvements made each year.
Publishing an annual report each September detailing progress made across the university to help reduce single use plastics.
The pledge was unveiled today, Tuesday 22 October as part of its annual Plastic Free Day which includes restricting the sale of many single use plastic items in its hospitality outlets and a special offer on buying reusable coffee cups.
Professor Neil Glasser, Pro Vice-Chancellor with responsibility for sustainability said:
"Plastic waste is a big problem. When plastics enter the environment, they pollute waterways and are a risk to wildlife. As a coastal university, reducing our plastic footprint throughout the University is an important part of our commitment to environmental sustainability. We've already made progress, with our reusable cups initiative and in 2 years we have saved 60,000 disposable cups from landfill. Today's pledge builds on our commitment to work with our staff and students to identify and implement further improvements to reduce single-use plastic for the benefit of the environment."
In August 2018, Aberystwyth University became the first university in the world to be awarded the Plastic Free University status, by Surfers against Sewage.