First phase of new £40.5m Aberystwyth Innovation and Enterprise Campus opened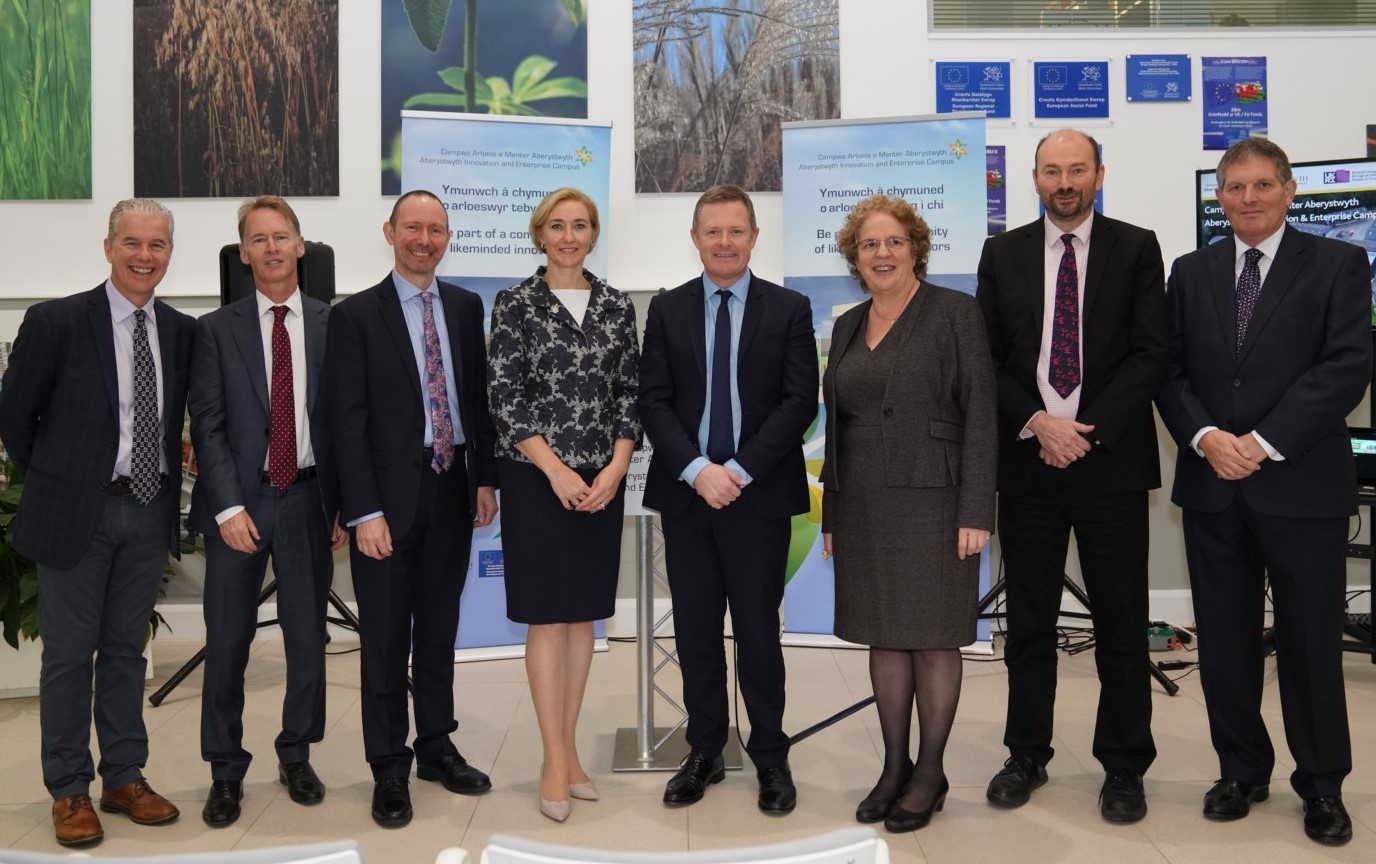 Left to right: Marking the completion of Phase 1 of the Aberystwyth Innovation and Enterprise Campus are John Berry, AberInnovation Board Member; Dr Emyr Roberts, Chair of Aberystwyth University Council; Paul Gemmill, UKRI-BBSRC; Dr Rhian Hayward, Chief Executive Office of AberInnovation; Jeremy Miles AM, Welsh Government Counsel General and Minister for Brexit, Professor Elizabeth Treasure, Vice-chancellor Aberystwyth University; Professor Iain Donnison, Head of IBERS at Aberystwyth University;
Counsel General and Brexit Minister, Jeremy Miles, officially marked the completion of Phase 1 of the Aberystwyth Innovation and Enterprise Campus on Friday 25 October 2019.
Based on Aberystwyth University's Gogerddan Campus, Aberystwyth Innovation and Enterprise Campus provides world-leading facilities and expertise for the biotechnology, agri-tech, and food and drink sectors.
The event also marked the official opening of two new state of the art research facilities at the development which overall has been supported by £20m from the European Regional Development Fund through the Welsh Government, £12m from the BBSRC – part of UK Research and Innovation - and £8.5m from Aberystwyth University.
The AberInnovation Biorefining Centre offers research and production facilities to turn vegetation waste and other natural materials into a range of industrial products including plastics, food additives, pharmaceuticals and speciality chemicals. It is also the new home of the EU funded BEACON project in Aberystwyth.
The Aberystwyth University Seed Biobank houses more than 35,000 seed varieties collected from all corners of the world for over 100 years and stored in a temperature-controlled environment.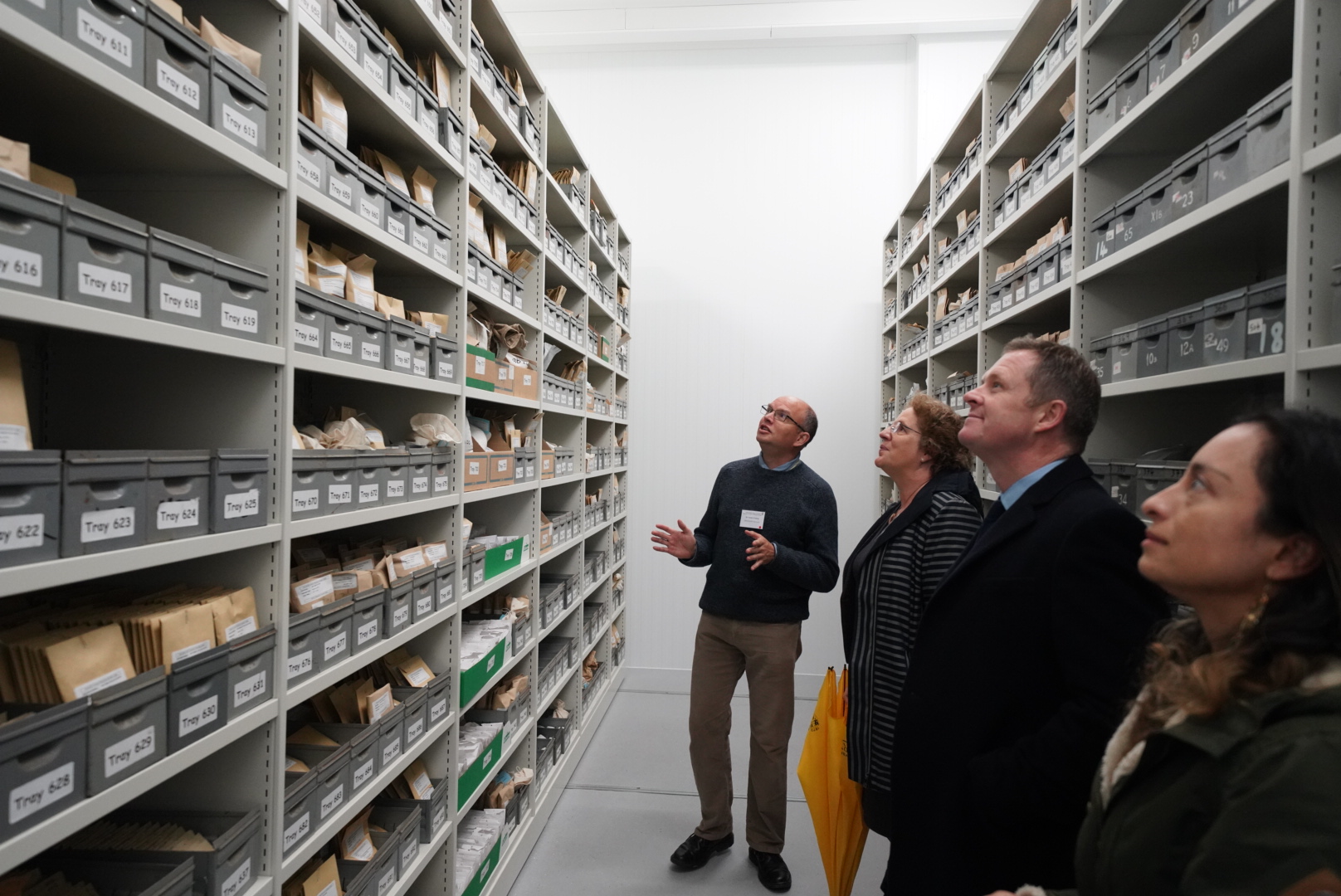 Visiting the new Seed Biobank
The Counsel General and Brexit Minister, Jeremy Miles, commented: "We're continuously seeking innovative ways to meet the challenge of climate change, and to secure maximum benefits for the wellbeing of Wales through our transition to a low carbon economy. We're delighted to work with our partners to deliver this; supporting product innovation and economic growth, and helping to secure high quality, sustainable jobs for the people of Wales, while making full use of region-specific natural resources.
"EU funding has been essential in driving progress and ensuring Wales is leading world class research and innovation, and Wales should be proud of the links we have built between world class academics and industry experts."
Professor Elizabeth Treasure, Vice-Chancellor of Aberystwyth University said: "Today marks an important milestone for the Aberystwyth Innovation and Enterprise Campus and for the University's Gogerddan campus which for seventy years has established itself as a World renowned centre of excellence for plant breeding. The economy of mid and west Wales faces significant challenges and I'm delighted to see two important facilities take their place at the heart of this new development, the Seed Biobank providing a vital genetic library as we develop new crop varieties that will thrive in a changing climate, and BEACON, which offers ways of making new and exciting industrial products that are kinder to the environment. These and the opportunities for greater collaboration between scientists and industrial collaborators at this exciting new facility are hugely important for the future of the rural economy."
Paul Gemmill, BBSRC Chief Operating Officer, said: "The Aber Innovation Biorefining Centre is a great example of how we can push the frontiers of bioscience and address key societal issues such as transforming vegetation waste and other natural materials into a range of industrial products to build the bioeconomy. BBSRC is proud to be one of the team of funders for this fantastic project bringing business and academia together and looks forward to seeing its future successes."
Dr Rhian Hayward MBE, Chief Executive Officer of AberInnovation said: "We are delighted to deliver the first phase of the Campus. The new buildings are already filling with researchers and collaborative activity. Aberystwyth University staff and their industry partners can now work towards new products and services in these expanded facilities – creating even greater impact from the knowledge base here. I look forward to welcoming new business contacts to tour the buildings and to discuss their development and incubation needs."
Construction of the Aberystwyth Innovation and Enterprise Campus is being undertaken by Willmott Dixon, with work on the second and final phase already well advanced.
Scheduled to be completed and fully operational by the summer of 2020, it will also house an Advanced Analysis Centre, a Future Food Centre and an Innovation Hub, providing an environment for business and academic collaboration to flourish.