Old College basks in the limelight of TV royalty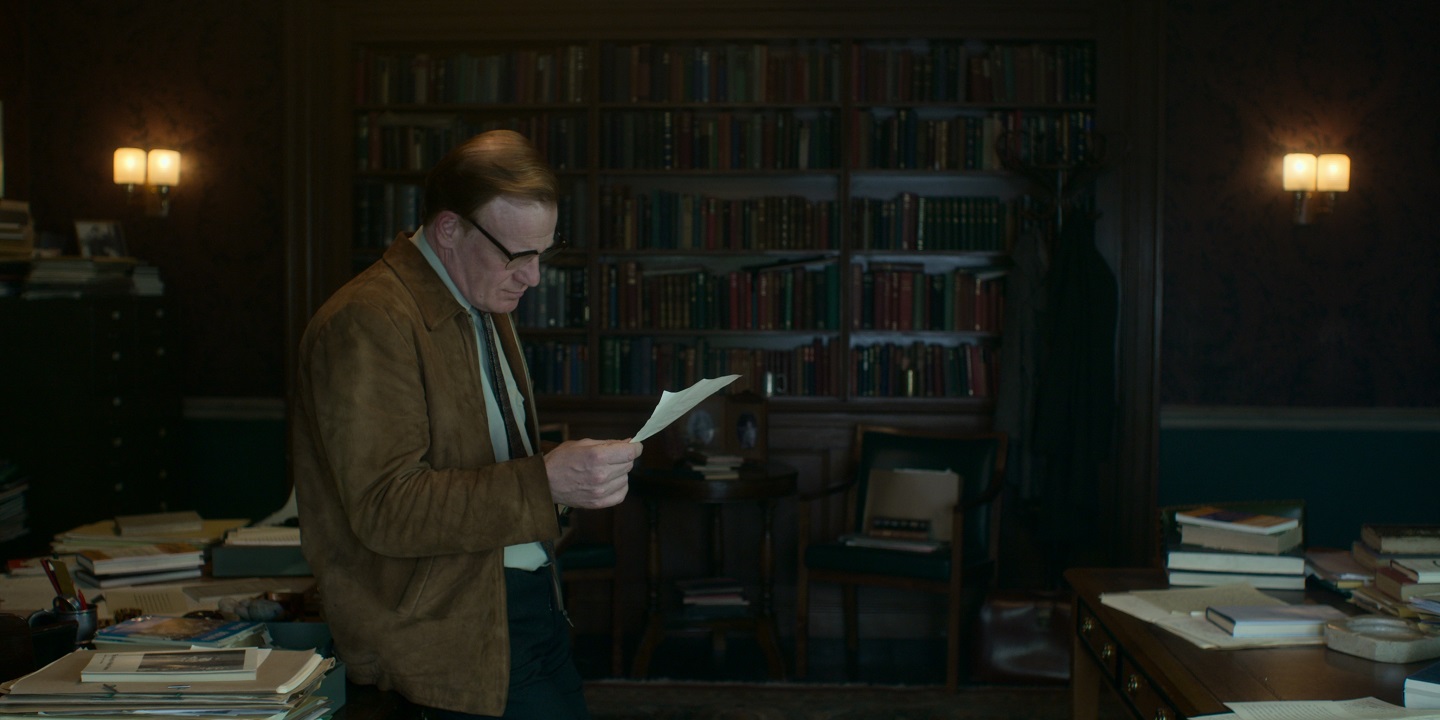 Dr Teddy Millward, played by Mark Lewis Jones in The Crown, was tasked with teaching Welsh to Prince Charles during his time at Aberystwyth University. Image: Netflix.
Aberystwyth's Old College is one of the stars of the show in the acclaimed Netflix series, The Crown.
The much awaited third series was released on Sunday 17 November 2019 and features The Prince of Wales' time at as an undergraduate at Aberystwyth University.
The Old College, alongside Pantycelyn hall of residence, provide two of the locations for the sixth episode which tells of Prince Charles's time as a student at Aberystwyth in the spring of 1969, and his investiture as Prince of Wales in Caernarfon.
One current student who watched the new series with great interest is Ben Lee.
Ben, currently in his third year studying for a BA Honours degree in Film-making at Aberystwyth, is one of a number of students who worked on the set during filming in Aberystwyth.
"I was so fortunate to have the opportunity to have some work experience with the series' camera department when they were filming here", said Ben. "I learnt so much which I have been able to apply to my university assignments.
"To have such a well-known and recognised series come to the town to film and relive an important period of Welsh history was so exciting for all involved.
"And with the series now on our screens we can relive the whole experience again and Aberystwyth and the Old College in particular will feature on the world stage."
The Old College is one of Wales's most well-known landmarks and is currently undergoing a crucial period in its history with a multi-million pound transformation to safeguard the popular building for the future.
Since 2014 a new vision has emerged for the University original home which welcomed its first students in October 1872, and plans have been drawn up to transform it into a centre that will attract diverse audiences to enjoy programmes of activities.
The New Life for Old College project is one of the most ambitious educational, heritage, cultural and community projects in Wales and is wholly dependent on external funding as Louise Jagger, Director of Development and Alumni Relations, explains:
"Our appeal has got off to a flying start with over £1 million raised to date. We have a way to go to meet our £3 million target by 2023 and will continue to invite everyone to join us in securing the future of Old College and our ambition to transform the iconic and much loved building into a vibrant centre for learning, culture and enterprise and a major catalyst for the development of our University and town.
"Whatever your connection to the University and Aberystwyth, please join us in supporting the Old College Appeal today."
The aim is to reopen Old College in the 2022-23 academic year, when the University celebrates its 150th anniversary.
Donations are invited at www.aber.ac.uk/en/oldcollege/old-college/