Aberystwyth graduate elected EU Commissioner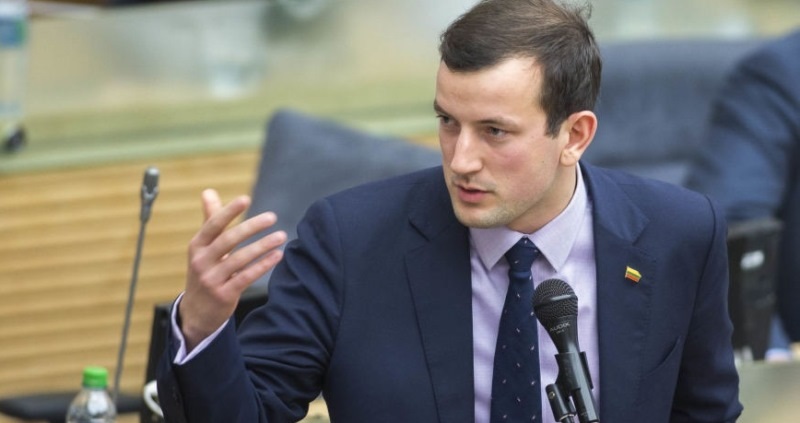 International politics alumnus Virginijus Sinkevičius who has been elected EU Commissioner for Environment, Oceans and Fisheries.
A Political Studies graduate from Aberystwyth University has been elected EU Commissioner for Environment, Oceans and Fisheries.
Virginijus Sinkevičius, from Lithuania, graduated in 2012 from the Department of International Politics with a degree in Political Studies.
Virginijus is one of 27 commissioners to be appointed by The European Council and announced by the new President of the Commission, Ursula von der Leyen, on Thursday 28 November 2019.
The Commissioners, one from each EU country, are the Commission's political leadership team and are tasked with promoting the general interest of the EU by proposing and enforcing legislation and implementing policies and the EU budget.
Their term in office runs from 1 December 2019 until 31 October 2024.
Each Commissioner is assigned responsibility for specific policy areas, with Virginijus making strategy and policy decisions relating to the environment, oceans and fisheries.
Dr Patrick Finney, Head of the Department of International Politics at Aberystwyth University, said: "It's fantastic news that our former student, Virginijus Sinkevičius, has been appointed as an EU Commissioner. He has enjoyed a stunningly successful political career since his graduation in 2012, and this marks another great achievement for him. His success demonstrates one of the many potential practical applications of a rigorous training in political studies.
"It's also very pleasing that Virginijus has taken on the environment portfolio - the challenges posed by climate change are increasingly recognised as the most momentous of our age, which is why we are currently expanding our provision in this vital area."
Until his appointment as EU Commissioner, Virginijus was Lithuania's Minister of Economy and Innovation.
Prior to this he was Chair of the Committee on Economics for the Parliament of the Republic of Lithuania, a Member of Parliament in Lithuania, and Deputy Leader of the Lithuanian Farmers and Greens Union.
After graduating from Aberystwyth Virginijus studies for an MA degree at Maastricht University before working in Washington DC at the Centre for European Policy Analysis.
He returned to Aberystwyth University in September 2017 to give a lecture as a guest of the Department of International Politics and the David Davies Memorial Institute.
Virginijus is the second Aberystwyth University alumnus to hold the post of EU Commissioner with responsibility for oceans and fisheries.
Aberystwyth Law graduate Joe Borg was EU Commissioner for Maritime Affairs and Fisheries from 2004 until 2010.