Exhibition – Shy Green-Ice Blue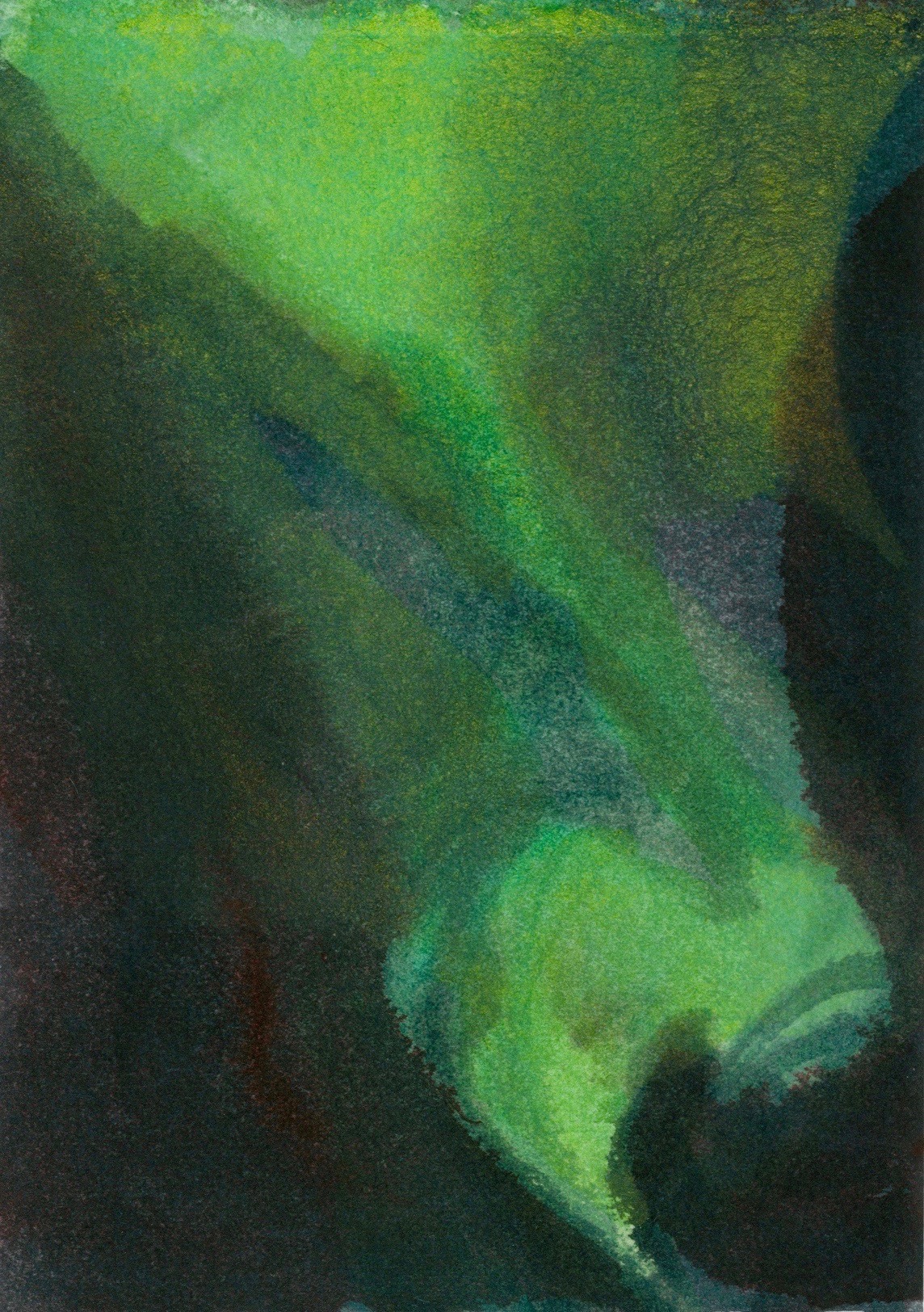 Northern Lights in watercolour, ink and spraypaint by Simon Pierse
An exhibition of artworks by Dr Simon Pierse, featuring the arctic regions of West Greenland, will be on display at Aberystwyth University's School of Art Gallery from 9 December 2019 to 7 February 2020.
In September 2018, whilst on board the Russian-owned research ship Akademik Sergey Vavilov with the Friends of the Scott Polar Research Institute, Dr Pierse made sketches of icebergs, saw the northern lights from the ship's deck and met the Inuit community of Qikiqtarjuaq.
The resulting paintings, mostly in watercolour, are a memory of these experiences in the arctic regions of West Greenland and Baffin Island and depict the landscape, ice flows, and swirling abstracts forms of the Northern lights. In an audio-visual piece 'Voices of the Northern Lights' Pierse superimposes the sound of Danish and Greenlandic voices and the sounds of the lights themselves over his images of the region.
Born in London in 1956, Simon Pierse studied at the Slade School of Art, followed by the Accademia Delle Belle Arti in Florence.
He was a lecturer and senior lecturer in Fine Art at the School of Art at Aberystwyth University from 1992-2016.
He is a member of the Royal Watercolour Society and served as its Vice President from 2009-12. He is an honorary member of the Australian Watercolour Institute, and Keeper of Pictures at the Alpine Club.
His work is represented in the Royal Collection; the public collections of London University; La Trobe University, Melbourne; Qingdao Art Museum, China, Dunmoochin Foundation, Melbourne; the Alpine Club, London; FIAF, Abruzzo, Italy; the RWS Diploma Collection; MOMA Wales; the National Library of Wales and the Museum and Gallery of Aberystwyth University, as well as in many private collections worldwide.
Shy Green - Ice Blue, Simon Pierse: Paintings of Greenland is on view at the School of Art Gallery, Buarth Mawr, Aberystwyth from 9 December 2019 – 7 February 2020.  The Gallery is open Monday to Friday, 10am to 5pm (closed 23 December to 1 January).  All are welcome and admission is free.