Fabric colour discovery to help control deadly tsetse flies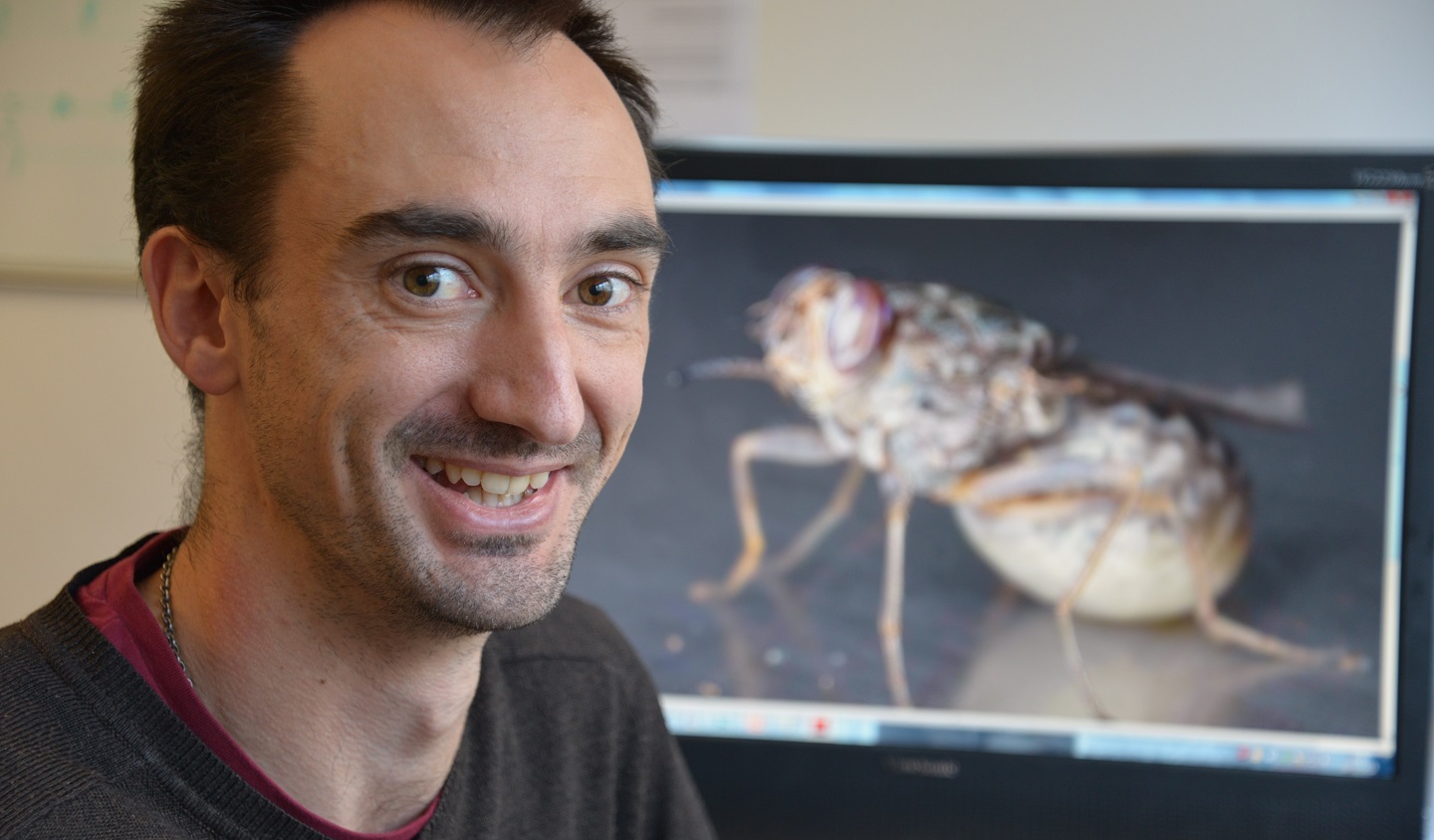 Dr Roger Santer, whose work on an understanding of how tsetse flies see colour, has led to the development of improved coloured fabric for the insecticide-treated targets used to control the flies.
Researchers at Aberystwyth University have helped deliver a scientific breakthrough that could help control cases of a devastating tropical disease.
Tsetse flies infest an estimated 10 million square kilometres of sub-Saharan Africa, and their bites transmit parasites that can cause 'Sleeping Sickness' disease in humans and a similar disease, 'nagana', in animals.
Without treatment, Sleeping Sickness typically results in prolonged suffering and death.
Now, thanks to work led by zoologist Dr Roger Santer at the Institute of Biological, Environmental and Rural Sciences at Aberystwyth, researchers have been able to engineer an improved coloured fabric for the insecticide-treated targets used to control tsetse, based on an understanding of how the flies see colour.
Tsetse targets are traditionally made from large panels of black or blue-dyed cotton fabric, which are sometimes flanked by netting.
The targets, which are set up around human settlements and areas where cattle graze, are coated in insecticide so that flies attracted to make contact with it are dosed and killed before they can go on to infect humans and animals.
Recently it has been realised that polyester targets are lighter, last longer, and hold insecticide better, but some blue polyesters are not as effective in attracting tsetse as cotton equivalents, even though their colour may appear similar to the human eye.
Dr Santer said: "We calculated how a fly's photoreceptors would respond to a variety of coloured fabrics to establish the attractive properties of different colours, from a 'fly's-eye' view.
"We then deliberately engineered a polyester fabric to be more attractive to the flies, based upon those principles, and tested its effectiveness against savannah tsetse flies. Interestingly, this new fabric looked violet to the human eye rather than the standard blue or black colour that is normally used."
During their experiment, the research team compared the catches of the various polyester targets to a traditional one constructed from black cotton.
They found that targets made from blue polyesters could be just as effective as black cotton ones, indicating that the more modern material of polyester is indeed useful in savannah tsetse control.
Most importantly, they also found that their new violet polyester attracted approximately 50% more female tsetse flies than either the traditional black cotton or a typical blue polyester, demonstrating its increased effectiveness in controlling tsetse flies.
Dr Santer added: "Our results demonstrate that photoreceptor-based models can be used to engineer fabrics with greater attractiveness to tsetse, and show that the violet fabric developed in this study is both robust and effective for targets against savannah species.
"There's more work to do, but I hope that our new violet polyester will enhance the effectiveness of tsetse control devices, and improve the lives of people and communities across Africa."
Dr Santer's findings are published in the latest edition of the PLOS Neglected Tropical Disease: Optimising targets for tsetse control: Taking a fly's-eye-view to improve the colour of synthetic fabrics.