How scientists are helping save ancient Welsh apples and pears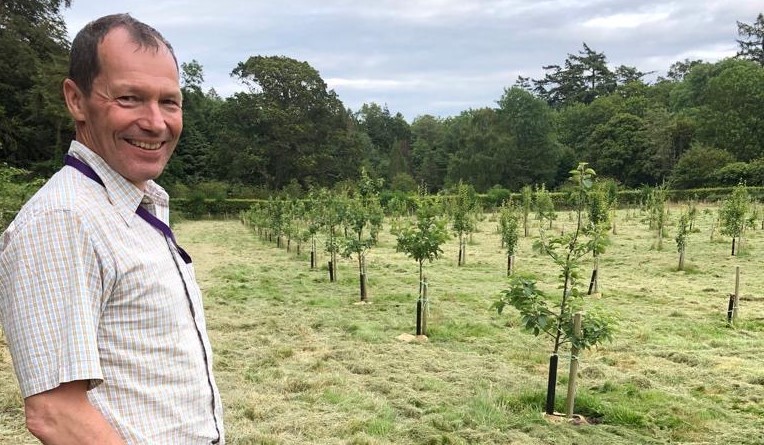 Dr Danny Thorogood at the heritage orchard, IBERS Gogerddan
Endangered varieties of apples and pears have been saved for future generations thanks to a 'living museum' planted by researchers at Aberystwyth University.
More than 60 historic Welsh apple and pear varieties feature in a new heritage orchard established at the University's Gogerddan campus by plant breeder and geneticist Dr Danny Thorogood from the Institute of Biological, Environmental and Rural Science (IBERS).
The orchard was created as part of a National Lottery Heritage Fund project managed by the Welsh Perry and Cider Society.
It will ensure scientists and growers have access to a genetic resource for all of Wales's ancient varieties, protecting important historic species from extinction.
Dr Thorogood said: "There are around 7,500 varieties of eating apple grown all over the world, something which many people don't realise as supermarkets normally only sell a few well-known varieties such as Granny Smith, Gala or Braeburn.
"The UK actually has more than 3,600 registered apple varieties recorded in the National Fruit Collection (NFC).
"There are around 100 varieties from Wales known to exist today – many of these can be found in the University's heritage orchard.
"We have apple varieties such as Frederick and Cummy Norman both used for cider making and Little Cross Huffcap perry pear named after the farm where it was discovered in Monmouthshire."
"The project identified trees from all over Wales that were found to be unique, using a DNA fingerprinting technique. These trees were then propagated and planted in the heritage orchard and replica orchards at other sites in Wales.
"We even identified four old trees on the University's land that we thought might be unique, so we cross-referenced samples against an existing national DNA database - we discovered that two of these trees were unmatched and had never been registered in the UK before.
Dr Thorogood hopes the University's orchard could play a central role in taking heritage varieties of apple and pear back into the mainstream.
He added: "There are some Welsh cider companies that currently combine heritage varieties like Bardsey and Frederick with more well-known varieties, but there is so much more opportunity for these old varieties to shine on their own and be enjoyed for their unique qualities by the general public.
"Our aim is to conduct further scientific research around the ideal uses of each of our heritage varieties – such as eating, cider making or cooking – based on their flavour profiles, texture and longevity, amongst other factors.
"We hope this will help put them back on the map, making them viable commercial alternatives for producers and manufacturers to use in mainstream products."
The heritage orchard at Aberystwyth University is one of four sites in Wales created as part of the Welsh Perry and Cider Society's National Lottery Heritage Fund project 'The Heritage of Orchards and Cider Making in Wales,' with additional funding provided by the Aviva Community Fund.
Get hands on
Experienced gardeners are welcome to propagate their own heritage varieties using cuttings from the university's orchard by prior arrangement. Please contact Dr Danny Thorogood on dnt@aber.ac.uk.
If you are interested in growing your own apples or pears, you can register to join a day course being run at the university's heritage orchard on 15 January where Herefordshire based expert John Worle will be teaching beginners and experienced gardeners how to professionally prune apple and pear trees for winter. This will include practical examples of formative pruning of young trees, as well as restorative pruning of some neglected trees of varying ages. For more information and to register (course cost £45) please contact Dr Danny Thorogood on dnt@aber.ac.uk.