Study considers the effects of translation services on court cases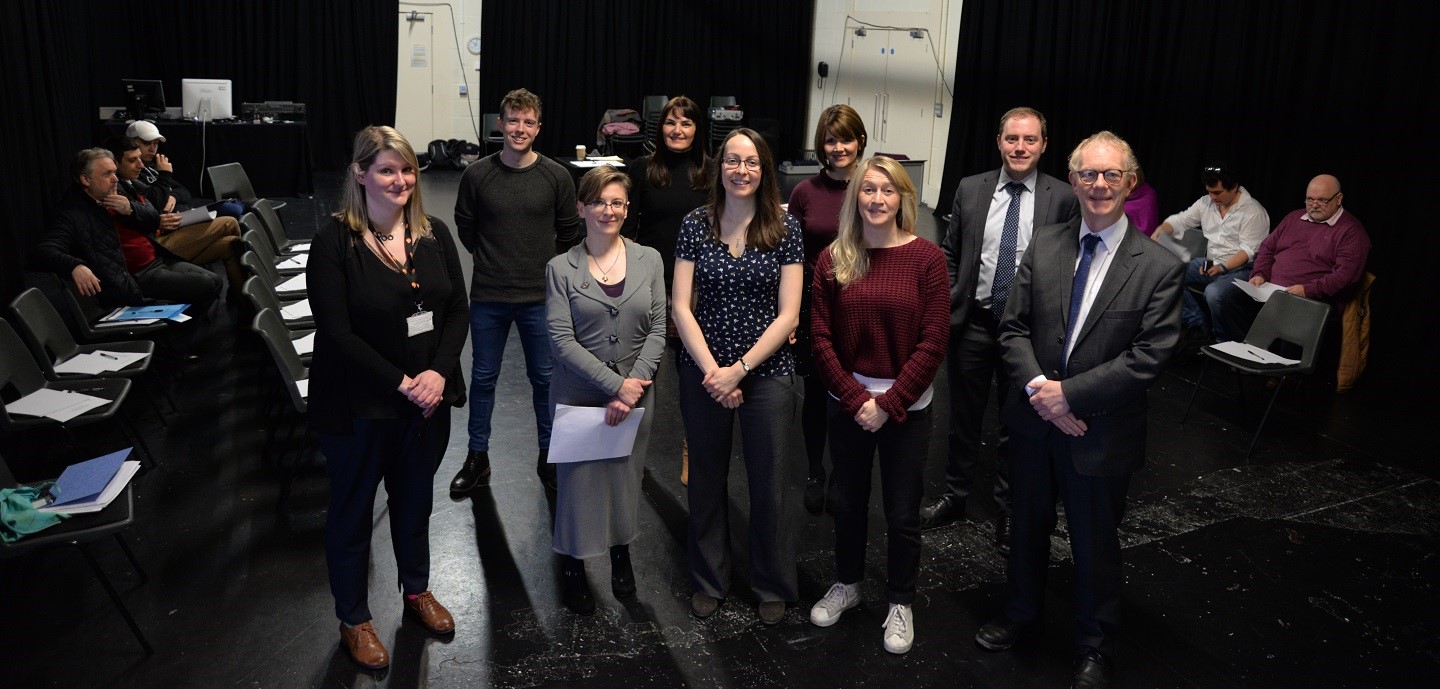 Members of the team who are staging the moot court at Aberystwyth University.
Researchers at Aberystwyth University are considering the influence of translation on court cases.
As part of the study solicitors, actors, interpreters and members of the public will come together to hold a moot court in Aberystwyth today, Thursday 23 January 2020.
The aim of the study, that combines expertise from the departments of Psychology, Welsh and Celtic Studies, and Law and Criminology, is to consider the effect, significance and influence of translation services between English and Welsh in legal cases.
According to Dr Rhianedd Jewell, a lecturer in Professional Welsh at Aberystwyth University, interpreting is essential in ensuring that members of the court understand each other.
She said: "Interpreting is becoming increasingly important in workplaces across Wales. Many people think interpreting is simply a process of changing the words in one language into those of another. This research will consider whether it is really that simple."
Two cases will be held during the day. The jury, formed by members of the public, will listen to the debates and their response will be analysed by using Forum Theatre - a technique developed in the Theatre to change preconceptions.
In addition to the legal arguments, they will also consider how the room's layout will influence the translation, with the space set out as a Magistrates' Court on this occasion.
There will also be an opportunity for the jury to express their opinion on the case and the effect of the translation service, and answer two questions – who do they believe, and whose testimony is more convincing?
The project builds on the work of Dr Catrin Fflur Huws from the University's Law and Criminology Department in 2013 following the first court case to be held through the medium of Welsh in the Magistrates' Court.
The case was staged in order to find out how the Welsh Language Tribunal, that deals with appeals against decisions by the Welsh Language Commissioner, would work with contributions through the medium of Welsh and English.
Dr Huws said: "The work could be influential not only on translation services in court cases but also in other contexts. The translator's role is crucial in the process of multilingual communication, and there isn't enough acknowledgement or understanding of the translator's role. Our recommendations will therefore be relevant to training professional translators, bilingual spaces procedures including courts, and also our understanding of receiving inputs from two first languages and a second language, or through an original hearing and a translator."
The third expert on the study is Dr Hanna Binks, a lecturer in the Psychology Department and a specialist in language acquisition and the psychology of bilingualism.
The research work has been funded by Aberystwyth University's Research fund.