Success for Welsh language Tutor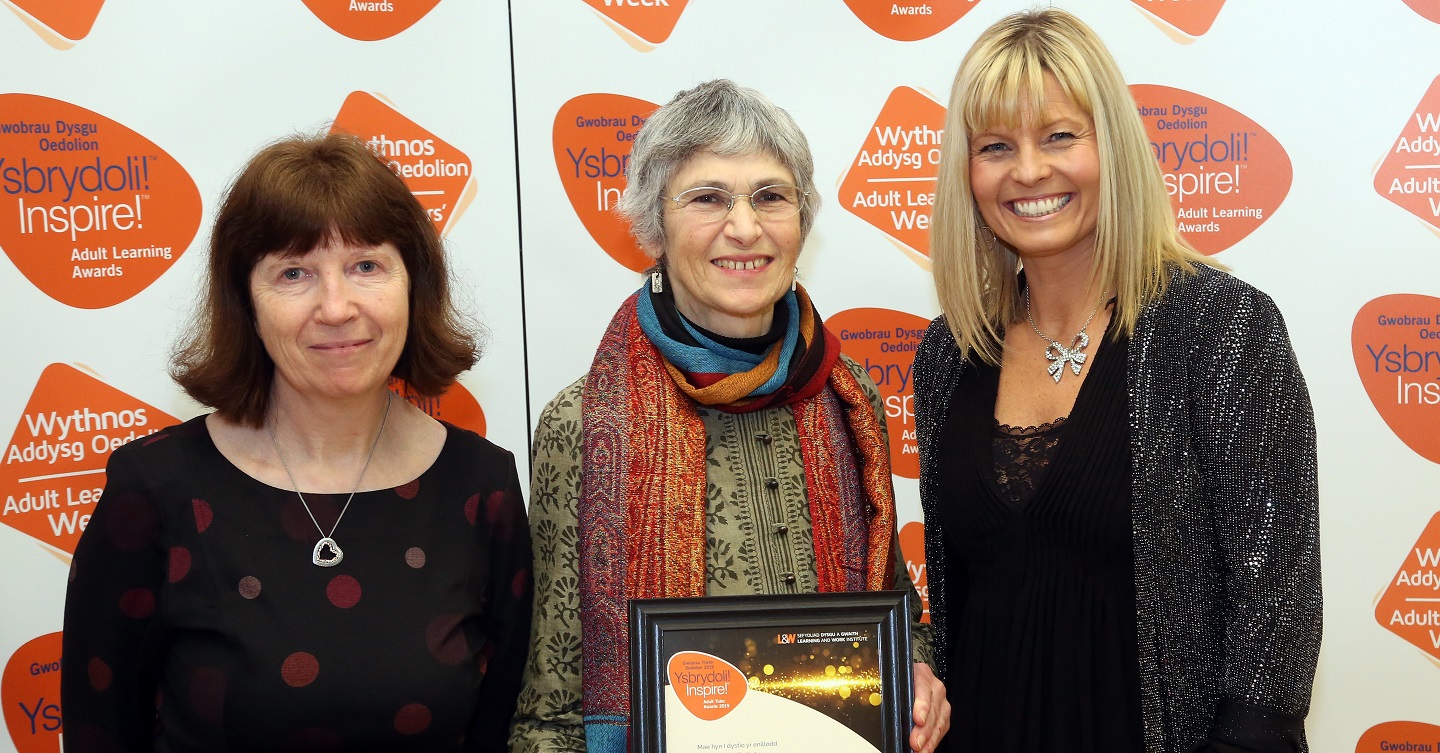 From left to right: Helen Prosser, Director of Teaching and Learning at the National Centre for Learning Welsh; Philippa Gibson; Nia Parry, presenter of the Awards Ceremony.
One of Aberystwyth University's Learn Welsh Tutors has been recognised by Learning and Work Institute Wales for her exceptional contribution.
Philippa Gibson was presented with the Inspire! Tutor Award in a special ceremony held at St Fagans National Museum History on Wednesday night 22 January 2020.
Over the last 30 years, Philippa has been learning Welsh as an adult and in that period, she has developed her skills to become an accomplished and experienced Welsh Tutor.
She is a member of the Aberystwyth University Learn Welsh team that provides Welsh lessons to adults in Powys, Ceredigion and Carmarthenshire.
Philippa said: "Having learnt Welsh as an adult, I gain satisfaction from teaching he language to others and see them moving on to become a part of the local Welsh community. Tutoring means doing as much as I can to help each individual to succeed by overcoming any barriers, whether they are specific issues relating to learning, lack of confidence or knowledge about opportunities to use their Welsh."
Philippa favours informal methods and learning opportunities as a Welsh tutor. She commits time to enlisting, co-ordinating and arranging volunteers to support informal speaking sessions with learners by following the Pontio Scheme.
In addition to this, Philippa encourages her students to write for the local community paper and supports her learners to access many activities including a Welsh-language walking group, Welsh plays and concerts and Welsh-language societies.
Mary, one of Philippa's students, praised her inspirational work. She said: "She has opened up a new word for me, a world of Welsh culture. She has been extremely good."
Siôn Meredith, Head of Learn Welsh Ceredigion, Powys and Carmarthenshire, said that Philippa's contribution is invaluable: "Many learners from the Cardigan area have benefitted from Philippa's work as a tutor, and many of them are fluent speakers by now, and have crossed the bridge. Philippa has made o world of difference to the future of the Welsh language in the area. Many thanks and congratulations to her for receiving this award."
Aberystwyth University Learn Welsh is part of the National Centre for Learning Welsh that is responsible for all aspects of the Learn Welsh sector.
Efa Gruffudd, Chief Executive of the National Centre for Learning Welsh, said: "I am delighted at Philippa's success. She has succeeded to gain enthusiasm amongst the learners, by engaging and supporting them in becoming Welsh speakers. The Centre would like to thank Philippa for her tireless work and congratulate her very warmly for this award, and for her valuable contribution to the Learn Welsh sector."
Diane Norrwell was also commended as she reached the final round.
Diane, who also learnt welsh as an adult, is a Learn Welsh tutor from Montgomeryshire and is still following Welsh grammar courses in Aberystwyth.
The Inspire! Tutor Awards are co-ordinated by the Learn and Work Institute in partnership with Welsh Government and supported by NTFW, Colleges Wales, National Centre for learning Welsh, Universities Wales and Adult Learning Partnership Wales.