Pantycelyn opens for applications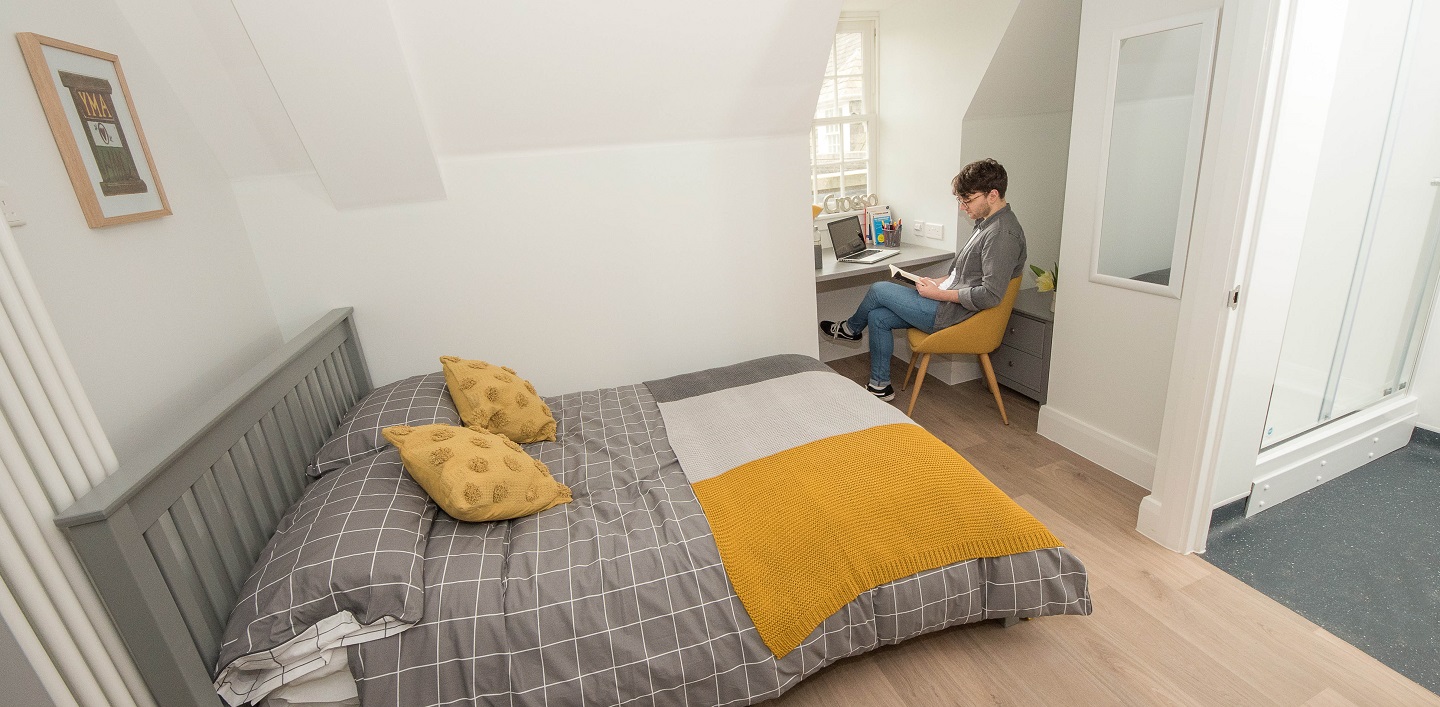 One of the new en-suite student rooms in Pantycelyn which is due to open in September 2020
Applications for freshers who want to live in Wales' most famous student hall open today, Wednesday 1 April 2020, as the first rooms at the site are completed.
Aberystwyth University is investing £16.5m to transform Pantycelyn and provide facilities that compete with the best.
The new-look hall will offer modern en-suite accommodation for up to 200 students who will benefit from state of the art research and learning experiences in Aberystwyth University.
They will also enjoy top-notch resources which will include quiet study rooms with computer facilities, two meeting rooms, and four common rooms - the Small Lounge, the Large Lounge, the Senior Common Room and the Junior Common Room.
Together they provide space to study, perform, relax and socialise, all under one roof.
Dr Rhodri Llwyd Morgan, Aberystwyth University's Director of Welsh Language, Culture and External Engagement said: "Opening this opportunity now to make an application for a place in Pantycelyn for the next academic year is an important development.
"Without a doubt, this is Wales' best-known student hall of residence. It has great facilities and a unique community atmosphere. Despite the difficult circumstances at the moment, the renovation work is being delivered on time and it's important that prospective students book their place as promptly as possible."
"Pantycelyn will be home to the Welsh language students' union, Undeb Myfyrwyr Cymraeg Aberystwyth, and all the other Welsh language societies. There will be nowhere better to be if you want to be part of a close-knit Welsh language community, enjoying brand-new facilities and a wide range of opportunities to socialise."
Value for money
For the academic year 2020/2021, Pantycelyn will offer exceptional value for money with the price of £5512 a year including food.
In keeping with its homely atmosphere, it will be the only hall of residence in Aberystwyth where catering is provided and included in the price of the accommodation, with meals served in the canteen from Monday to Friday.
And for those who want to prepare something light to eat between meals, there will be a small kitchen for every 8 bedrooms.
Welsh medium hall
Pantycelyn first opened in 1951. It opened its doors as a Welsh medium hall in 1974 and subsequently became well-known for its cultural strengths, both traditional and modern, and for its social buzz.
As it reopens and the Welsh-speaking community there reaches its full capacity over the next years, the new Pantycelyn residents will have the opportunity to influence its development and put their own stamp on it.
It is also an important part of Aberystwyth University's vision to improve and increase Welsh-medium opportunities and ensure that students can live through the medium of the language when they move to study in Aberystwyth.
The development also contributes to the Welsh Government's goal of reaching one million Welsh speakers.
Opening September 2020
In accordance with the Government's latest advice, work on construction sites continues, and, in line with the project timetable, the new-look Pantcelyn will welcome its first residents in September 2020.
To learn more about what Pantycelyn has to offer, go to: www.aber.ac.uk/pantycelyn.
The Pantycelyn project has received £5m from the Welsh Government as part of a 21st Century Education and Schools program.