Major award to uncover secrets of medieval seals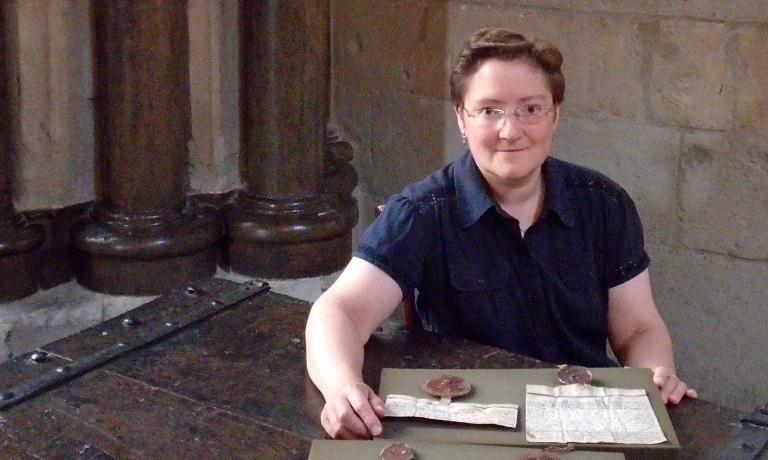 A historian from Aberystwyth University has been awarded a prestigious Major Research Fellowship by the Leverhulme Trust to investigate what seals can reveal about life in medieval times.
Based in the Department of History & Welsh History at Aberystwyth, Dr Elizabeth New is one of 34 academics in the UK and the only one at a Welsh institution to receive a Major Research Fellowship (MRF) in this particular round of awards.
Entitled Identity, Interaction and Exchange in Medieval England, Dr New's three-year project will explore what seals and sealing practices can tell us about the lives of people in medieval times.
"Medieval seals are fascinating and can reveal so much about the people who used them. They acted in a similar way to modern signatures, credit cards, and logos, and were as familiar a part of everyday life as these things are to us," explained Dr New.
"But what makes seals so important is that they conveyed far more than signing your name or swiping a card does today. They were small but powerful parcels of image and text which identified and represented men and women - from nobles to artisans and peasants - as well as offices, institutions and groups.
"They presented carefully constructed messages about status, power, wealth, occupation, family, humour, piety and connections from the very local to the international.
"I am honoured to have been awarded this Major Research Fellowship by the Leverhulme Trust which will allow me to delve deeper into the ways in which people – especially from the middling and lower levels of society – used seals and what they reveal about life in the Middle Ages."
At a time when the world is coming to terms with a modern-day pandemic, the study will cover the 14th century Black Death plague period. The plague had a major impact on land and property exchange which produced spikes in the number of surviving sealed documents.
"As the world grapples with Covid-19 and its effects, it will be particularly interesting to see if the images and text people chose to use on medieval seals change in the post-plague years" added Dr New.
Dr New's project will lead to the publication of a monograph, focusing on men and women below the aristocracy who traditionally have received limited attention.
It will address a number of questions, including what variations in seal designs can tell us about communication, fashion, and medieval concepts of the individual and their place in intersecting spheres of experience, as well as addressing issues of gender, family, occupation and locality. Another key question will be what the text on seals can reveal about people's use of language and their understanding of the written word.
As well as using archival and archaeological material, Dr New's research will incorporate the forensic analysis of hand and fingerprints in wax undertaken in a previous project entitled Imprint which she co-ran with a colleague at the University of Lincoln and which was funded by the Arts and Humanities Research Council.
This time, Dr New will be working with colleagues at the Universities of Cambridge, Copenhagen and Reading who are investigating the properties of beeswax and origins of inorganic pigments used in the production of seals.
"As part of my Leverhulme project, I will once more be collaborating with scientific colleagues. Even though I will be looking at evidence from centuries ago, my research has 'real world' potential - enabling medieval history to contribute to modern science and technology," added Dr New.
Dr New has been awarded £123,000 by the Leverhulme Trust for the three-year study which will begin in September 2020.