£3 million in additional EU funding awarded to AberInnovation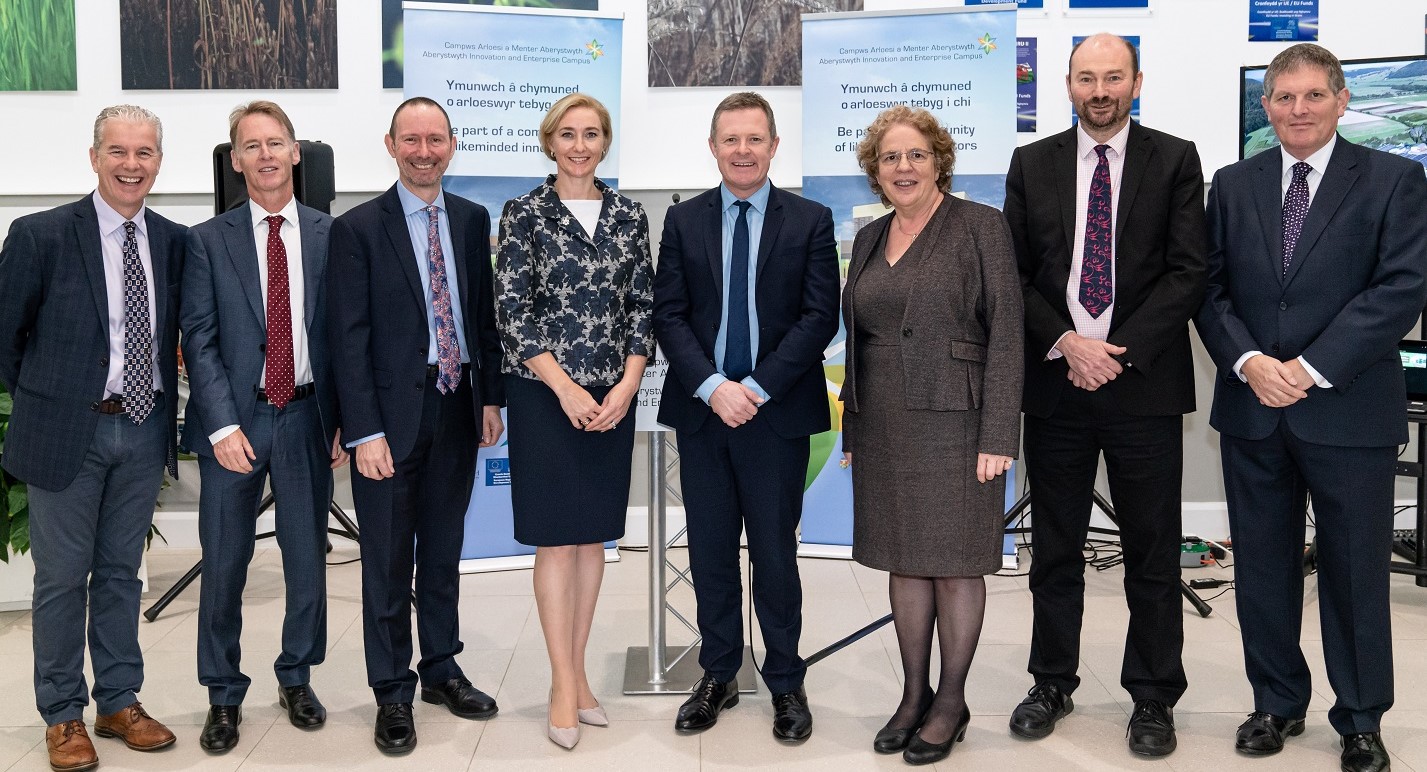 October 2019: Opening of phase 1 of AberInnovation (left to right); Bill Poll, UKRI-BBSRC; John Berry, AberInnovation Board Member; Dr Emyr Roberts, Chair of Aberystwyth University Council; Paul Gemmill, UKRI-BBSRC; Dr Rhian Hayward MBE, Chief Executive Office of AberInnovation; Jeremy Miles MS, Welsh Government Counsel General and Minister for European Transition; Professor Elizabeth Treasure, Vice-chancellor Aberystwyth University; Professor Iain Donnison, Head of IBERS.
Welsh Government has today announced an additional £3 million in revenue funding for the Aberystwyth Innovation and Enterprise Campus (AberInnovation).
The EU funding will allow the campus to develop a pipeline of collaborative research and development projects with industry as it moves into its operational phase.
Based on Aberystwyth University's Gogerddan site famous for crop breeding, AberInnovation provides world-leading facilities and expertise for the biotechnology, agri-tech, and food and drink sectors.
The extra funding brings the level of support from the European Regional Development Fund through the Welsh Government to £23m, adding to capital investment provided by BBSRC – part of UK Research and Innovation – and Aberystwyth University.
Jeremy Miles, Counsel General and Minister for European Transition commented: "As we prepare to rebuild Wales following this pandemic, it's vital we support our world-leading research and innovation sector to be at the forefront of that recovery, and to continue to provide high quality, sustainable jobs for our people. I am delighted to be able to provide this additional funding to continue this work and find new novel ways of tackling the challenges of climate change and a transition to a low carbon economy, hand in hand with our partners in industry."
Construction of the new Campus is due to complete by the end of August 2020 with facilities becoming fully operational later in the year.
The first phase of construction completion was officially marked on 25 October 2019, with a ceremony led by Counsel General and Minister for European Transition, Jeremy Miles MS.
Professor Elizabeth Treasure, Vice-Chancellor of Aberystwyth University, said: "For over a century Aberystwyth has been recognised as an internationally-significant centre of excellence in the fields of agriculture, food production and biotechnology. AberInnovation represents a major investment and offers the ideal environment for developing new and innovative products and services at a time of great challenges. We welcome this additional funding from Welsh Government which will be critical as we work with our partners to deliver on our vision to support the biotechnology, agri-tech, and food and drink sectors."
The AberInnovation Biorefining Centre and the Aberystwyth University Seed Biobank were opened in 2019 and will soon be joined by two additional core technical capabilities to complete the AberInnovation offer.
The Future Food Centre will provide a food-grade environment for the testing, validation and improvement of existing and novel materials as foods including nutritional content, advanced compositional analysis, shelf life and consumer preferences.
It will be supported by the Advanced Analysis Centre, housing bespoke facilities supporting analytical needs for food intervention studies.
The AberInnovation Innovation Hub will offer event spaces, breakout rooms and flexible office and laboratory accommodation to enable businesses to collaborate with University academics to bring innovative products and services to fruition.
AberInnovation has already proved to be an attractive destination for forward-thinking companies, with twenty-one tenants and members now in its network.
Some of these companies have joined recent global fight against Covid-19, with agri-tech company Agxio Ltd offering their proprietary AI-driven machine learning engine and technical support team for free to researchers, practitioners, and government bodies working to defeat the coronavirus for the duration of the pandemic.
CEO of AberInnovation, Dr Rhian Hayward MBE, said: "We have created a unique venue for collaborative R&D in the UK. The AberInnovation Biorefining and Future Food Centres are physically integrated with a food grade environment, meaning that we can host seamless R&D that crosses both the circular economy and food sectors. I look forward to welcoming a community of companies of all sizes to Aberystwyth to accelerate their product development work with us in these exciting facilities."