Free legal service shortlisted for two prestigious awards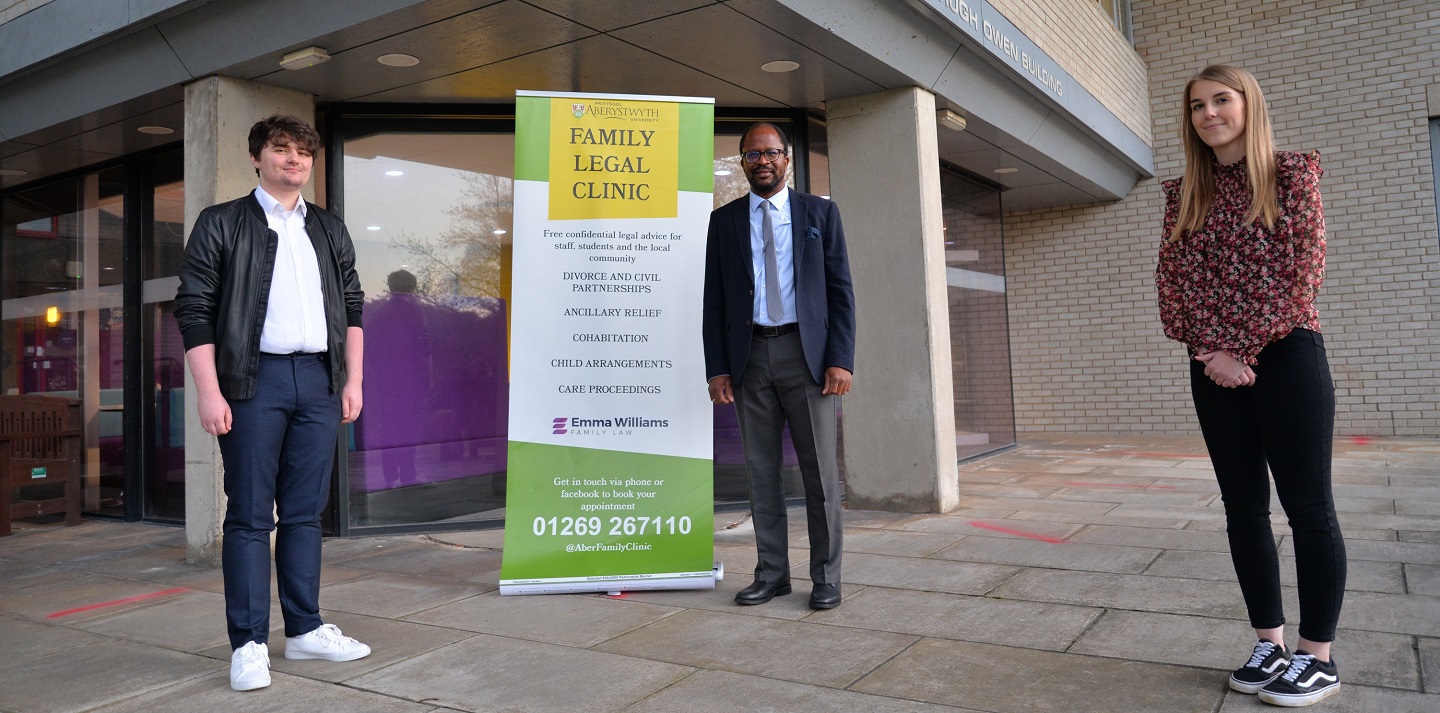 Department of Law and Criminology students Elliot Books (left) and Olivia Rookes (right) with Dr Ola Olusanya, Senior Lecturer at the Department and one of the founders of the Aberystwyth University Family Legal Clinic
A free legal advice service provided by the Department of Law and Criminology at Aberystwyth University and award winning law firm Emma Williams Family Law has been shortlisted for two awards at this year's Law Works Pro Bono Awards.
The Aberystwyth University Family Legal Clinic, established by Dr Ola Olusanya, Senior Lecturer at the Department of Law and Criminology with support from Aberystwyth University alumni, has been shortlisted for the Law Works Cymru Award and the Best Pro Bono Clinic awards.
The clinic offers free legal support to people living in Ceredigion and was formed to counter the lack of free legal advice following the demise of Legal Aid in the area.
With no family Legal Aid providers within 35 miles and no other family law legal advice clinics or opportunities to obtain free legal advice locally, Ceredigion has been defined by the Law Society as an 'advice desert'.
As well as offering advice sessions of 30 minutes the clinic completes paperwork for service users, routinely preparing applications for divorce and child arrangement orders.
Delivered by Aberystwyth Law graduate Emma Williams, the clinic is supported by third-year students from the Department of Law and Criminology.
During 2020 the service has had to respond to the challenges posed by the COVID-19 pandemic. Since March, the monthly clinic became weekly due to greater demand for its services.
Travel restrictions and social distancing rules also meant it had to move online, initially as a telephone based service. Over the summer a hybird phone/Zoom service was introduced and more recently it has become a wholly virtual service.
Professor Emyr Lewis, Head of the Department of Law and Criminology at Aberystwyth University said: "It is a privilege and a source of great pride that our Family Law Clinic at Aberystwyth has again this year received two nominations for these awards. It is testimony to the hard work and dedication of our students and Emma Williams Family Law.
"The accessibility of legal advice for vulnerable people in the face of substantial cuts in funding the justice system is a matter of great importance. The clinic is one of several projects within the Department of Law and Criminology which address this, offering practical experience for students while contributing at the same time to public well-being."
According to the Joseph Rowntree Foundation 23% of working age people in Wales live in poverty and the vast majority of those who access the service fall under the Joseph Rowntree Foundation minimum income standard.
It is one of two free legal advice services offered by the Department of Law and Criminology – the other being the Veterans Legal Link which offers advice and support for services veterans in Wales.
Dr Ola Olusanya said: "To be shortlisted for this year's Pro bono awards for a second-year running is an outstanding achievement. This nomination is down to the dedication, hard work, commitment and creativity of our team. We have responded to the challenges around new ways of working and enhancing student learning experiences by expanding our virtual tools to transition smoothly to a fully remote workplace and by adapting virtual placement opportunities to respond to current circumstances.
"The Aberystwyth University Family Legal Clinic is playing a leading role in mitigating the mental and physical health consequences of social distancing and isolation on rural families in mid-Wales in the COVID-19 era. Once again, we would like to extend our sincere appreciation and thanks to our alumni and friends who donate to the Aber Fund. Without their support the Clinic would not be possible."
The LawWorks Pro Bono Awards recognise and celebrate achievement in legal pro bono work, undertaken by organisations and individuals, and the commitment of the legal sector in enabling access to justice.
The finalists represent the breadth and range of pro bono activity undertaken by LawWorks members, pro bono clinics and others across England and Wales.
Alasdair Douglas, Chair of the LawWorks Board of Trustees, said: "Congratulations to all those shortlisted. We had an amazing number of nominations, and, given just how challenging this year has been for everyone, it is hugely encouraging to see that pro bono has thrived and developed. I would like to thank all those who were nominated - it has not been an easy endeavour for the judges to settle on a shortlist. I would also like to thank the judges for giving their time.
"These Awards acknowledge and celebrate the commitment of law firms, from their senior management to their trainees and administrative staff, in-house teams and the many individuals who volunteer their time and expertise to improve the lives of others. Whilst we cannot meet in person to celebrate this year's awards and the finalists' achievements, I hope that by holding a remote event we can capture and recognise their huge contribution."
The winners of the 2020 LawWorks Pro Bono Awards,will be announced at a livestreamed event on Wednesday 2 December.
Sponsored by Lexis Nexis, they will be presented by radio and television presenter, producer and writer Matthew Stadlen.
This is the second successive year that the Aberystwyth University clinic has been shortlisted by the Pro Bono Awards.
In 2019 the clinic was shortlisted for the LawWorks Cymru Award, and Emma Williams Family Law received the award for Best Contribution by a Small Firm.
Further information about the Aberystwyth University Family Legal Clinic is available online, by contacting emma@ewfl.co.uk / famstaff@aber.ac.uk / 01269 267110 or their Facebook page.