Once in a generation gift to School of Art Museum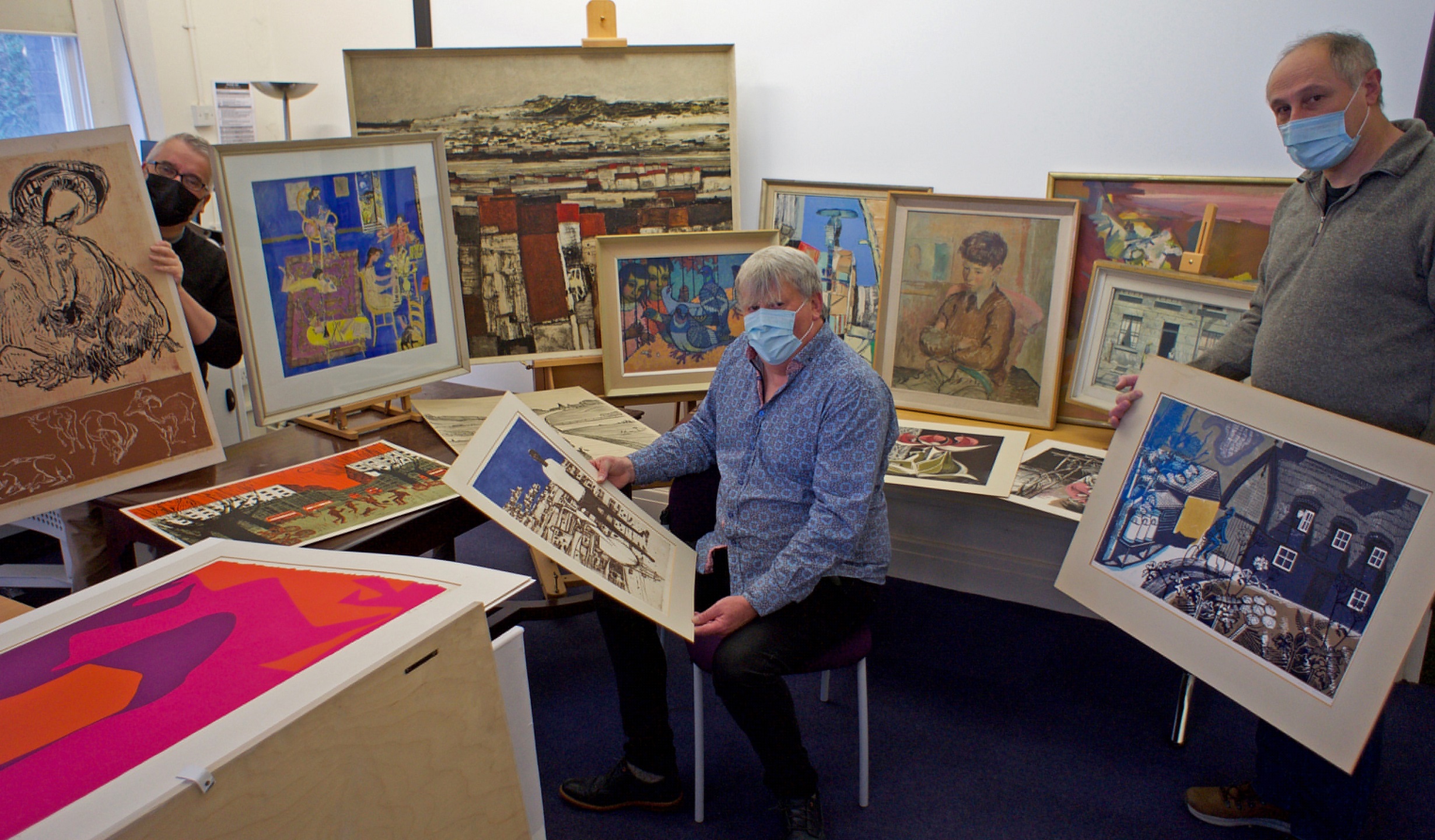 Unpacking the Derbyshire gift. Left to right: Curator Neil Holland holding a linocut print by Gertrude Hermes, Head of School of Art Professor Robert Meyrick with an etching by Julian Trevelyan, and Lifelong Learning Teacher Phil Garratt with a linocut by Edward Bawden. The background includes works by Edward Middleditch, Ernest Perry, Patrick Heron and L S Lowry.
Aberystwyth University's School of Art Museum has received what it has described as one of the most significant donations in its history. Students, academics and visitors will be able to enjoy works by artists including Rembrandt van Rijn, Albrecht Dürer and L. S. Lowry, following the gift by a local authority in England.
The valuable collection of some 200 artworks has been gifted to the University by Derbyshire County Council Schools Library Service, following an application process based on how the works would be used in future.
While other education authorities in England have dispersed their collections through public auction due to financial pressures, Derbyshire has sought to re-home its artworks in accredited museums UK-wide. Derbyshire's large-scale distribution project has been guided by the Museum Association's Code of Ethics, administered by Buxton Museum and Art Gallery, and supported by the Esmée Fairbairn Collections Fund.
The School of Art Museum at Aberystwyth, which celebrates its centenary this year, submitted an Expression of Interest form for each artwork it requested, making a case for how it relates to its Collections Development Policy, how the artwork will be used and displayed, and how it will benefit its audiences.
Derbyshire County Council Leader and Cabinet Member for Strategic Leadership, Culture and Tourism Councillor Barry Lewis said: "This is an exciting and pioneering project for us to be involved in and we welcome the confidence the Museums Association has placed in us to get this right.
"For a long time museums have been nervous about the disposal of objects so this is an innovative project which will see items being re-homed in a transparent way, considering what is the best place for the object while ensuring it is not lost to the public where possible.
"We are very pleased that the School of Art Museum at Aberystwyth University is able to receive these pictures, and to exhibit them in their galleries. It is all the more pleasing that a home has been found for so many works in a teaching institution, continuing the purpose these works were originally acquired for."
Head of the School of Art and Keeper of Art at Aberystwyth University, Professor Robert Meyrick, commented: "We're delighted to have received such a wonderful collection of art to further enrich our offer at Aberystwyth University's School of Art Museum."
"Displays from the Derbyshire collection will provide a stimulating environment for students and staff, for local audiences as well as for our national and international visitors. Our distance from major provincial art galleries means that Derbyshire's pictures will have greater significance and impact here at Aberystwyth than among larger collections in urban settings."
The School of Art Museum collects and displays artworks of educational and cultural value that are used for teaching and research and enrich student experience through the first-hand study of historical and contemporary works of art. The Museum's collections are unique in Wales and of international importance. They are used in training students who go on to become artists, art historians, museum curators and exhibition organisers.
The artworks gifted by Derbyshire County Council Schools Library Service have been selected with their potential for public display and educational uses in mind, and will also be used by the University as a focus of outreach activities through lifelong learning courses and exhibitions.
School of Art postgraduate student Sarai David from Virginia, USA, has already started work on the new acquisitions. She commented: "I have really enjoyed documenting the oil paintings as a part of my MA Art History course, and I am excited to learn more about this important collection through my research. I have learned many new skills from handling and cataloguing valuable artworks to evaluating them in a methodical manner. I aim to stage a public exhibition of the paintings and to showcase my research on artists that have yet to be widely written about."
The transfer includes original prints by European greats Albrecht Dürer and Rembrandt van Rijn as well as 20th-century British printmakers such as Michael Ayrton, Edward Bawden, John Bratby, Elizabeth Frink, Alistair Grant, Anthony Gross, Gertrude Hermes, Patrick Heron, Charles Keeping, L. S. Lowry, Sidney Nolan, Eduardo Paolozzi, Victor Pasmore, John Piper, Michael Rothenstein, Robert Tavener, Julian Trevelyan and Clifford Webb.
There are paintings by Christopher Hall, Edward Middleditch, Ceri Richards, Fred Uhlman and Nan Youngman and well as drawings by Hablot K. Browne, Edward Lear, John Leech, George du Maurier, John Minton, and Winnie the Pooh illustrator Ernest Howard Shepard.