Coronavirus research gives further clues about its origin and journey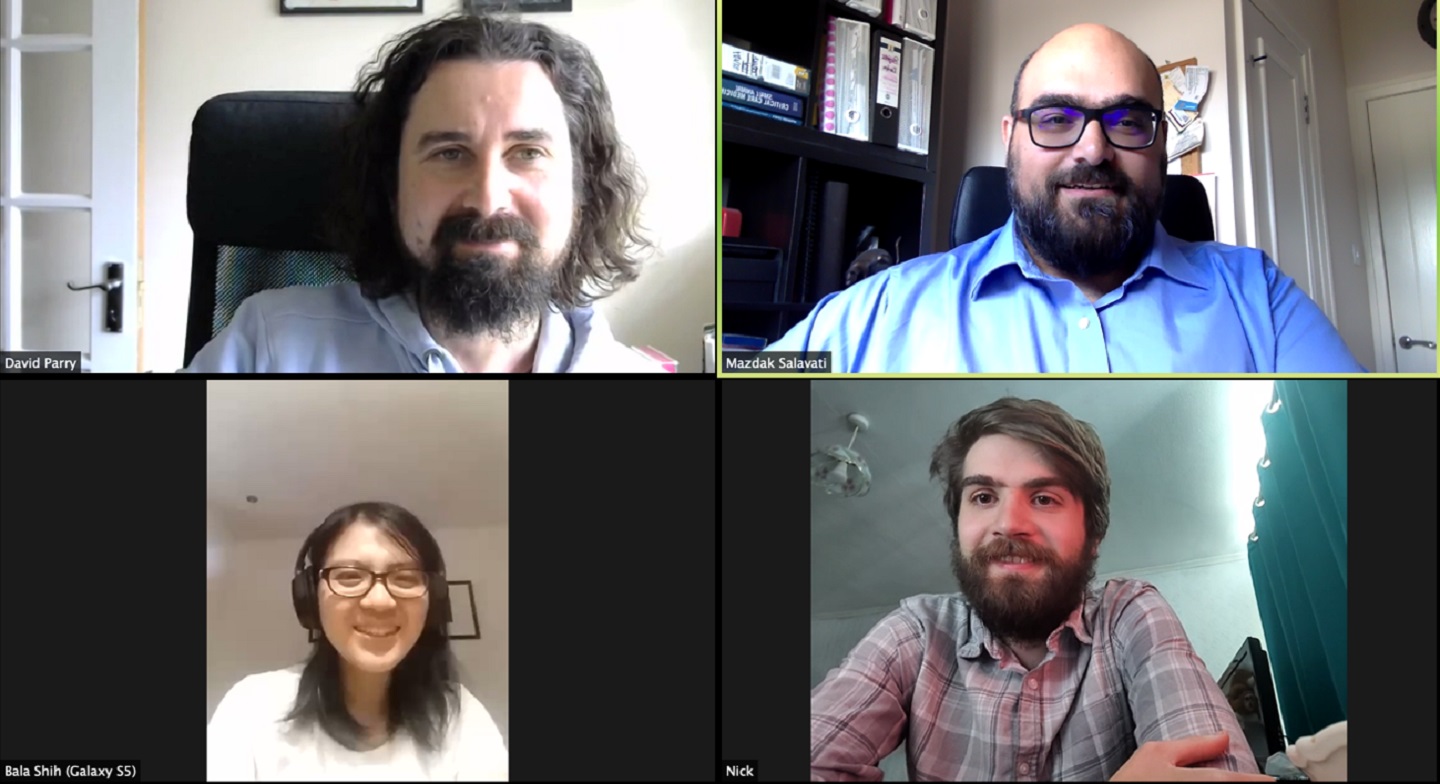 The research team
Coronavirus gene research in bats and pangolins has revealed further clues about its potential origins and transmission to humans.
As part of the CoronaHack hackathon event, a research team from Aberystwyth University and the University of Edinburgh's Roslin Institute utilized hundreds of publicly available coronavirus genomes to compare SARS-CoV-2 - the virus which causes the COVID-19 disease - to its closest genetic relatives in bats and pangolins.
This research provides further support for the hypothesis that the ancestor of the virus was once present in both bats and pangolins before reaching humans.
They also conclude that the genome of the most recent common ancestor of the virus is yet to be sequenced.
The study, published in the journal MDPI Viruses, also identifies a number of high-impact variants in several bat and pangolin coronaviruses that could guide vaccine design and development.
Nicholas Dimonaco, a PhD student at the Institute of Biological, Environmental & Rural Sciences (IBERS) at Aberystwyth University, employed a novel hybrid computational approach to reach the findings. He commented:
"This work has shown that there are types of Coronaviruses found in both pangolins and bats which are genetically more similar to the human SARS-CoV-2 virus than to other viruses from the same hosts. We have compared these viral genomes and identified both novel and previously identified mutational hotspots across the genes of these host-groups and the impact they have on their function."
Globally, only seven genomes of a coronavirus in a pangolin have been sequenced.
Mr Dimonaco from Aberystwyth University, who was lead author of the research paper, says this underlines the need for further research:
"This study emphasises the lack of genomes currently available for suspect-host Coronaviruses, for example, in pangolins or bats. We need far more isolation and sequencing of such samples. This may bridge the knowledge gap about these circulating viruses capable of crossing host species given the right circumstances. "
Dr Barbara Shih, a core scientist at the University of Edinburgh's Roslin Institute who was the senior author on the paper added:
"After examining all publicly available coronavirus genomes for bats and pangolins, we noted a handful of bat coronaviruses and all seven pangolin coronaviruses to be very similar to SARS-CoV-2. Ideally, we want to have a spectrum of viruses covering the range of 'somewhat similar to' to 'almost identical to' SARS-CoV-2 so that the origins of SARS-CoV-2 can be more accurately traced."