Enterprising student bags £13,000 investment in business idea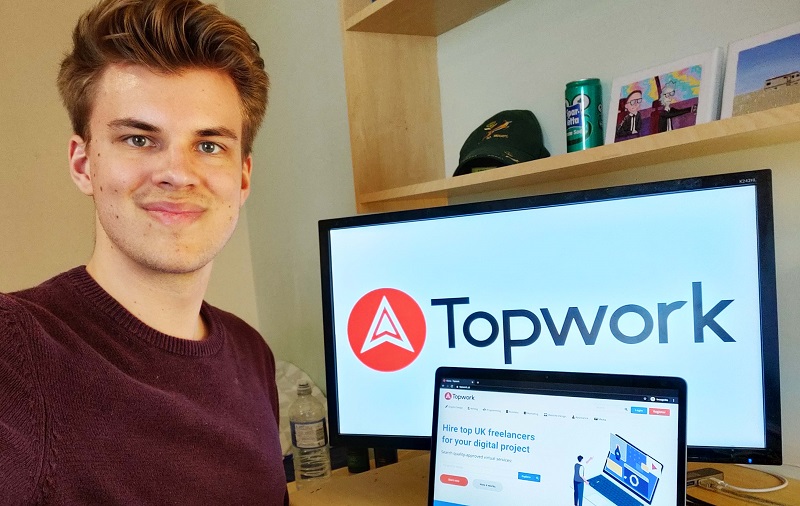 Computer Science student Karl Swanepoel, winner of InvEnterPrize 2021
A Computer Science final year student has secured a £13,000 investment in his business idea to develop a website/app to match talented freelancers with start-up businesses which are seeking digital services.
'Topwork' (now Revolancer) is the brainchild of Karl Swanepoel, who won over the judges in this year's Aberystwyth University InvEnterPrize student ideas competition. 
"Topwork is a digital platform that connects entrepreneurs and small business owners with talented, remote-working freelancers and students who specialise in digital skills including but not limited to graphic design, writing, programming, and media", Karl explains. "The goal of the platform is to pull down the barriers of entry to starting and growing a business online and earning a remote income."
Held annually, the InvEnterPrize competition is sponsored by contributions from the alumni AberFund, and organised by the University's Careers Service. This year's InvEnterPrize finalists were from a wide range of academic disciplines, and pitched ideas ranging from drinking straws made out of grass to thermally-insulated paint.
Along with securing £10,000 to invest in equipment, facilities or professional services to turn his business idea into reality, Karl also bagged a separate prize of £3,000 sponsored by Engineers in Business, awarded to the winning entry from a student or student team from Computer Science, Maths and Physics.
Karl responded to the news that he had won InvEnterPrize 2021, saying: "Ever since I was fourteen years old, it has been my dream to start a company and be my own boss - InvEnterPrize has now helped me take a big step towards this goal. The competition provided a fantastic opportunity for me to kickstart Topwork, and I am incredibly grateful to the judges, competition organisers, and all the people who took time out of their busy schedules to help me along this journey. Winning the competition prizes has enabled me to fund Topwork so that it can launch very soon and help skilled workers, students and entrepreneurs across the UK, and I'm very excited to get started with that now."
The University's Careers Consultant and Entrepreneurship Champion, Tony Orme, explains: "InvEnterPrize continues to be a highlight in the University calendar for entrepreneurial students with an idea for a business or social enterprise. It is the seventh time the University has run the competition, which is still one of the biggest student enterprise contests in the UK. Since we launched the 2021 competition twelve weeks ago, teams of enterprising students have been able to hone their business acumen through a programme of online workshops focusing on the vital skills needed for a business start-up, such as market research, marketing and branding and financial planning and control. The six finalists in this year's competition each delivered a thirty minute pitch and fielded questions from our panel of distinguished alumni in a 'Dragon's Den' style event. The innovative nature of the business ideas and the quality of the pitches was impressive."
Also on offer as a prize in this year's competition, was a year of office space, mentoring and investor-readiness training provided by AberInnovation, awarded to the strongest entry from the bio-sciences, life sciences and agriculture sector.  This was awarded to innovative ethical tea company, Eisa Tea Co, the business idea of Psychology student, Emily Knipe and English graduate, Amy Aed.  Amy commented: "Winning a year of office and kitchen space at AberInnovation will be invaluable for kicking off Eisa Tea Co. as we now have the opportunity to spend the whole summer working on our flavours in a professional kitchen, alongside experts. The contacts that we have made through the AberPreneur webinars and online events have proved to be crucial in refining our ideas and learning about how to get to the start line. Already we have officially registered as a business, begun working with designers to perfect our branding, and secured potential stockists across Wales."
The final prize, the GRAaIN £500 prize for Rural Business, was awarded to a website/app to help touring cyclists find appropriate overnight accommodation. The business idea of business student Thomas Lancaster and geography graduate Emily Stratten, Ride Dyfi (www.ridedyfi.co.uk) connects mountain bikers with bike-specific accommodation in the Dyfi Valley and Snowdonia, and aims to become the go-to information hub for mountain bikers interested in riding in the area.
Professor Tim Woods, Pro Vice-Chancellor for Learning, Teaching and Student Experience, said: "Well done to the inspiring array of finalists who embraced the opportunity to pitch their innovative business ideas to our judges at this year's InvEnterPrize final. It was an impressive contest and we are very grateful to our team of 'Dragons', all of whom are alumni of the University who have gone on to have successful business careers. Warm congratulations to this year's winners - we wish them all the very best with their business ventures, and look forward to hearing of their successes."
Aberystwyth University offers a full programme of events to support entrepreneurial activity amongst students, graduates and staff. To find out more visit the AberPreneurs online page.