Online Anglo-Norman Dictionary project awarded funding for letters T-Z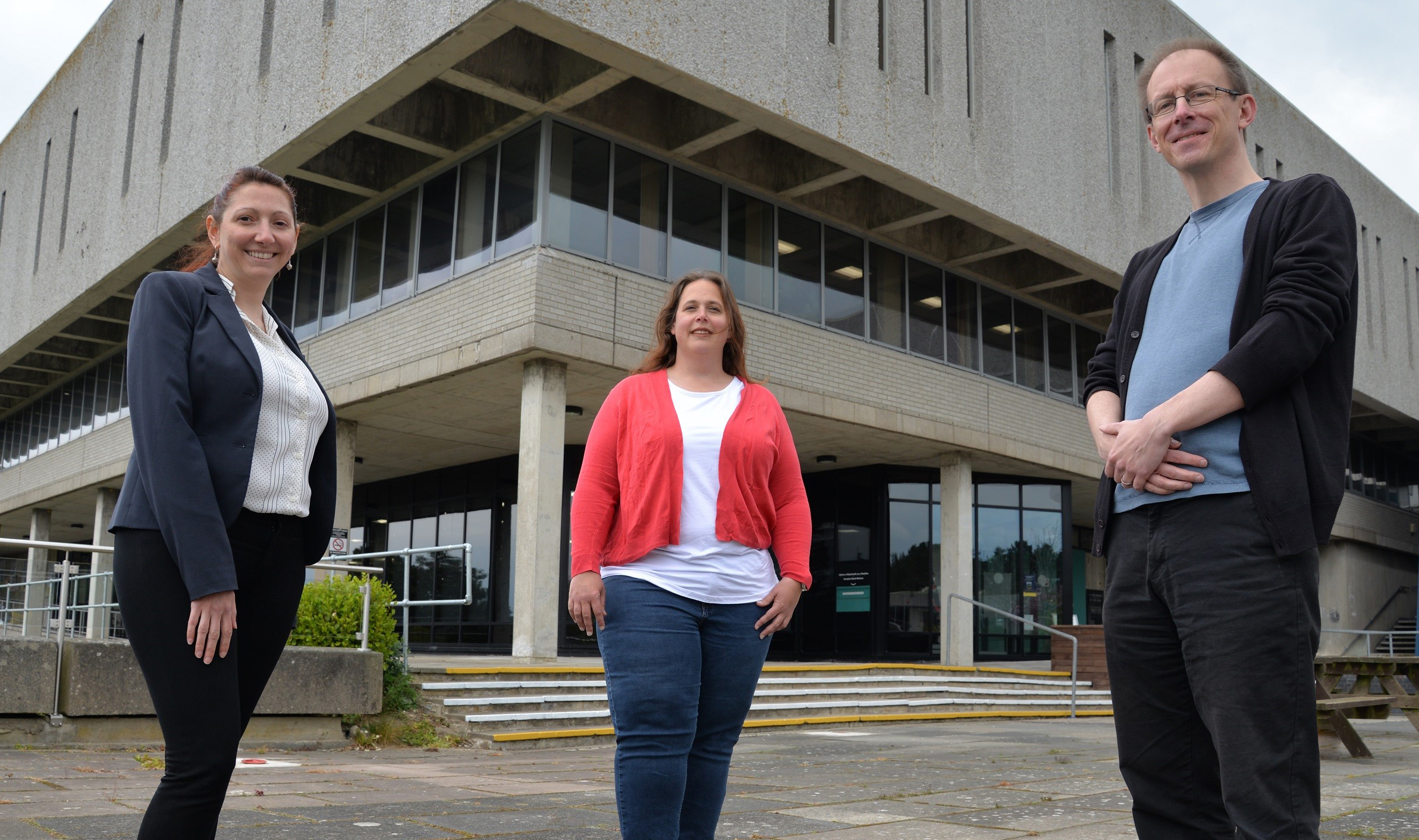 Members of the Anglo-Norman Dictionary Project Team. Left to right: Dr Delphine Demelas (Post-Doctoral Research Associate), Dr Heather Pagan (Co-Investigator and Editor) and Dr Geert De Wilde (Principal Investigator, Editor and Project leader). Not pictured: Brian Aitken (University of Glasgow, System Developer)
Researchers at Aberystwyth University have been awarded funding to complete the final instalment of the revision of the online Anglo-Norman Dictionary.
Anglo-Norman was a dialect of medieval French introduced into the British Isles through the Norman Conquest of 1066. It served as a language of literature, law, commerce, education, and administration throughout the Middle Ages.
It also furnished the English language with a great many everyday words, such as "squeamish", "unicorn", "actually" and "nice". Indeed, up to half of the words used in modern English can be traced back to Anglo-Norman.
The Anglo-Norman Dictionary (AND) was first published in a series of volumes between 1977-92.
Over almost three decades, members of the AND team based in the Department of Modern Languages at Aberystwyth University have been conducting a thorough programme of revision to produce a widely expanded and enriched online dictionary, and to make it freely available online: https://anglo-norman.net. The online AND is recognised as the authoritative and most comprehensive account of Anglo-Norman vocabulary. Its findings are used by the Oxford English Dictionary and the main dictionaries of medieval Latin and French.
Following the successful completion of the revision of the entries for letters A-S, the AND project has now been funded £811,175 by the UK Research and Innovation Arts & Humanities Research Council (AHRC) to accomplish the online revision of letters T-Z.
The grant runs for 3.5 years (October 2021 – March 2025) and follows similar AHRC awards in 2003, 2007, 2012 and 2017.
Dr Geert De Wilde, Principal Investigator, Editor and Project leader, explains: "For more than forty years, the AND has advanced the knowledge and understanding of the history and development of the English language. The online Anglo-Norman Dictionary has become an indispensable (and freely available) tool not only for a broad congregation of academic specialists such as linguists, lexicographers, historians, and literary scholars, but also for a constant influx of non-specialists, such as teachers, pupils, and amateur historians and genealogists, wishing to know more about this crucial aspect of their heritage.
"The comprehensive revision process involves re-investigating and improving each individual dictionary entry for semantic detail and textual coverage, adding entries for the many words which have been newly located, and detailing the chronological development of words over time. The culmination of almost three decades of research, once we have completed the final letters from T-Z, the revised Anglo-Norman Dictionary will be many times the size of the first edition, equipped with a wide range of search options (by word, variant spelling, English translation, etc.) to access the entries and to form the basis of further potential research projects"
To keep informed about the work of the project and events and discoveries relating to Anglo-Norman and the Middle Ages, see:
Facebook: www.facebook.com/ANDonline
Twitter: https://twitter.com/ANDictionary
Blog: https://anglo-norman.net/blog