New Honorary Fellows announced for 2022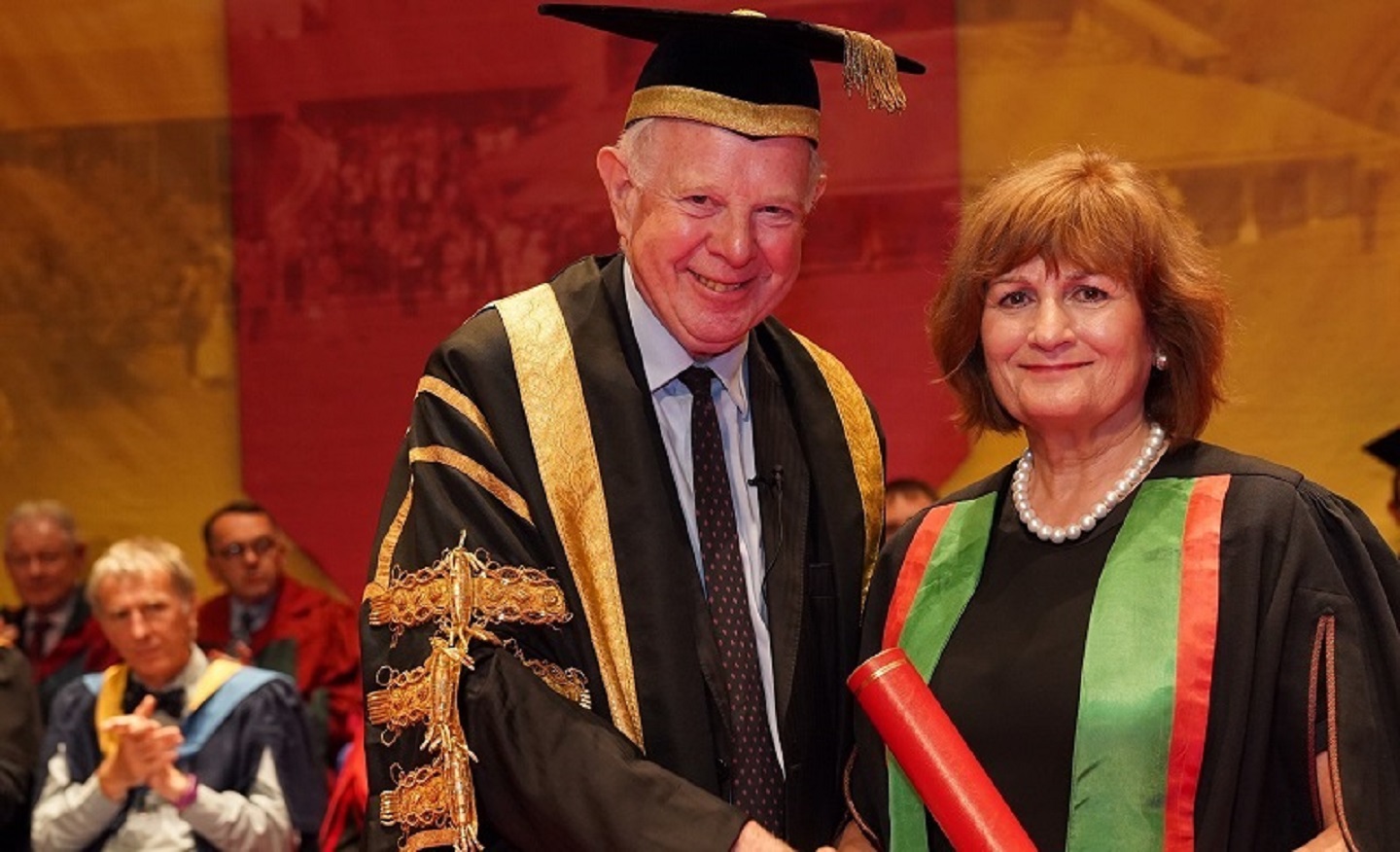 Aberystwyth alumna and leading figure in the international campaign to eradicate polio, Judith Diment, being presented as Fellow of Aberystwyth University by University Chancellor Lord Thomas of Cwmgiedd during Graduation 2019
Leading figures from the arts, broadcasting, law, agriculture, and the science and technology sectors are amongst new Honorary Fellows announced by Aberystwyth University.
Aberystwyth University Honorary Fellowships are presented to individuals who have or have had a connection with Aberystwyth or Wales, and who have made an outstanding contribution to their chosen field.
The 2022 Honorary Fellows are:
His Honour Judge Nicholas Cooke QC, former Senior Circuit Judge at the Central Criminal Court, "the Old Bailey".
Myrddin ap Dafydd, author, publisher and Archdruid of Wales.
Gwerfyl Pierce Jones, former Pro Chancellor of Aberystwyth University.
Tom Jones, agriculturalist and founding Chair of the Millennium Stadium Charitable Trust.
Dr Zoe Laughlin, co-founder and director of the Institute of Making.
His Lordship Datuk Vazeer Alam bin Mydin Meera, Court of Appeal Judge, Malaysia.
Rhuanedd Richards, Director of Content and Services for BBC Cymru Wales.
Professor Dame Elan Closs Stephens DBE, Member for Wales on the BBC Board and Electoral Commissioner for Wales.
Harry Venning, award winning cartoonist, illustrator and comedy writer.
Jonathan Whelan, IT consultant, author and Fellow of the British Computer Society.
The new Honorary Fellows will be presented during the University's annual graduation ceremonies, which are due to take place during the second week in July, 2022, COVID-19 allowing.
Professor Elizabeth Treasure, Vice-Chancellor of Aberystwyth University said: "On behalf of the University, it gives me great pleasure to welcome 10 new Honorary Fellows to the Aberystwyth University family, all of whom have either studied here or have contributed significantly to the University's success and to Wales. The diversity of the Fellows' areas of expertise further underlines the University's enduring influence, both in Wales and beyond."
"I am also delighted at the prospect of the return of Graduation in 2022. It is a real highlight of the University calendar, and one sorely missed due to the pandemic. Over the past two academic years, our students have worked extremely hard to complete their studies in extraordinary circumstances and I very much look forward to joining them to celebrate their achievements in the company of their families and friends. It will also be a very important opportunity for everyone to recognise the commitment and tireless effort of our staff in very challenging times."
Ahead of the traditional presentation during Graduation, University Chancellor Lord Thomas of Cwmgïedd, Chair of Council Dr Emyr Roberts and Vice-Chancellor Professor Treasure, will welcome the new Fellows at a virtual event for Honorary Fellows on Wednesday 29 September 2021.