First Wales-wide rural crime survey run by Aberystwyth University launches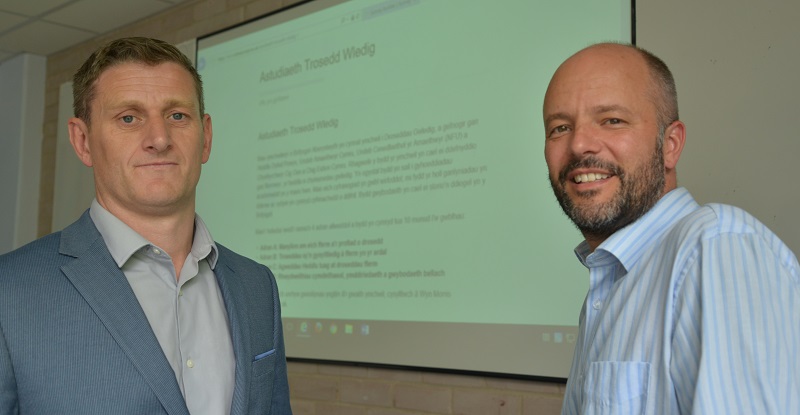 Dr Wyn Morris (left) from Aberystwyth Business School and Dr Gareth Norris from the Department of Psychology at Aberystwyth University who have developed the rural crime study.
Wales' first nationwide assessment of the nature and extent of rural crime has been launched by Aberystwyth University, the latest in a series of work that has already led to change in how Dyfed-Powys is policed.
The 'Rural Crime Study Wales' survey, which has been launched by Aberystwyth Business School and the Department of Psychology, is open to both farmers and rural residents served by Wales' four police services – Dyfed-Powys, South Wales, North Wales and Gwent.
Farmers are asked for their views on topics such as rural policing across Wales, whether they have been a victim of crime, their satisfaction with the police response, and whether Brexit or COVID-19 has affected the perception of rural crime.
Residents are asked questions including which types of rural crime they feel is on the increase, such as fly-tipping, wildlife crime or illegal off-roading, and whether policing initiatives such as dedicated rural crime officers and a greater social media presence are working.
The latest survey is the third in a series run by the University, but the first that has been presented nationwide.
The previous two pieces of research led to changes in how rural parts of the country are policed, with recommendations used to inform Dyfed-Powys Police's Rural Crime Strategy for 2017-2021. These included introducing specialist police officers, greater accuracy in recording of farm and rural crimes, and implementing dedicated social media strategies.
Dr Wyn Morris from Aberystwyth Business School said: "Tackling rural crime requires a different approach to other kinds of crime and it is important that police forces implement dedicated strategies for dealing with it. It is also key to uncover the unexpected effects Brexit and COVID-19 may have had in rural communities. By widening the focus of the survey to Wales we hope to replicate the success of previous work."
Dr Gareth Norris from the Department of Psychology added: "Rural crime is seemingly always on the increase; the past 18 months have brought about new concerns in relation to crime resulting from issues such as Brexit, COVID-19, food security and increased domestic tourism. For the first time, the latest Rural Crime Survey will bring together all four police forces across Wales and provide an evidence base for the development of appropriate responses."
Rob Taylor, Wales Rural & Wildlife Crime Coordinator, said: "To tackle any problems you need to know what the actual problems are. We in the police are aware of issues that arise from farmers who are sadly subjected to crime, but we have limited knowledge of those who may not have been personally targeted but feel the impact of crime in their communities. Feedback is vital in regards to what is happening in our rural areas and how we in the police are tackling those issues.
"This survey will provide us with key information that we can use across Wales to address these issues. It is my role to identify what is reported back to us and then set the necessary strategies in place to tackle those problems."
The survey can be completed in English here and in Welsh here.
Aberystwyth University's Growth, Rural Resilience and Innovation Network will be hosting a webinar on rural crime on 9 December. Register here in English or here in Welsh.