Aberystwyth University supports grass roots rugby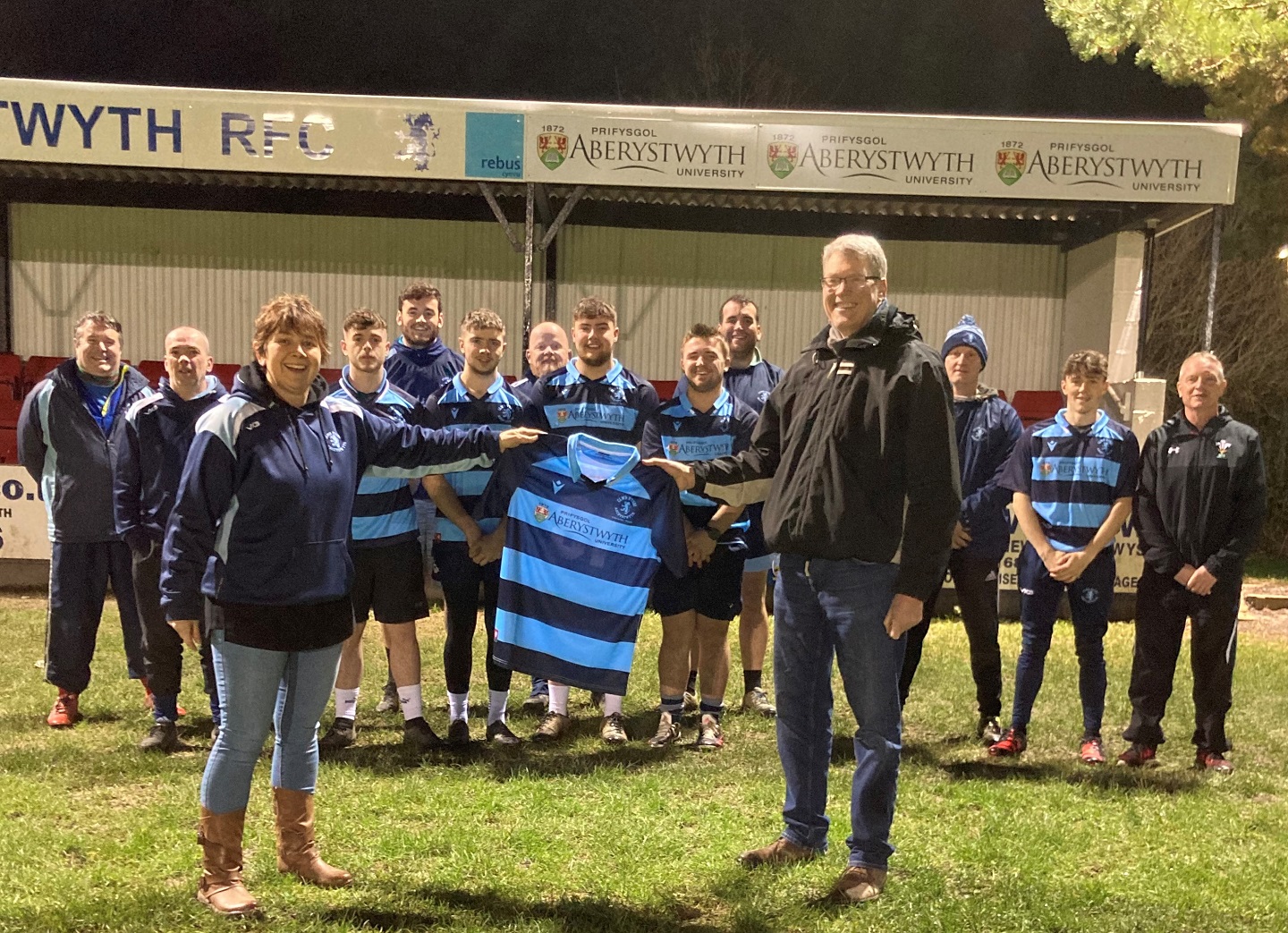 Pictured are Nerys Hywel, Club Chair receiving the new Aberystwyth RFC Athletic and Youth team shirts from Professor Tim Woods, Pro Vice-Chancellor for Learning, Teaching and Student Experience at Aberystwyth University, Coaches. Also pictured are players, including Club Captain Arwel Lloyd and Vice-Captain Matthew Hughes.
On the eve of Wales' opening match in the 2022 Six Nations Rugby Championship against Ireland in Dublin, Aberystwyth University have announced a new sponsorship deal to support grass roots rugby in the local community.
The new three-year deal will see the University support Aberystwyth RFC as shirt sponsor for the club's Youth and recently relaunched Athletic teams.
Established in 1947 Aberystwyth RFC celebrates its 75th anniversary this year. The club has more than 270 playing members playing at all ages from the Under 7's to the first team, which is enjoying another highly successful season in the Welsh Rugby Union's League 1 West.
Professor Tim Woods, Pro Vice-Chancellor at Aberystwyth University said: "We are delighted to be sponsoring Aberystwyth RFC. The University is an integral part of the community, and the town has welcomed generations of students from all corners of the world with open arms since the Old College opened its doors for the first time 150 years ago. Aberystwyth RFC is one of the many clubs and societies in the town that have given our students opportunities to become part of the local community, experiences that are so valuable and formative, and so often reflected in a lifelong love of the town and the University. It is therefore fitting that we support the Youth and Athletic teams, and the opportunities they offer our students."
Nerys Hywel, Chair of Aberystwyth Rugby Club has welcomed the announcement. She said: "Aberystwyth RFC are most grateful to Prifysgol Aberystwyth University for kindly sponsoring our Club. Over the years many University students and staff have trained or played for our club and we look forward to this continuing and welcoming a new generation of to be part of our rugby family."
The support for Aberystwyth RFC builds on the Rugby Hub Officer partnership established by the University and the Welsh Rugby Union.
Based in the University's Sports Centre, the role promotes the development of rugby within the University as well as local clubs and schools, and encourages students to forge links with community clubs.
The post is currently held by former Scarlets Academy, Wales Under 20 and Aberystwyth RFC player Lewis Ellis-Jones who plays semi-professional level rugby with Swansea RFC.