Wales' first law department celebrates 120 years at Old Bailey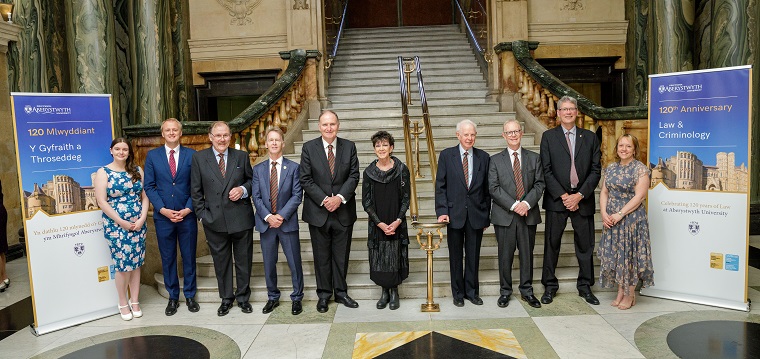 Image: Left to Right: Lauren Marks, President of AU Old Students' Association; Ben Lake MP for Ceredigion; The Rt Hon. Elfyn Llwyd, Pro-Chancellor of AU; Dr Emyr Roberts, Chair of Council of AU; The Rt Hon. Lord Lloyd Jones; Meri Huws, AU Council member; The Rt Hon. Lord Thomas of Cwmgïedd, Chancellor of AU; Professor Emyr Lewis, Head of the Department of Law and Criminology at AU, Professor Tim Woods, Pro Vice-Chancellor at AU and Professor Anwen Jones Pro Vice-Chancellor at AU.
Wales' oldest university law department has marked its 120th anniversary with a celebratory event at London's top criminal court.
Law has been taught at Aberystwyth University since 1901, and in the 120 years that have followed more than 9,000 students from almost one hundred countries have graduated and launched their careers from the department.
The Central Criminal Court of England and Wales provided an illustrious setting for the first of two prestigious events held to mark the 120th anniversary of the longest-established law department in the country.
Alumni of the department include several Ministers of State, politicians and leaders, many who have gone on to develop distinguished legal careers, and those who have achieved success in other professions.
Held at the 'Old Bailey' in London, the celebratory event was attended by alumni, staff students and other special guests, including Ceredigion MP Ben Lake. The Guest Speaker was The Rt Hon Lord David Lloyd-Jones FLSW, Honorary Fellow of Aberystwyth University.
The special anniversary will be celebrated at a second event to be held at Amgueddfa Cymru - National Museum Wales in Cardiff on the evening of Friday 10 June. Alumni wishing to attend can find more information on the University website: www.aber.ac.uk/en/development/newsandevents/law-anniversary-dinners.
Chancellor of Aberystwyth University, The Rt Hon. Lord Thomas of Cwmgïedd, said: "The history of the teaching of law at Aberystwyth is an inspiring story of dogged determination by a small number of indomitable individuals who laid the foundation for the highly-respected department you see today. In 1899 when it became clear that there was widespread support for the ambition to establish a law department in Wales to provide a broad education in legal principles, funding was raised through the generosity of members of the Bar circuits of north and south Wales, and amongst London Welshmen, with many firms of solicitors and individuals making contributions and pledging recurrent annual support."
Professor Emyr Lewis, Head of Aberystwyth University's Department of Law and Criminology said: "From its embryonic foundations at the beginning of the twentieth century, the teaching of law at Aberystwyth has flourished. Today, as well as excellent teaching which has always been a hallmark of the Aberystwyth approach, the department offers numerous opportunities for students to develop practical skills and hands-on experience. Students have the chance to undertake casework in our Family Law Clinic, acquire and practise advocacy skills through our Mooting Society, volunteer with ground-breaking research projects such as Dewis/Choice and the Veterans Legal Link Project, and benefit from our new Law in Practice modules which are designed to begin filling the gap between the traditional core knowledge gained through a law degree and practice."
Louise Jagger, Aberystwyth University's Director of Development and Alumni Relations, said: "The long tradition of philanthropic giving at Aberystwyth University continues to this day and was also celebrated and promoted at the dinner. Over recent years we have embarked on our largest ever philanthropic campaign to transform the iconic Old College into a major cultural and creative centre for Wales to mark the University's 150th anniversary.
"Part of our plans for the Old College include a Law Room and Moot Court to honour and celebrate the rich contribution that the Law department has made to the University through the provision of a space for public engagement and for enhancing the public understanding of the law. The facility will provide a dedicated venue and resource centre for Moots, the Law Society, debates, seminars, exhibitions, public lectures and alumni gatherings. Students past, present and future will benefit from this excellent facility. We are grateful to the alumni and friends who have already donated towards this goal and will be inviting further contributions right up until the reopening of Old College in 2024."
Professor Tim Woods, Aberystwyth University's Pro Vice-Chancellor for Learning, Teaching and Student Experience, said: "It is a pleasure to join alumni and friends from across the country to celebrate the Department of Law and Criminology's contribution to Aberystwyth University and its impact on the world over the past 120 years.
"The University itself is celebrating its 150th Anniversary this year, and we look forward to reuniting with alumni and supporters at celebratory events in Cardiff, Aberystwyth and London over the coming year to mark this important milestone."
Aberystwyth University was awarded University of the Year for teaching quality and student experience (Good University Guide, The Times and Sunday Times 2021) and also University of the Year for teaching quality two years consecutively, and Welsh University of the Year (Good University Guide, The Times and Sunday Times 2020).