Students win trip to film festival in New York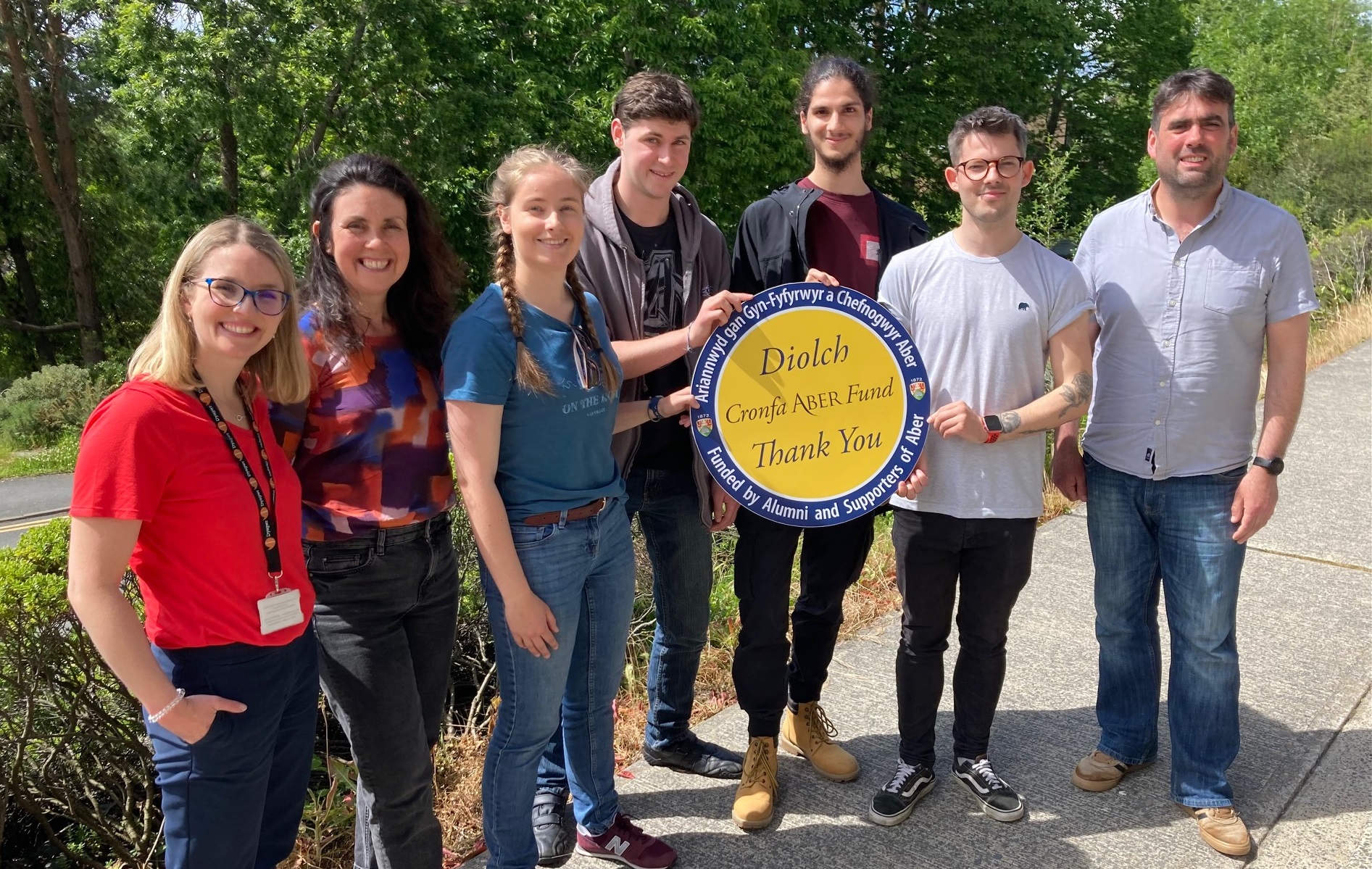 Left to right: Hayley Goddard, Alumni Engagement Manager at Aberystwyth University; Dr Kate Woodward, Lecturer in Film Studies at Aberystwyth University; students Molly Clarke, Sam Aitken, Tayjib Kerstan, and Tom Bow; and Dr Greg Bevan, Senior Lecturer in Film Practice at Aberystwyth University
Four Aberystwyth University students are being given the opportunity to attend one of the world's leading film festivals.
Sam Aitken, Tom Bow, Molly Clarke and Tayjib Kerstan were successful in a Department of Theatre, Film and Television Studies competition to win a four-day visit to New York's Tribeca Festival which takes place from 8-19 June 2022.
The trip is funded by generous contributions to the Aber Fund, the giving programme for alumni, parents, staff and friends of the University to support projects that directly enrich student experience and development.
The students will receive return flights and accommodation in New York, and a festival delegate pass which gives them access to screenings, events, filmmaker's lounges and VIP areas.
This is the fifth year that students from the University have been able to attend the prestigious Tribeca Festival, which was set up by Robert De Niro and Jane Rosenthal in 2002 to help revitalise downtown Manhattan following the 9/11 attacks.
For two decades the festival has been a destination for new work from established filmmakers as well as emerging creators.
This year's festival will continue its long tradition of exploring innovations in storytelling across film TV, VR, gaming, podcasts and more. The festival programme will showcase 110 feature films and 15 online premieres from 150 filmmakers across 40 countries.
Former pupil of Ysgol Henry Richard in Tregaron, Tom Bow, is now in the second year of his Film and Television Studies degree, and is particularly interested in cinematography: "Being able to have the chance to go to Tribeca is incredible – I feel like the luckiest guy in the world. I am really looking forward to making connections and being around people who love the same thing I do, and also to seeing films for the first time and in New York City itself, where a lot of the films I love are set."
Final year Filmmaking student Tayjib Kerstan, from Hanover in Germany, is particularly interested in writing and directing for narrative film. He said: "Going to Tribeca is the biggest opportunity I have had so far. There will be so many amazing storytellers and artists from all over the world there, and I can learn a lot from them and make new connections with likeminded people. I have also never travelled outside of Europe, so that alone will be a great experience! I am looking forward to the films 'Hommage' and 'Corner Office', as well as a Masterclass with Pharrell Williams. Tribeca offers an incredible line-up for other media such as VR/AR, Interactive Cinema and Games, and I am excited to explore those too."
Second year student Molly Clarke from Aberporth in Ceredigion is particularly enjoying collaborating on creative projects during her Film and Television Studies course, and hopes to go into directing after graduating: "I am absolutely stoked to be going to Tribeca, I still can't quite believe it. The possibility of getting the opportunity to go there was one of my main draws to come to Aberystwyth University. There are so many things I am looking forward to at the festival, but I'm particularly excited about the chance to rub shoulders with successful filmmakers and directors which will be really inspiring and an amazing encouragement to me as a filmmaker."
Final year Film and Television Studies student Sam Aitken, from Tywyn, said: "Going to Tribeca is going to be such a fantastic experience, and I'm really grateful to be given the chance to go and be part of this amazing film festival. I'm looking forward to being surrounded by filmmakers and being able to chat to them. I know how big the festival is, but I don't think I'll fully appreciate it until I'm there and we're deciding which films or talks to see."
Dr Greg Bevan and Dr Kate Woodward who teach in the Department of Theatre, Film and Television Studies have been sponsored by the department to accompany the students to Tribeca.
Senior Lecturer in Film Practice Dr Bevan, said: "Congratulations to all four students on winning this visit to the world-renowned Tribeca Festival. Our unique relationship with the festival owes a huge amount to the passion and commitment of one of our own graduates, Ben Thompson, who is now the Short Film Programmer at Tribeca. It is fantastic that thanks to the generosity of the University's alumni community, we are able to offer our students this wonderful chance to mingle with some of the most influential names in the world of film and cinema, and benefit from the many learning opportunities it will bring."
Dr Woodward, Lecturer in Film Studies, said: "This visit offers an opportunity for our students to see some famous stars and to meet some extremely creative people, whilst also getting to watch screenings of premieres and attend masterclasses. It's also a chance for them to mix and network with other young filmmakers and discuss their respective work. Attending the festival transforms the way the students view themselves, and helps for them to make the move from seeing themselves as students, to seeing themselves as filmmakers, directors and scriptwriters."
The students may also glimpse some familiar scenery whilst at the festival in New York. One of the short films featured in this year's Tribeca Festival is Heart Valley.  Directed by London-based documentary filmmaker and photographer, Christian Cargill, the short documentary follows a day in the life of Wilf Davies, a shepherd from the small village of Cellan in Ceredigion.
The Department of Theatre, Film and Television Studies at Aberystwyth University offers specialist teaching on documentary film-making, fiction film-making, experimental film-making, multiplatform production, studio production and scriptwriting, as well as art cinema, horror and cult cinema, Hollywood, gender studies, television aesthetics, digital cultures, and video games.