BBC Wales' National Director awarded Honorary Fellowship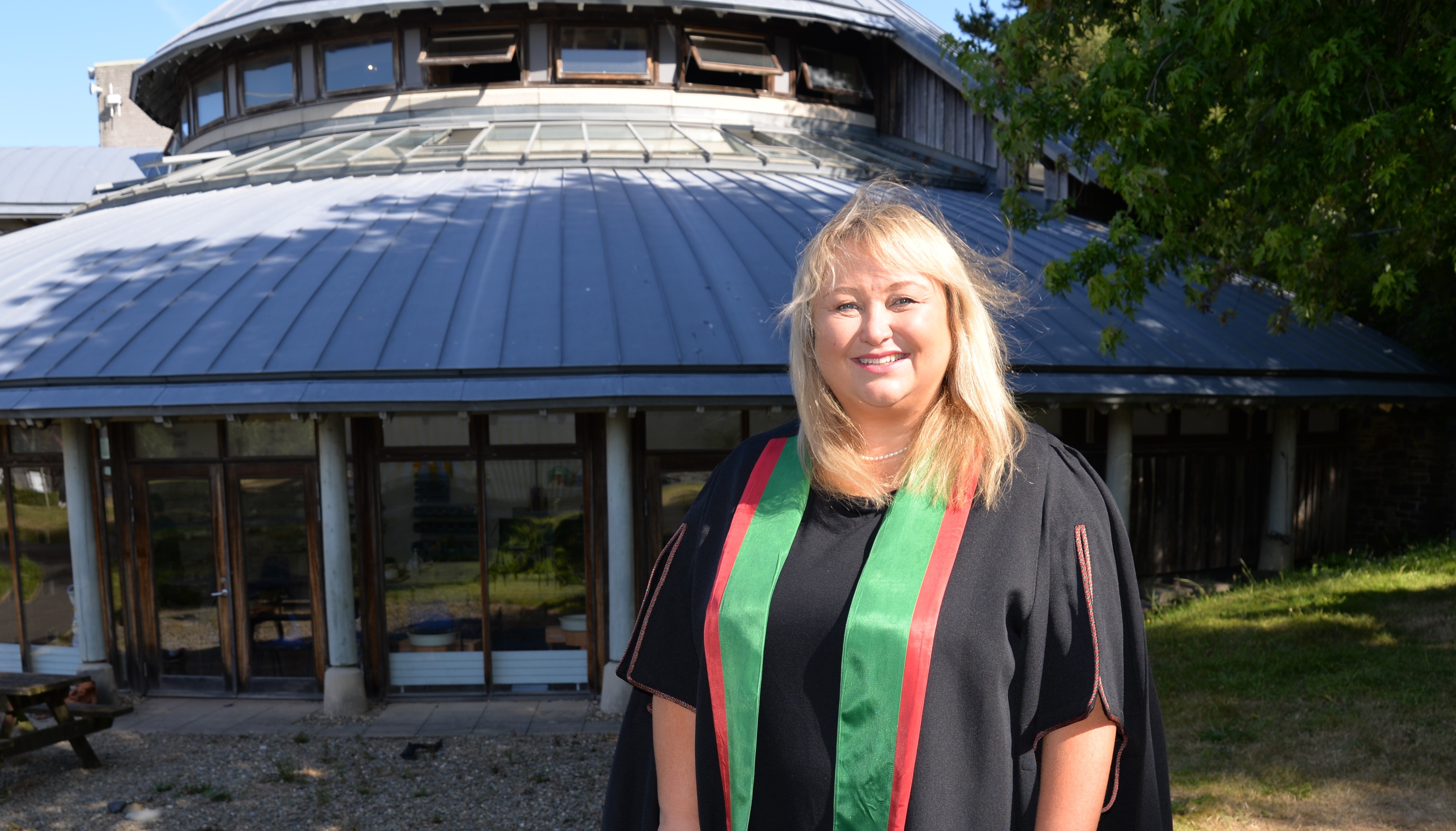 Rhuanedd Richards
Rhuanedd Richards, National Director of BBC Wales, has been honoured with a Fellowship of Aberystwyth University as part of the summer's graduation ceremonies.
Rhuanedd Richards graduated with a degree in Theatre, Film and Television Studies from Aberystwyth in 1995. She then spent a year as the Sabbatical President of the Aberystwyth Guild of Students, whilst also volunteering at Radio Ceredigion and presenting local BBC Radio Cymru bulletins.
In 1996 she received a BBC scholarship to study a Postgraduate Diploma in Broadcast Journalism in Cardiff. She started her career as a journalist with BBC Wales, working as South West Correspondent and later Political Correspondent.
She presented some of the broadcaster's flagship news and political programmes on television and radio, covered major events at home and abroad and interviewed leading public figures.
In 2007, she was invited to become Special Adviser to the Welsh Government (2007-11).
She was then appointed Plaid Cymru's Chief Executive from 2011-16, before working as Special Adviser to the Assembly Presiding Officer.
In 2018, she returned to the BBC and became Editor of BBC Radio Cymru and BBC Cymru Fyw.
In 2021 she was promoted to BBC Wales' National Director looking after all the corporation's services and content from Wales, in Welsh and English, on radio, television and online.
Rhuanedd Richards was presented as Honorary Fellow by Professor Jamie Medhurst from the Department of Theatre, Film & Television Studies on Wednesday 13 July 2022.
The full conferral presentation is available below, in the language in which it was delivered.
Presentation of Rhuanedd Richards by Professor Jamie Medhurst:
Canghellor, Is-Ganghellor, darpar raddedigion, gyfeillion. Pleser o'r mwyaf yw cyflwyno Rhuanedd Richards yn Gymrawd Prifysgol Aberystwyth.
Chancellor, Vice-Chancellor, prospective graduates, and supporters. It is an honour and a privilege to present Rhuanedd Richards as a Fellow of Aberystwyth University.
Rhuanedd and I have a number of things in common: we attended the same school, Ysgol Gyfun Rhydfelen in Pontypridd, although I should point out that I was in the sixth form when Rhuanedd began in 1985. Deng mlynedd yn ddiweddarach, fe raddiodd Rhuanedd mewn Drama o'r Adran yr wyf i'n aelod ohoni erbyn hyn, sef Astudiaethau Theatr, Ffilm a Theledu. After graduating in Drama, she remained in Aberystwyth, as so many graduates of this University do (myself included) and served as President of the Aberystwyth Guild of Students for a year whilst also volunteering at Radio Ceredigion and presenting local BBC Radio Cymru bulletins.
A dyma ddechrau gyrfa hynod ddisglair ym myd darlledu. Yn 1996 cafodd Rhuanedd ysgoloriaeth gan y BBC i astudio am Ddiploma Ôl-raddedig mewn Newyddiaduraeth Darlledu yng Nghaerdydd ac yna fe ddechreuodd ei gyrfa fel newyddiadurwraig gyda BBC Cymru, gan weithio fel Gohebydd y De-orllewin ac, yn nes ymlaen, fel Gohebydd Gwleidyddol. In 2007 she stepped down as BBC Wales Political Correspondent and entered the world of politics, having been invited to become Special Adviser to the Welsh Government. Between 2011 and 2016 Rhuanedd was Plaid Cymru's Chief Executive, before she became Special Adviser to what was then the Assembly's, now the Senedd's, Presiding Officer.
Ond roedd tynfa'r cyfryngau darlledu yn ormod, ac yn 2018, dychwelodd i'r BBC a daeth yn Olygydd BBC Radio Cymru a BBC Cymru Fyw. Yn 2021 cafodd ei dyrchafu i fod yn Gyfarwyddwr Cenedlaethol BBC Cymru, yn gofalu am holl wasanaethau a chynnwys y gorfforaeth o Gymru, yn Gymraeg ac yn Saesneg, ar radio, teledu ac ar-lein. As Director of BBC Wales, Rhuanedd is responsible for all the Corporation's services and content from Wales, in Welsh and English, on radio, television and online. And I thought I had a lot on my plate!
One of the good things about attending the same school (albeit some years apart) is that we have friends in common … and these friends are more than willing to share memories of the younger Rhuanedd's antics, some of which may well have shaped her future career path.
Magwyd diddordeb Rhuanedd yn y byd gwleidyddol yn ystod ei chyfnod yn yr ysgol – a daeth ei doniau celf a llefaru i'r amlwg wrth iddi arwain gweithdy Chweched Dosbarth ar greu baneri a sloganau i rannu gyda Phrif Weinidog y pryd, John Major, wrth iddo ymweld â Phontypridd.
She was clearly destined for a leadership role because she was appointed the school's Head Girl. And whilst her A Level subjects of History, English, and Drama occupied her during the day she was, by all accounts, a bit of a party animal by night. It was during one of these parties that one Kelly Jones (who later went on to become lead singer of The Stereophonics) decided to gate-crash along with some of his friends, which required Rhuanedd to think on her feet and act swiftly – skills which no doubt are essential in her current role.
Rhuanedd, rydym yn falch iawn o dy lwyddiannau, ac yn gwerthfawrogi'n fawr dy gefnogaeth a'th gyfraniad i'r Brifysgol fel aelod o'r Cyngor. Ac fel Adran, rydym yn edrych ymlaen at ail-gynnau a datblygu'r berthynas gyda thi a chyda BBC Cymru yn y dyfodol.
Canghellor, mae'n bleser gen i gyflwyno Rhuanedd Richards i chi yn Gymrawd.
Chancellor, it is my absolute pleasure to present Rhuanedd Richards to you as a Fellow of Aberystwyth University.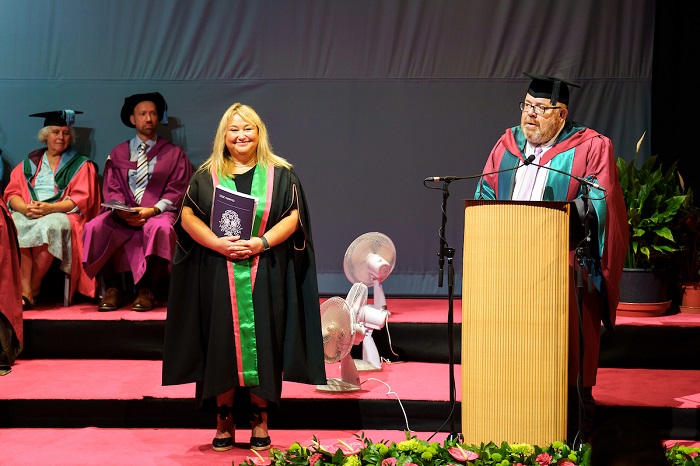 Rhuanedd Richards being presented by Professor Jamie Medhurst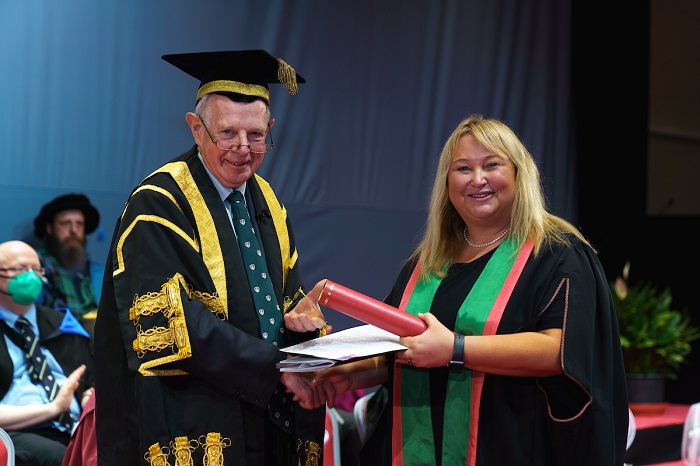 Lord Thomas of Cwmgiedd (Chancellor) with Rhuanedd Richards
Aberystwyth University Honours 2022
During Graduation 2022, the University will present ten Honorary Fellowships to individuals who have or have had a connection with Aberystwyth or Wales, and who have made an outstanding contribution to their chosen field.
This year's Fellows include leading figures from the arts, broadcasting, law, agriculture, and the science and technology sectors.
The 2022 Honorary Fellows are (in order of presentation):
Professor Dame Elan Closs Stephens DBE, Electoral Commissioner for Wales and Non-Executive Director of the BBC Board and its member for Wales
Myrddin ap Dafydd, author, publisher and Archdruid of Wales
The Hon Justice Datuk Vazeer Alam Mydin Meera, Court of Appeal Judge, Malaysia
Harry Venning, award winning cartoonist, illustrator and comedy writer
Dr Zoe Laughlin, co-founder and director of the Institute of Making
Rhuanedd Richards, BBC Wales' National Director
Jonathan Whelan, IT consultant, author and Fellow of the British Computer Society
Tom Jones OBE, agriculturalist and founding Chair of the Millennium Stadium Charitable Trust
His Honour Judge Nicholas Cooke QC, former Senior Circuit Judge at the Central Criminal Court, "the Old Bailey"
Gwerfyl Pierce Jones, former Director and Chief Executive of the Welsh Books Council