Talk by son of German refugees to mark Holocaust Memorial Day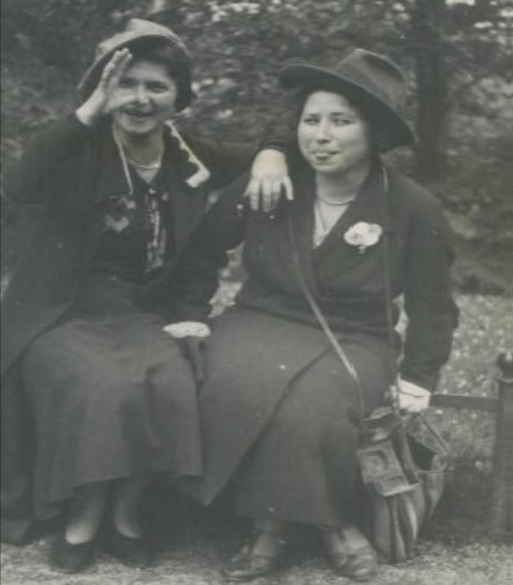 Ernie Hunter's mother Fanny Höchstetter and aunt Bertl, 1933. Credit: Ernie Hunter
The Centre for the Movement of People at Aberystwyth University will mark Holocaust Memorial Day 2023 with a talk by a Holocaust educator whose parents fled Germany due to the National Socialist dictatorship.
Ernie Hunter has been involved in Holocaust education in the UK and in Germany for more than a decade.
He is a founder member and chair of the Northern Holocaust Education Group, which aims to pass on the life stories and experiences of the victims of Nazi persecution and the Holocaust so that they are not forgotten or denied.
Ernie's parents met and married while in Wales during the Second World War. His German Jewish mother had actively confronted the Nazi regime, and his German non-Jewish father had had to flee Nazi Germany as a political opponent of the regime.
Dr Andrea Hammel, Director of the Centre for the Movement of People said:
"We look forward to welcoming Ernie and to hearing the personal story of his parents' experience of fleeing National Socialist Germany and finding refuge in Wales in 1939.
"The theme of this year's Holocaust Memorial Day is 'ordinary people'. Ernie's parents were ordinary people, and are two of the refugees that are featured in our exhibition 'Refugees from National Socialism in Wales: Learning from the Past for the Future'."
The exhibition 'Refugees from National Socialism in Wales: Learning from the Past for the Future' traces the history of refugees in Wales from the 1930s until the present day. It is the outcome of a project which forms part of the Second World War and Holocaust Partnership Programme, led by Imperial War Museums and funded by the National Lottery Heritage Fund.
The exhibition will be on display at Aberystwyth Arts Centre until 29 January, after which it will travel to the Senedd and Pierhead Galleries in Cardiff from 18 February to 18 April 2023, and the Pontio in Bangor in June 2023.
Ernie Hunter's talk will be held on Thursday 26 January from 13:00-14:00, in Room C22 of the Hugh Owen Building on Aberystwyth University's Penglais Campus. All are welcome. For any queries, please e-mail Morris Brodie, mob28@aber.ac.uk.