The Centre for the Movement of People: Flight, Migration, Mobility and Renewal – Past, Present and Future
CMOP encourages research, dissemination and engagement on different forms of human mobility from fleeing persecution to travelling for leisure using a wide range of methodological and disciplinary approaches. It operates to further collaborations within the faculty, Aberystwyth University, nationally and internationally. Its aim is to research the past, shape the present and improve the future by engaging with all possible publics inside and outside academia.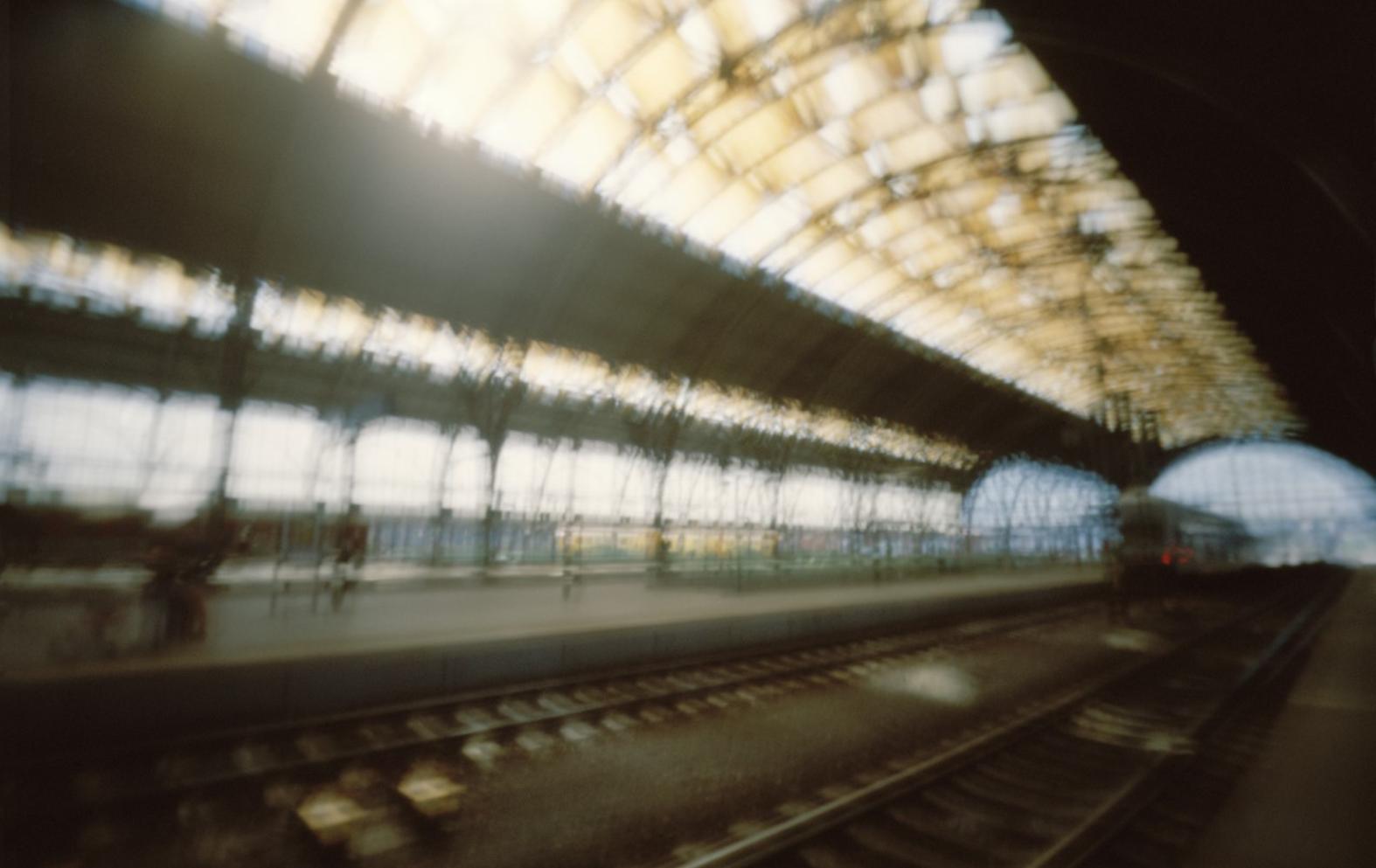 'Wilsonovo nádraží, Prague' from the series "Stuke after Sebald's Austerlitz" ©Karen Stuke
Dr Andrea Hammel - Director
Dr Andrea Hammel is Director of the Canolfan Astudio Symudedd Pobl/ Centre for the Movement of People (CASP/CMOP) at Aberystwyth University. She an expert in the study of Refugees fleeing National Socialism, especially those seeking refuge the UK, and the Kindertransport. She is Reader in German in the Modern Languages Department, a member of the Research Centre for German and Austrian Exile Studies (IMLR, University of London), on the editorial board of their Yearbook (Brill) and series editor of Exile Studies/Exilstudien (Peter Lang). She is interested in the interconnection between Humanities research, the Social Sciences and social and health policy. She is also keen to examine memory and postmemory, and commemorative activity in the political sphere. She has collaborated with the government agencies, NGOs, arts centres and museums such as the Home Office Wales, Public Health Wales, the Good Faith Partnership, Citizens UK, the Kommunale Galerie Berlin, The German National Library, the Imperial War Museum and the Jewish Museum Rotenburg.
Andrea Hammel's projects include:
2021 Exhibition at the Deutsche Bibliothek, Frankfurt/Main: Kinderemigration aus Deutschland
2020-23 PI of the IWM-led NHLF-funded Second World War and Holocaust Partnership Project 'Refugees from National Socialism in Wales'
2019-20 PI of 'Adverse Childhood Experiences (ACEs) and the Child Refugees of the 1930s in the UK: History Informing the Future' in collaboration with Anita Grosz and Stephanie Homer and the ACEs Support Hub, Public Health Wales.
2019 Bilingual Open Air Exhibition 'Am Ende des Tunnels: Kindertransport aus Berlin/ At the End of the Tunnel: Kindertransport from Berlin', collaboration with William Niven and Amy Williams from Nottingham Trent University and Norbert Wiesneth of the Kommunale Galerie Berlin on an exhibition plus engagement events shown in Berlin in 2019, visitor numbers exceeded 7000. The exhibition is now travelling.
2018 Panel Discussion on New Perspective on the Kindertransport with Sir Erich Reich, Barbara Winton, Lord Alf Dubs and Dr Andrea Hammel
2017-2018 Workshop on Refugees and Community Support Bringing together AU colleagues from History, Interpol, Geography and ML, with the Home Office Wales Team, and NOGOs such as the Good Faith Partnership, to discuss how academic research can inform policy debate
Dr Amal Abu-Bakare
Dr Amal Abu-Bakare is the graduate teaching assistant for the Canolfan Astudio Symudedd Pobl/ Centre for the Movement of People (CASP/CMOP) at Aberystwyth University. She is a former Canadian PhD candidate based at Aberystwyth University's Department of International Politics. Dr Abu-Bakare's doctoral research focuses racialisation and counterterrorism in the context of International Relations Theory. She identifies as a Black Muslim Feminist scholar who is interested in postcolonial analyses of contemporary security affairs ongoing in the Global North, particularly in the area of transnational counterterrorism/counter-extremism practices and the politics of migration-security in the European Union. Abu-Bakare is also a Visiting Fellow at the University of South Wales International Centre for Policing and Security. She is presently researching how logics of racialisation structure EU migration-security policy directed towards North African Migrants entering Europe via the trans-Mediterranean Seaways.
Amal Abu-Bakare's projects include:
2019 Organized a panel titled 'A night of beloved: a political celebration of Toni Morrison' with the Aberystwyth University's Interdisciplinary Gender Studies Research Group and the Amgueddfa Ceredigion Museum. This panel featured PhD Candidates Jennifer Dos Reis Dos Santos (Aberystwyth University) and Ekua Agha (Birkbeck University) and Dr Lucy Taylor of Aberystwyth University
2018 Organized a post-show discussion panel for #JeSuis, a dance production by Aakash Odedra, in collaboration with the Aberystwyth Arts Centre, featuring Dr Ajmal Hussain of Manchester University.
2018 Organized a book reading and lecture titled 'Back to Black: Retelling Black Radicalism for the 21st Century' featuring Professor Kehinde Andrews of Birmingham City University in collaboration with the Aberystwyth University Equality and Diversity Team and the West Wales Against Racism Network at Aberystwyth University
2017 Organized a lecture titled 'Race and the undeserving poor' featuring Professor Robbie Shilliam of Johns Hopkins University at Aberystwyth University
Anita Grosz
Anita H. Grosz is a research PhD student at Aberystwyth University in the Modern Languages Department conducing a comparative study of the Kindertransport Second Generation in the UK and the USA. As a result of her many years involved with the Kindertransport Association (USA) and being Second Generation of a Kindertransportee, she is an expert in the Kindertransport movements and second generation of Kindertransportees. Anita was instrumental in initiating the Kindertransport Memory Quilt (now on display at the Holocaust Memorial Museum, Michigan), as well as one of the developers and organisers of the Kindertransport Association Oral History Project for which more than 100 video oral histories were collected. In addition, Anita has organised many conferences relating to the Kindertransport. Anita has a Masters of Fine Art in Photography and in the past has exhibited around the UK. Her focus is the displaced and 'outsiders', as well as barriers. Anita has a Juris Doctor and is qualified to practice law in the United States, with specialization in intellectual property matters. Anita is interested in examining the multiple facets and approaches to memory, including postmemory, and developing work to impact social policies around refugees.
Anita Grosz's projects include:
2019-20 Research Report: 'Adverse Childhood Experiences (ACEs) and the Child Refugees of the 1930s in the UK: History Informing the Future' in collaboration with Andrea Hammel and Stephanie Homer and the ACEs Support Hub, Public Health Wales.
2019 Presentation at 2019 KT80 Symposium: Approaches to Kindertransport Research and Historiography: "An Artistic Response to the Impact of Transgenerational Trauma from Forced Dislocation", including Anita's video Passage to Where.
Dr Gábor Gelléri
Dr Gábor Gelléri is Lecturer in French at Aberystwyth University. He is the author of Philosophies du voyage: visiter l'Angleterre aux 17e-18e siècles (Voltaire Foundation, 2016) and of Lessons of Travel: From Grand Tour to School Trips (Boydell and Brewer, 2020). The volume Travel and Conflict in the Early Modern World, co-edited with Dr Rachel Willie (Liverpool John Moores) is about to be published by Routledge. He was also a major contributor of the database of early modern arts of travel (artoftravel.nuigalway.ie).
He also published a number of articles and book chapters on his area of expertise, cultures of travel in the Francophone world. The first publication based on his current research project on colonial tourism will be in the edited volume Voyage et scandale (Garnier, 2022).
Rhys Dafydd Jones
Rhys Dafydd Jones is a social geographer at Aberystwyth University. His research interests are around migration and diversity in rural regions; migration and multiculturalism in minority nations; and lifestyle migration and lifestyle staying. He led a work package of the ESRC's WISERD Civil Society research centre on 'minorities and migrants in civil society', which examined the activities of EU citizens in civil society in Wales. While not intended as a focus of the research, the fieldwork conducted 2016-2017 highlighted a number of anxieties EU citizens had over their future in Wales. The research also highlighted the precarious situation of migrant-led civil society in austere times, often dependent on the efforts of migrant women, whose participation often bring challenges to their own health and well-being. Rhys is also involved in the Horizon 2020 project, IMAJINE, which examines why people move to, and stay living in, West Wales and the Valleys, from different places.
Rhys Dafydd Jones' projects include:
Integrative Mechanisms for Addressing Spatial Justice and Territorial Inequalities in Europe (IMAJINE, Horizon2020) – WP5: 'Migration, territorial inequalities, and spatial justice'. Led by Professor Bettina Bock and Dr Tialda Haartsen (Groningen), this work package draws on case studies from Greece, Ireland, the Netherlands, Poland and Wales to understand why people move to, and remain living in, economically marginalised regions. Drawing on a case study centred on West Wales and the Valleys, Dr Bryonny Goodwin-Hawkins and Rhys identified a strong sense of 'lifestyle staying', as career prospects perceived as more limited were traded off for a more pleasurable environment and pace of life. Spatial inequalities facilitate this lifestyle staying, as house price differentials often allow the performance of a middle-class lifestyle that would be more difficult in other regions.
WISERD Civil Stratification and Repair (ESRC):
WP 1.1 – 'Borders, boundary mechanisms and migration'. Led by Dr Robin Mann (Bangor), work package examines factors shaping civil society engagement with migration and forms of bordering through comparative international case studies and place-based ethnographies, and explores how social boundary activation mechanisms are articulated by civil society groups.
WP 2.3 – 'Populism, conflict and political polarisation'. Led by Professor Mike Woods (Aberystwyth) this work package examines the links between shifting political behaviours and changes in employment structures, as well as how populist politics are fostered within places and how civil society can act to address this.
Mobilising Voluntary Activity (ESRC) – Led by Professor Irene Hardill (Northumbria), this project examines the compares the response of civil society to COvid-19 across the constituent countries of the UK, and what good practice can be learned from the nations.
Bronwen Lowery
Bronwen Lowery is a PhD student in the Modern Languages department. She graduated from Aberystwyth University in 2020 with a first-class degree in French and German.
Bronwen Lowery's projects include:
Bronwen's research explores narrations of displacement told by persons in France with an Algerian background and how such narrations can empower their individual and collective experience. The narrations in question take many forms such as stand-up comedy, rap music and artwork. This research will provide an insight into the ways in which telling one's story of displacement can lead to empowerment within oneself and further social acceptance. It will focus heavily on post-colonial theory and consider the effectiveness of each medium as a means of expression.
Prof. Peter Merriman
Professor Peter Merriman is Professor of Human Geography in Aberystwyth University. He is a leading researcher in the multi-disciplinary field of mobility studies, have written widely on the geographies of mobility, theoretical and methodological approaches to mobility, histories of driving in Britain, and military mobilities. He is the author of Mobility, Space and Culture (Routledge, 2012) and Driving Spaces: A Cultural-Historical Geography of England's M1 Motorway (Wiley-Blackwell, 2007), and editor of five books, including Empire and Mobility in the Long Nineteenth-Century (MUP, 2020), Mobility and the Humanities (Routledge, 2018), The Routledge Handbook of Mobilities (Routledge, 2014) and Geographies of Mobilities (Routledge, 2011). Peter is also a member of the editorial boards of the journals Mobilities, Applied Mobilities, Transfers and Mobility Humanities, and Springer Palgrave Macmillan's book series, 'Mobilities, Literature and Culture'.
Peter Merriman's projects include:
2019-2023 Ports Past and Present, funded by European Regional Development Fund through the Ireland-Wales cooperation programme:
This is a €3.2 million project led University College Cork, with partners Aberystwyth University, UWTSD Centre for Advanced Welsh and Celtic Studies and Wexford County Council. I lead the AU strand of the project, working with Professor Rhys Jones, project coordinator and PDRA Dr Rita Singer, and finance administrator Ken Evans.The project is examining the history and cultural heritage of five Irish Sea ports in Ireland and Wales – Dublin, Fishguard, Holyhead, Pembroke Dock and Rosslare – working with local communities and key stakeholders to make passing tourists aware of the deep history of these places. The Aberystwyth strand of the project is working with local communities and key stakeholders to research the history of the five ports, and to produce a series of films promoting heritage tourism in the port communities.
Prof. Ryszard Piotrowicz
Professor Ryszard Piotrowicz, FLSW, teaches in the Dept. of Law and Criminology, and specialises in migration law. He was a member of GRETA, the Council of Europe's Group of Experts on Action against Trafficking in Human Beings, for two terms, from 2013-20, and Vice-President from 2017-20. He also served two terms as a member of the European Commission's Group of Experts ion Trafficking in Human Beings (2008-15). He is Adjunct Professor at the University of South Australia and a Senior Research Associate at the Refugee Law Initiative, University of London. He is an Alexander-von-Humboldt Fellow, and a Fellow of the Learned Society of Wales. He has acted as a consultant on human trafficking for the Council of Europe, IOM, OSCE, UNHCR, EU and ICMPD, as well as national governments and NGOs, and has conducted training programmes on human trafficking in many countries. He has published extensively on the law relating to human trafficking. He is a member of the Wales Anti-Slavery Leadership Group, and is currently working on a number of projects relating to legal issues concerning human trafficking.
Dr Elena Anna Spagnuolo
Dr Elena Anna Spagnuolo works as an Italian Language Instructor in the Department of Modern Languages at Aberystwyth University. She holds a PhD in Italian Studies from the University of Manchester. Her PhD dissertation Hybrid Voices in Self-translation. Using Language to Negotiate Identity in (Trans)migratory Contexts investigated the phenomenon of self-translation within the context of mobility, seeking to understand it as a practice, which exists in conjunction with a process of redefinition of identity. Her research interests focus on the link between (self)translation and migration, as well as the role played by performing arts in (trans)migratory contexts.
Elena Anna Spagnuolo's projects include:
My current research project, 'Rewriting the transnational dimension of Italian migration in the time of Covid-19', has been funded by the Centre for the Movement of People, at Aberystwyth University. It investigates how Covid-19 has rewritten the transnational connotation of Italian migration in Wales, reshaping issues of home, belonging, inclusion and participation. I specifically focus on the relationship with the origin country, aiming to detect whether the pandemic has strengthened feelings of nostalgia and desires to 'return home'. To this end, I consider four main fields: social relations, cultural practices, travel patterns and sources of information. Addressing these fields, I seek to examine the practices and strategies that Italian migrants in Wales have engaged with, in order to maintain a connection with Italy, despite the limitations and challenges posed by Covid.
Lucy Trotter
Lucy Trotter is an anthropologist and a lecturer in the School of Education at Aberystwyth University. She studied Social Anthropology at the London School of Economics, graduating with First Class Honours in 2014. She was awarded the Jean La Fontaine 2013/14 prize for Outstanding Undergraduate Achievement and the Peter Loizos prize for Ethnographic Research. In 2014, she was awarded a 1+3 scholarship by the Economic and Research Council to study for an MSc in Research Methods and a PhD in Social Anthropology at the London School of Economics, before joining the School of Education in 2019. Her work is interdisciplinary and her research interests are broad, but she has a particular interest in subjectivity, performance, music, class, power, and inclusion. Her most recent research project is an ethnographic investigation into the experiences of single student parents in Higher Education in the UK. Her PhD thesis, which she submitted in September 2020, is about the relationship between music, Welshness, and performance in a bilingual Spanish-Welsh music school in the village of Gaiman in the Chubut Valley of Patagonia. She has also completed ethnographic research projects into the bilingual education system in Patagonia and with skateboarders in London.
Lucy Trotter's projects include:
2020 (ongoing) The struggle of the juggle: An ethnography of the experiences of single parents studying at University in the UK
2015 – 2020 (PhD thesis, LSE) Performing Welshness in the Chubut Province of Patagonia, Argentina
2015 Arguing with songs: an anthropological approach to music, ideology, and gendered subjectivity
2013 The role of education in constructing and consolidating 'banal nationalism' in Welsh Patagonia
2013 Walking with skateboarders: the Southbank struggle for egalitarianism, working classness, and capitalist critique
Events
Latin American Literary Studies Association Conference
11-12 November 2021
External Speakers Series
22 October 2020, 5-6pm (UK)

Mimi Sheller (Drexel University, Philadelphia):

'Mobility Justice and the Lessons of Pandemic (Im)mobilities'

Mimi Sheller is Professor of Sociology in the Department of Culture and Communication, and the founding Director of the New Mobilities Research and Policy Center at Drexel University

5 November 2020 5-6pm (UK)

Loredana Polezzi (Stony Brook, NY)

'From Erasure to Co-Presence: Migration, Translation and the Spaces of Hospitality'

Loredana Polezzi is Alfonse M. D'Amato Chair in Italian American and Italian Studies in the Department of European Languages, Literatures and Cultures at Stony Brook University (USA). Her research interests combine translation studies and transnational Italian studies. She has written extensively on Italian travel writing, colonial and postcolonial literature, translingualism and migration.

9 December 2020, 5-6pm (UK)

Tim Hannigan (Freelance Travel Writer)

In the Contact Zone: travel writing and ethics at the intersection of theory and practice

Tim Hannigan is a travel writing practitioner turned travel writing scholar whose research focuses on the implications of scholarly critiques on the practice of the genre. He is an experienced writer of guidebooks and travel journalism, and the author of several narrative history books with themes of travel. His next book, The Travel Writing Tribe: Journeys in Search of a Genre is due for publication in 2021.

13 January 2021 13:00

Professor Christian Kaunert, Chair of Policing and Security, University of South Wales

'Far-right terror, the securitisation of refugees and the European Union (EU)'

3 March 2021 13:00

Professor Charles Forsdick, James Barrow Professor of French at the University of Liverpool

'Microtravel: deceleration, proximity, verticality'

Charles Forsdick is James Barrow Professor of French at the University of Liverpool. He has published on a variety of topics, including exoticism, travel writing, colonial history, postcolonial literature, comics, penal cultures and the afterlives of slavery.

27 April 2021 12:00

Jennifer Craig-Norton, University of Southampton

'Refugees from National Socialism: Domestics in the UK'
Lunchtime Papers
29 October 2020 13:00

Valerie Todd (Psychology)

Friendship Feast: Intervention using food as a catalyst for social integration in women seeking refuge or asylum in the UK

19 November 2020 13:00

Arddun Arwyn (History)

Hounds, Cattle and Ponies: The Symbolic Function of Animals in the Narratives of Displaced Germans 1944-48

2 December 2020 13:00

Gabor Gelleri (Modern Languages)

Mobility and its discontents: dreams and realities of a colonial propaganda travel mission

21 January 2021 13:00

Dr Peter Rees (International Politics)

'The Nomos of Citizenship: Migrant rights, law and the possibility of justice'

18 February 2021 13:00

Elena Spagnuolo (Modern Languages)

Rewriting the transnational dimension of Italian migration in the time of Covid-19

19 March 2021 13:00

Bryonny Goodwin-Hawkins and Rhys Dafydd Jones (DGES)

'Affordification': Conceptualising migration and spatial inequalities beyond the gentrification debate

16 April 2021 13:00

Alexandra Bulat

TBC

18 May 2021 13:00

Anita Grosz and Stephanie Holmer (Modern Languages)

Adverse Childhood Experiences and the Kindertransport: how history can inform refugee support today
Early Career Researcher and Postgraduate Student Symposium
Call for Papers
Early Career Researcher and Postgraduate Student Symposium
Convenors: The Centre for the Movement of People, Aberystwyth University
26 May 2021
The Centre for the Movement of People (CMOP) is pleased to announce a one-day symposium for early career researchers and postgraduate students based at Aberystwyth University. CMOP is a space for researching, disseminating and engagement on different forms of human mobility from fleeing persecution to travelling for leisure using a wide range of methodological and disciplinary approaches. Central to the research centre's ethos is an emphasis on interdisciplinary research, consisting of members from law, criminology, geography, politics, modern languages, history, literature studies and more.
The aim of the symposium is to offer researchers working in the field of Migration, Mobility or Renewal the opportunity to present and share their research ideas in a supportive environment. We feel that at this time, providing a space for academic exchange and support is particularly important given the impact of Covid-19 on the academic research environment. In keeping with the research centre's commitment to interdisciplinarity, we invite abstract submissions from ECRs and PG students working across a broad array of disciplines and whose research overlaps with the themes of Migration, Mobility or Renewal.
Abstract Submission
The deadline is February 26th, 2021. Abstracts should be no more than 250 words and can be submitted by email to both Peter Rees and Catrin Wyn-Edwards.
Accepted submitters will be notified by late February or early March. Each accepted submitter will be asked to send a paper (of no more than 8000 words) to their session chair two weeks in advance and to give a brief presentation at the beginning of the session on the content of the paper. The paper submitted can be in draft form.
If you have any questions, please do not hesitate to get in touch with us.