Exhibition at Senedd tells refugees' stories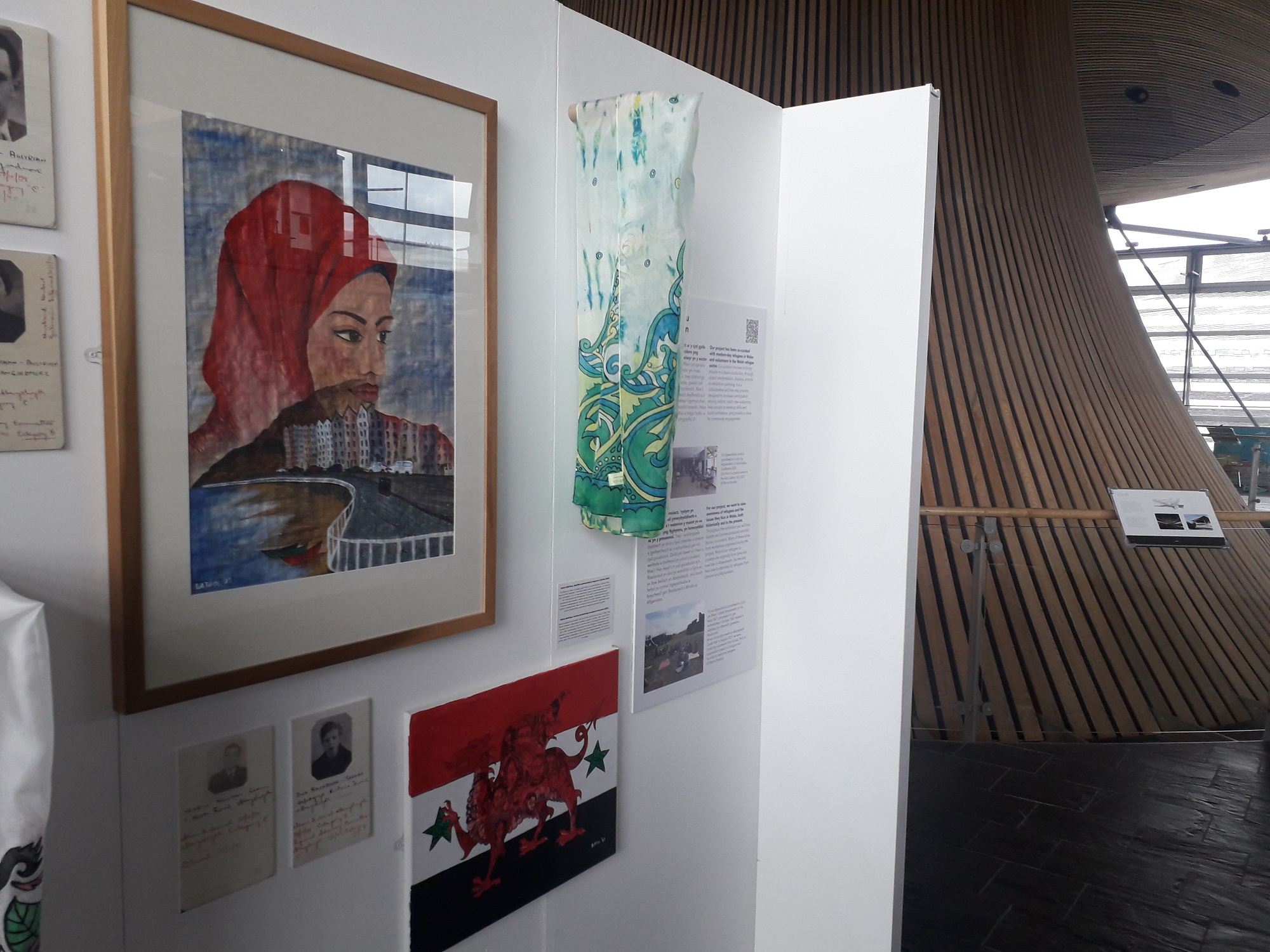 An exhibition showcasing the stories of refugees in Wales from the past and present has gone on display at the Senedd in Cardiff Bay.
'Refugees from National Socialism in Wales: learning from the past for the future' has been co-curated by Dr Andrea Hammel and Dr Morris Brodie from Aberystwyth University's Centre for the Movement of People, together with refugees and those who are assisting refugees with resettlement in Wales.
The exhibition traces the history of those who have sought sanctuary in Wales, ranging from those who fled from National Socialism in Central Europe in the 1930s and 1940s, to modern day refugees.
The exhibition includes artworks, objects, photographs, and literature created by refugees and those working alongside them, from across the decades.
Dr Hammel has also been collaborating with Aberystwyth-based filmmaker Amy Daniel, working alongside groups of refugees and those who help them, to develop a creative response linking different refugee stories in Wales. The film will be screened as part of the exhibition.
Dr Hammel, Reader in German and Director of the Centre for the Movement of People at Aberystwyth University, said:
"As a nation, Wales has a long history of providing sanctuary for refugees. Our exhibition gives a voice to these refugees, and allows us to discover their stories through their own words and pictures.
"The exhibition highlights the positive contribution these men, women and children have made to life and culture here in Wales. The refugees who resettled in Wales in the 1930s and 1940s made this part of the world their home, and are now very much a part of the fabric of Welsh life. The same is true of the Syrians, Afghans and Ukrainians who followed them and are already having a cultural and economic impact in Wales, establishing businesses, raising families, introducing new cuisine, and much more."
On 1 March, a special St David's Day event was held at the Senedd, where there was a chance to hear directly from refugees who have settled in Wales, listen to those who contributed to the exhibition, and enjoy a special performance by Ukrainian singer Khrystyna Makar.
Commenting on the event, Dr Hammel said:
"At today's event, current refugees from Ukraine and Syria stood alongside former refugees from Nazi-occupied Europe to highlight the similar issues they face."
"Our project has sought to demonstrate that by learning from the experiences of refugees, both positive and negative, we can help to build a better future for all those seeking refuge from war and persecution."
The exhibition was curated as part of the Second World War and Holocaust Partnership Programme, led by Imperial War Museums and funded by the National Lottery Heritage Fund.
It will be on display at the Senedd Oriel & Pierhead Futures Gallery in Cardiff until 18 April 2023.