Aberystwyth scientists help protect Jupiter space mission from extreme radiation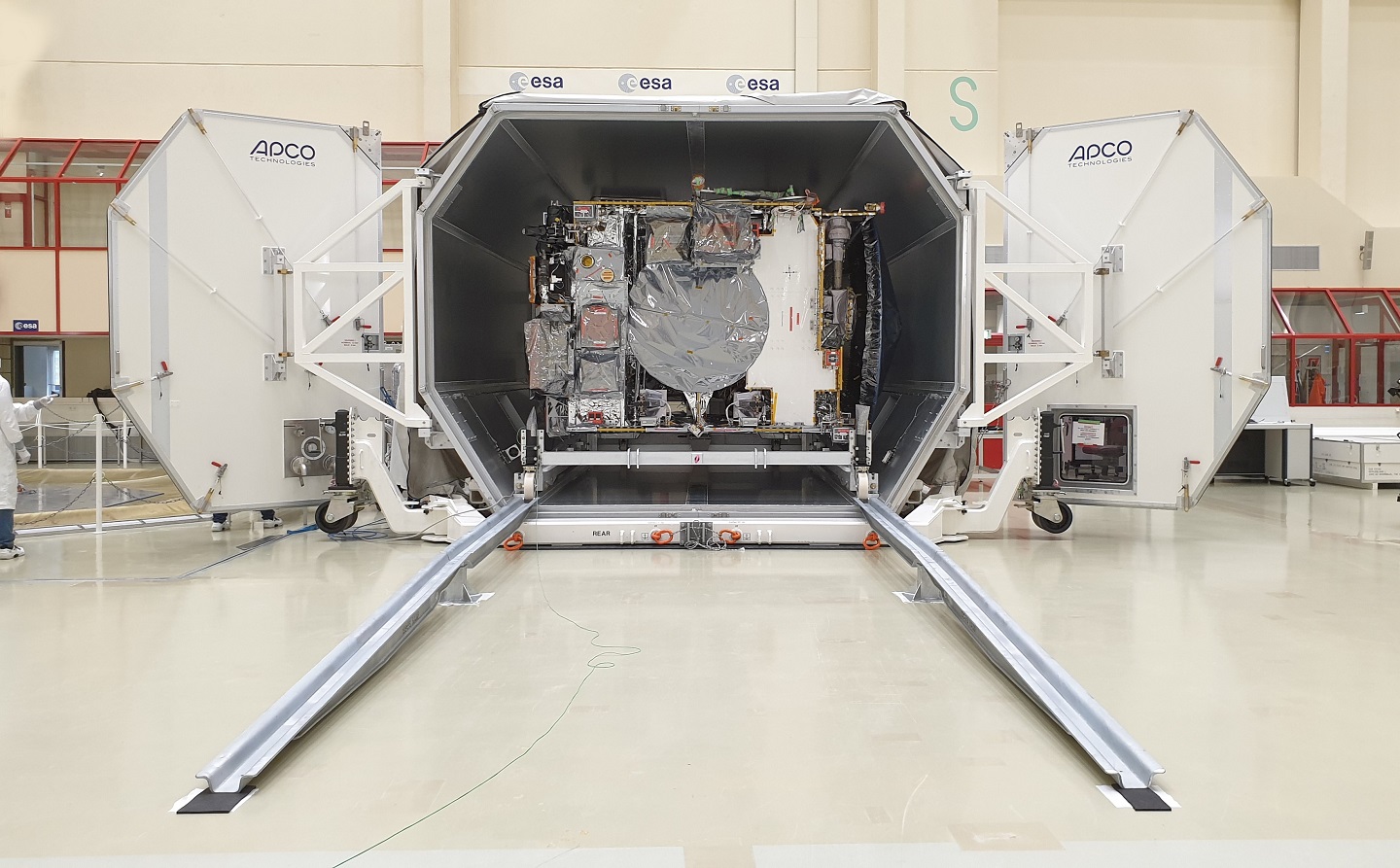 JUICE in transport container.
A pioneering space mission to explore the moons of Jupiter will be protected from some of the harshest radiation in the Solar System, thanks to calculations by Aberystwyth University researchers.
The Jupiter Icy Moons Explorer (JUICE) is set to take off on its 390-million-mile journey from French Guiana on 13 April 2023.
Among the mission's many aims are exploring whether life could exist on three of the planet's moons - Ganymede, Callisto and Europa - which are thought to harbour deep oceans of water beneath their frozen surfaces.
The JUICE spacecraft is expected to reach Jupiter by 2031 and will spend four years observing the planet and its moons.
The mission will be the first time ever for a spacecraft to orbit a moon other than Earth's as well as change orbit from another planet to one of its moons.
However, Jupiter and its moons have one of the most intense radiation environments in the Solar System which could destroy a spacecraft's vital electronic instruments within seconds.
To overcome this challenge, Professor Manuel Grande, Head of Solar System Physics at Aberystwyth University's Department of Physics, led a team responsible for designing and developing state-of-the-art anti-radiation technology to shield six of the instruments on-board.
Professor Grande, who has worked on previous European Space Agency (ESA) missions including to all the planets and the moons between Mercury and Saturn, said:
"The major challenge when visiting the icy moons of Jupiter, in particular Europa, is the extreme radiation environment which would interfere with the spacecraft's instrumentation and swamp any readings. The innovative design of the shielding, which was pioneered at Aberystwyth, makes it possible to avoid the effects of radiation on readings and allow for the detection of organic molecules in the neighbourhood of Europa, which is perhaps the most likely site for life in our Solar System after our own Earth."
Led by the European Space Agency (ESA), the €1.6bn JUICE mission brings together scientists from 18 institutions including Aberystwyth University. It is part-funded by the UK Space Agency.
Dr Caroline Harper, Head of Space Science at the UK Space Agency, said:
"The launch of JUICE marks years of hard work and collaboration by scientists, engineers and space agencies all over the world, but the journey is far from over.
"We look forward to following the spacecraft as it makes its eight-year trip to Jupiter and then as it studies the planet and its moons, using specialised UK-developed science instruments. We have a large community of research experts in the UK who are eagerly awaiting the data that JUICE will provide. With this information we hope to discover more about the nature of gas giants in space, and their icy moons, bringing us another step closer to understanding the evolution of the Universe."