Welsh app's potential to restore world's natural habitats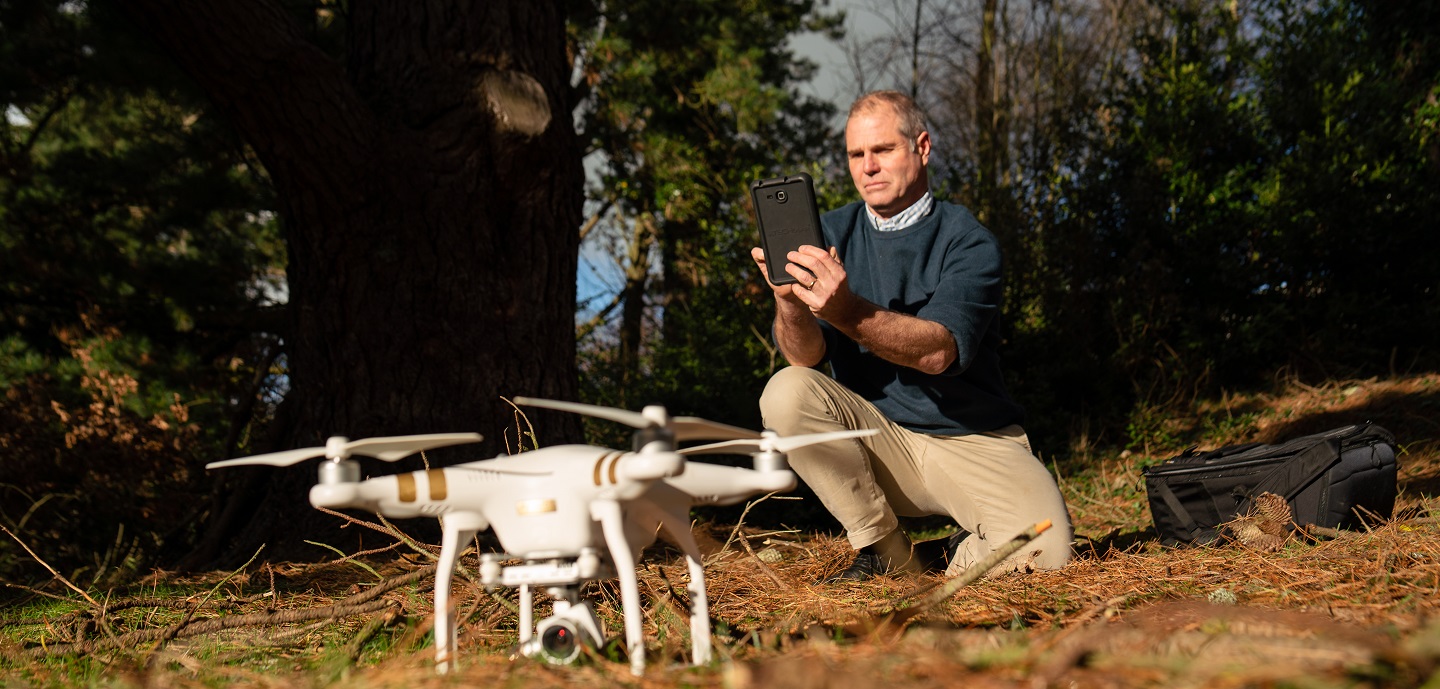 Professor Richard Lucas, Aberystwyth University
A new app that has the potential to help protect and restore ecosystems and environments around the world is being launched by Aberystwyth University academics today.
As part of the Living Wales project, researchers have developed the app which records information on land cover using internationally-recognised terms. It monitors over 240 types of change, including forest clearance, fire damage, flooding and erosion – those caused by humans and natural events alike.
Called 'Earthtrack', the app has already contributed to mapping and assessing forests and habitats in Wales as well as other countries, such as the impact of fire damage and recovery in Australia.
Following a period of testing and evaluation, the researchers now plan to extend the use of Earthtrack to more individuals and groups both in Wales and beyond so they can restore ecosystems and biodiversity, manage land sustainably, and tackle climate change.
At the launch, the team will also showcase new and improved land cover maps for Wales, including the new Living Wales Habitat Map.
Professor Richard Lucas from the Earth Observation Group at Aberystwyth University said:
"This new app, Earthtrack, is part of our efforts to support the protection, conservation and restoration of the World's ecosystems and their biodiversity. It directly provides information that can be used to develop and validate maps of land cover and change generated from satellite or aircraft data, in near real time and historically. Records submitted using the app can also help to track progress towards creating better environments for people and nature.
"This technology has huge potential to support land management and public policy into the future.Having started testing the app, we are now asking environmental organisations and bodies to consider adopting it, for which we are able to provide training.The great value of the app is that it can give citizens the opportunity to contribute their own observations on the states and dynamics of our ever-changing environment. Earthtrack also empowers people to contribute to addressing some of the World's major challenges, including climate change, biodiversity loss and wise use of natural resources. "
Claire Horton, Geospatial and Earth Observation Manager at the Welsh Government added:
"The Earthtrack mobile app provides Wales with a new and unique opportunity to provide timely information on the Welsh landscape, all of which helps to improve our future environment, economy and well-being.
"This is an innovative new approach to collecting environmental data in the field. This new technology is being tested to assess how it can be used for multiple benefits across the Welsh Government, from sharing ground survey data to helping validate Living Wales outputs to using it as an efficient means of recording information as part of business-as-usual processes. The development of Earthtrack for use by a wider audience is being encouraged, as citizen science has an important role to play in improving the understanding of our environment."