A fun filled day in the sun for Learning Welsh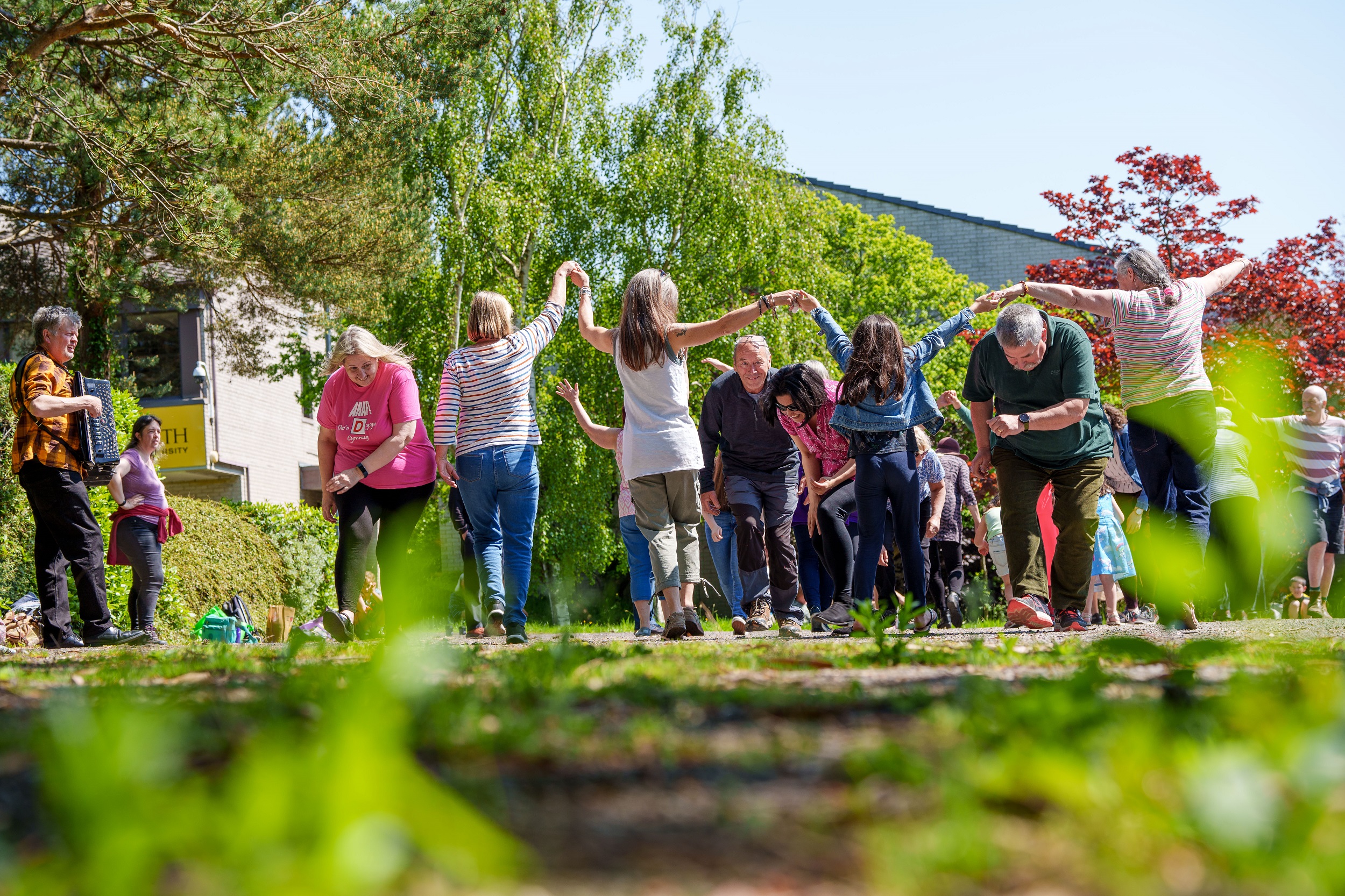 Twmpath folk dancing in the sunshine as part of the Summer Festival organised by Learn Welsh Ceredigion Powys Carmarthenshire.
More than 100 Welsh learners and their families gathered on Aberystwyth University's Llanbadarn campus on Saturday 13 May 2023 for the very first Summer Festival to be held by Learn Welsh Ceredigion, Powys and Carmarthenshire.

As well as a chance to meet face to face once more and chat in Welsh, there was a range of activities on offer during the day including including a Ukelele Session with Steffan from CERED, a Juicing Session with Rhiannon Taylor and Zumba with Katy Liscombe.

Learners could try their hand at harp playing, browse or buy Welsh books, play board games and take part in a quiz. 

They were also welcomed to the 2023 Learn Welsh Awards Ceremony to celebrate the year's achievements.  

Learners who had passed their WJEC accepted (Entry level) were presented with their certificates and individuals and groups were rewarded for their hard work in categories such as The Welsh at Home Group, Welsh Workplace Learner of the Year and the Group of the Year.  

Alex Tudur, winner of 'Learner of the Year' award, was presented with a personal englyn poem written by Mererid Hopwood, while Rhiannon Sparrow, winner of 'Tutor of the Year', received a personal englyn by Eurig Salisbury.

In the late afternoon, everyone gathered in the sunshine for a Twmpath folk dance, hosted by Bryn and Rhian Davies.  

Anika Lloyd from Learn Welsh Ceredigion Powys Carmarthenshire said: "We are delighted to have been able to host this festival for our learners.  There were smiles on everyone's faces all day and there was a real buzz around the building.  It's important to show learners that they can use the language when doing activities and it was lovely to see so many children enjoying themselves!"

Aberystwyth University delivers Welsh course in Ceredigion, Powys and Carmarthenshire on behalf of the National Centre for Learning Welsh, which is responsible for the Welsh for Adults Education Programme.

Short courses are available in late June/early July, and an intensive 4-week course (all levels) is available at Aberystwyth starting the 10th of July 2023. From June 2023, new 30-week (September 2023 – June 2024) Learning Welsh courses will be available on learnwelsh.cymru.