Half million boost for AI crop research at Aberystwyth University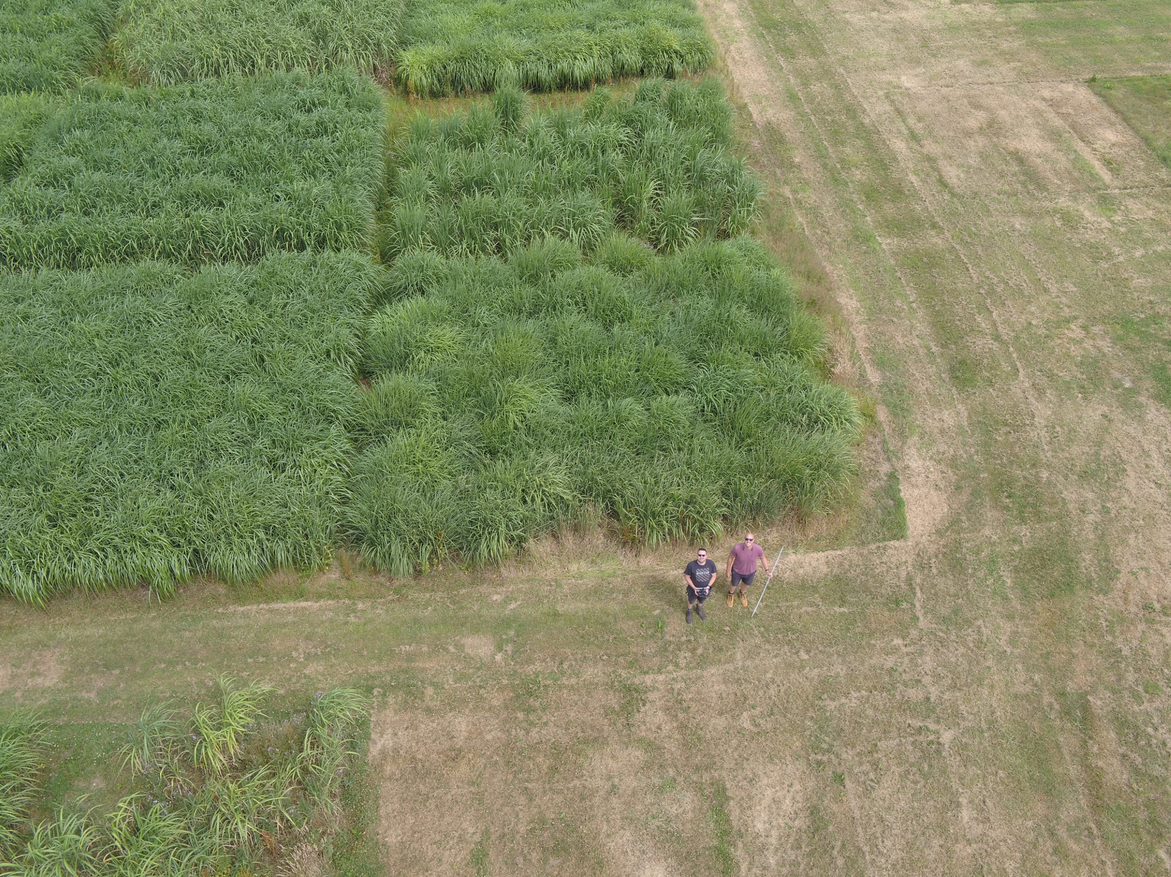 Miscanthus in Aberystwyth University fields
Aberystwyth University has received a half a million pound boost from the UK Government to research the role of artificial intelligence in crop breeding.
Led by scientists at the Institute for Biological, Environmental and Rural Sciences, the project will explore how AI can select varieties of miscanthus that are best to help tackle climate change.
The work is part of a wider multi-million pound investment to develop trustworthy artificial intelligence research announced by the UK's Secretary of State for Science, Innovation and Technology Chloe Smith.
Miscanthus is a plant with a straw-like stem that grows up to four metres high per year. It is harvested in spring and grows back from an overwintering rhizome to produce a crop each year.
It can grow well on land less suitable for food crops and the harvested crop is typically used for bioenergy for heat and power. It also has a wider variety of other uses, including as a construction material, for green manufacturing and for animal bedding in livestock farming.
Professor John Doonan, from Aberystwyth University's Institute for Biological, Environmental and Rural Sciences, said:
"It is a great honour to receive support from this initiative – it's only a select number of universities that have benefited from the investment. It underlines the importance of our research here in Aberystwyth not only locally but nationally and internationally as well.
"The UK and the world need to reduce CO2 emissions to mitigate climate change, so we must develop our economy to take advantage of green technologies as opposed to relying on fossil fuels. Exploiting artificial intelligence to breed new bioenergy crops will be a significant part of the answer."
UK Technology Secretary Chloe Smith, said:
"Despite our size as a small island nation, the UK is a technology powerhouse. Last year, the UK became just the third country in the world to have a tech sector valued at $1 trillion. It is the biggest in Europe by some distance and behind only the US and China globally.
"The technology landscape, though, is constantly evolving, and we need a tech ecosystem which can respond to those shifting sands, harness its opportunities, and address emerging challenges. The measures unveiled today [14 June] will do exactly that.
"We're investing in our AI talent pipeline with a £54 million package to develop trustworthy and secure artificial intelligence, and putting our best foot forward as a global leader in tech both now, and in the years to come."
Professor Dame Ottoline Leyser, Chief Executive of UK Research and Innovation (UKRI) said:
"UKRI is investing in the people and technologies that will improve lives for people in the UK and around the world. By supporting research to develop AI that is useful, trustworthy and trusted, we are laying solid foundations on which we can build new industries, products and services across a wide range of fields.
"Working though cross-disciplinary partnerships we will ensure that responsible innovation is integrated across all aspects of the work as it progresses."
The Aberystwyth University-led project receiving the UK Government funding also involves academics from the Universities of Lincoln and Southampton.