Lifelong Welsh tutor awarded Honorary Fellowship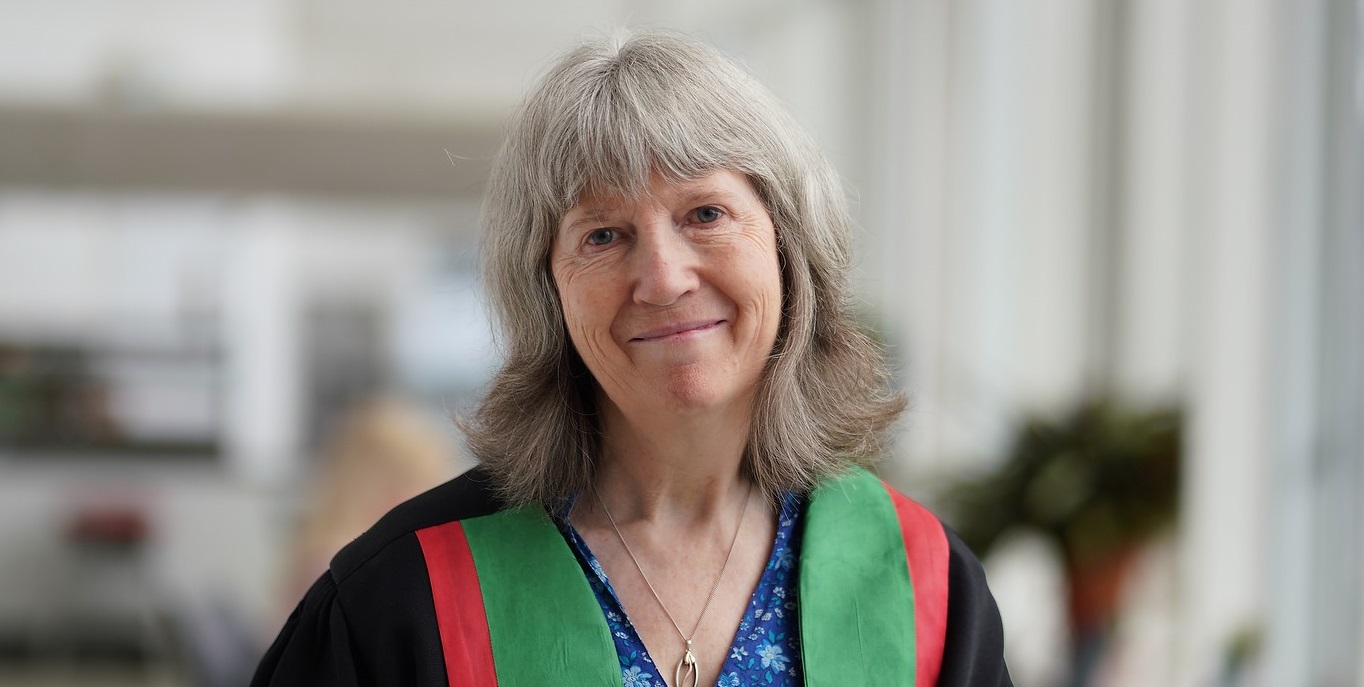 Helen Prosser
Helen Prosser, Director of Learning and Teaching at the National Welsh Language Learning Centre, has been awarded an Honorary Fellowship of Aberystwyth University.
Born and raised in Tonyrefail, Helen Prosser studied Welsh at Aberystwyth, and credits the University with fostering in her the passion to teach Welsh to others.
She has spent her entire career teaching Welsh to adults - at Swansea University, WJEC, Cardiff University and the University of South Wales.
She now works as Director of Learning and Teaching at the National Welsh Language Learning Centre.
She is also Chair of the Rhondda Cynon Taf National Eisteddfod Executive Committee, which is preparing for the area to host the National Eisteddfod for the first time since 1956.
Helen Prosser was presented as Honorary Fellow by Dr Rhodri Llwyd Morgan, Director of Welsh Language, Culture and External Engagement at Aberystwyth University, on Tuesday 18 July 2023.
The full conferral presentation is available below, in the language in which it was delivered.
Presentation of Helen Prosser by Dr Rhodri Llwyd Morgan:
Dirprwy Ganghellor, Dirprwy Is-Ganghellor, graddedigion, gyfeillion. Pleser o'r mwyaf yw cyflwyno Helen Prosser yn gymrawd Prifysgol Aberystwyth.
Pro-Chancellor, Pro Vice-Chancellor, graduates and supporters. It is an honour and a privilege to present Helen Prosser as a Fellow of Aberystwyth University.
Eilydd ydw i heddiw i Siôn Meredith, Pennaeth Dysgu Cymraeg y rhanbarth ac a fyddai wedi bod wrth ei fodd gyda'r gorchwyl hwn ond yn anffodus yn methu bod yma.
Ganwyd a magwyd Helen Prosser yn Nhonyrefail ac aeth i Ysgol Gyfun Tonyrefail lle astudiodd y Gymraeg hyd at bwnc Safon Uwch Ail Iaith. Ym Mhrifysgol Aberystwyth daeth y cyfle i ddatblygu ei Chymraeg a chychwyn ar daith sydd wedi llywio ei bywyd. Tra'n astudio'r Gymraeg yn y brifysgol, bu'n weithgar gyda Chymdeithas Llywelyn, y gymdeithas ar gyfer myfyrwyr oedd eisiau helpu myfyrwyr eraill i ddysgu'r Gymraeg. Bu'n weithgar hefyd gyda llawer o achosion, gan gynnwys ymgyrchu'n frwd ac yn ddewr gyda Chymdeithas yr Iaith Gymraeg.
Cafodd ei blas cyntaf ar ddysgu swyddogol tra yn y brifysgol trwy ddysgu ar gwrs haf Prifysgol Cymru yn Llanbedr Pont Steffan. Mae wedi treulio ei gyrfa gyfan – 40 mlynedd ac yn cyfri – yn dysgu'r Gymraeg i Oedolion: ym Mhrifysgol Abertawe, CBAC, Prifysgol Caerdydd a Phrifysgol De Cymru. Erbyn hyn, mae'n gweithio fel Cyfarwyddwr Dysgu ac Addysgu yn y Ganolfan Dysgu Cymraeg Genedlaethol.
Mae Helen yn dal i fyw yn Nhonyrefail gyda'i gŵr, Danny. Mae ganddynt ddau o blant, sef Fflur a Gwynfor. Mae Helen yn ddiarhebol o brysur ac mae'r 12 mis nesaf yn flwyddyn fawr gan mai hi yw Cadeirydd Pwyllgor Gwaith Eisteddfod Genedlaethol 2024.
Helen Prosser is Director of Learning and Teaching at the National Centre for Learning Welsh and has dedicated the entirety of her 40-year career to teaching Welsh to adults. She loves Welsh learners. Her dedication and inspirational Leadership was recognised in 2018 at the 'Leading Wales Awards', held in association with the Institute of Leadership and Management, where she was presented the 'Women in Leadership' Award. Quite an accolade. And ironic too since her former line manager said to me last week that she was impossible to manage. She also told that Helen had the knack of appearing to be collaborative and inclusive but went off instead and did all the work herself.
Hi sy'n arwain hyfforddi tiwtoriaid Cymraeg yn genedlaethol, rhyw 650 ohonynt. Hi hefyd sydd wedi arwain datblygu'r cynllun 'Siarad' sy'n cefnogi dysgwyr. A hi yw prif bensaer y Cwricwlwm Dysgu Cymraeg cenedlaethol ac awdur pennaf yr holl gwrs-lyfrau ar bob lefel.
Helen, rwyt ti yn ysbrydoliaeth, mae mor syml â hynny.
Dirprwy Ganghellor, mae'n bleser gen i gyflwyno Helen Prosser i chi yn Gymrawd.
Pro Chancellor, it is my absolute pleasure to present Helen Prosser to you as a Fellow of Aberystwyth University.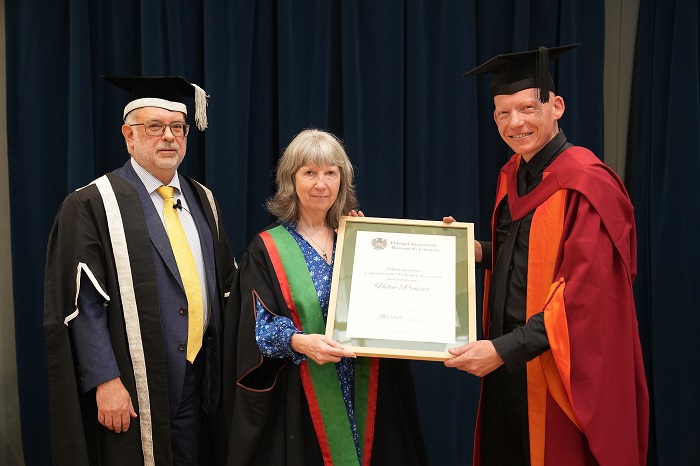 Professor Colin McInnes, Helen Prosser and Dr Rhodri Llwyd Morgan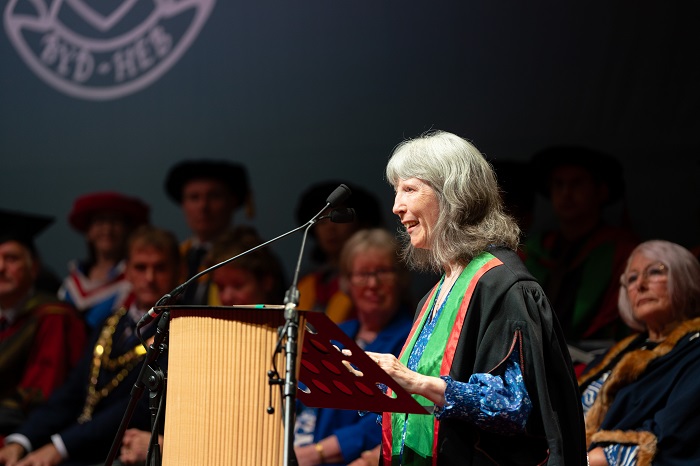 Aberystwyth University Honours 2023
Each year, Aberystwyth University confers Honorary Awards on a small number of distinguished individuals in recognition of their outstanding achievement and contribution.
Aberystwyth University awards celebrate individuals who have roots in, or connections to, the region and have either: made an exceptional and outstanding contribution to the development of the University over a prolonged period; gained recognition for national or international excellence in an academic area relevant to the University; or made a significant contribution to the cultural, academic, educational, professional or economic arena.
The 2023 Honorary Fellows are (in order of presentation):
Helen Prosser, Director of Teaching and Learning at the National Centre for Learning Welsh
Tina Evans, 'Human on Wheels' inspirational blogger and motivational speaker, and television presenter
Ben Thompson, Short Film Programmer at Tribeca Festival in New York
Ann Griffith, Leader of Wales and the World at the 2022 National Eisteddfod
Professor Dato' Dr Rahmat Mohamad, Professor of Law at MARA Technological University in Malaysia
Kate O'Sullivan, veterinary surgeon for Mill Referrals, Director of Ystwyth Vets and British Small Animal Veterinary Association volunteer
Phil Thomas, veterinary surgeon, Director of Ystwyth Vets and Director of Iechyd Da
Ian Gwyn Hughes, Head of Public Relations at the Football Association of Wales and former BBC Wales football correspondent.