Honorary Fellowship for well-known Aberystwyth vet, Dr Kate O'Sullivan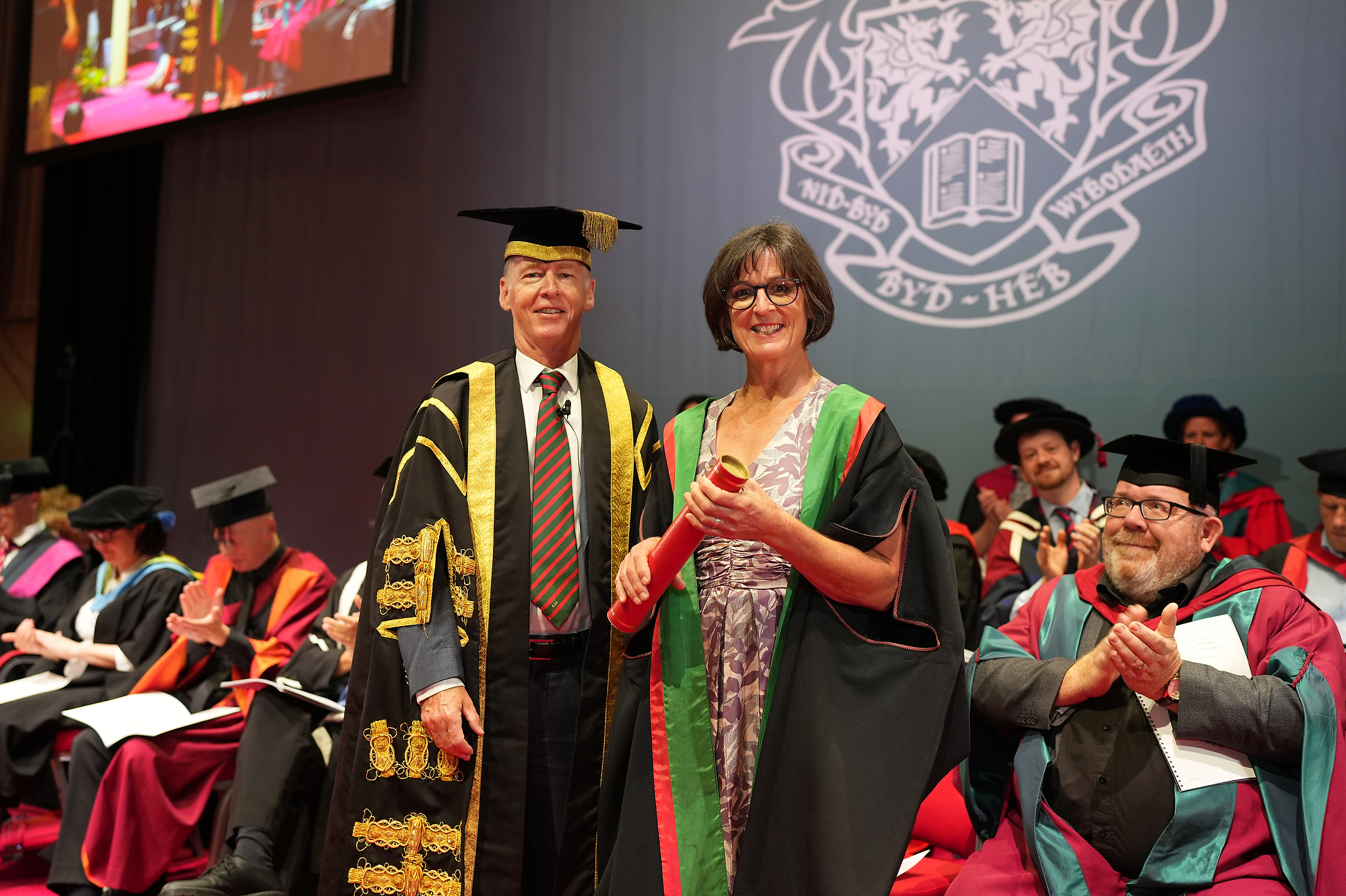 Dr Emyr Roberts, Chair of Aberystwyth University Council, presenting an Honorary Fellowship to Dr Kate O'Sullivan
Director of Ystwyth Vets in Aberystwyth, Dr Kate O'Sullivan, has been made an Honorary Fellow of Aberystwyth University.
Born and brought up in Lurgan in County Armagh, Kate O'Sullivan graduated with a Bachelor of Veterinary Medicine from University College Dublin in 1988.
Her first veterinary post was in Llandeilo, where she learnt Welsh.
She then spent three years volunteering with the Cambodian Ministry of Agriculture through Voluntary Service Overseas.
On her return, she studied at Edinburgh University's Centre for Tropical Veterinary Medicine.
In 1997, she moved to Aberystwyth and began working in mixed practice at Ystwyth Vets, where she went on to become a director, combining this with raising four children.
She has taken part in veterinary television series such as Y Fet a Fi and Y Fets for S4C.
Dr O'Sullivan now works as a full-time veterinary surgeon, providing services offered by Mill Referrals, based within Ystwyth Vets.
She has taught on various courses at the University, most recently for Veterinary Medicine undergraduates. In her role as a volunteer with the British Small Animal Veterinary Association, she has also helped to organise Vets Cymru conferences held at the University.
Dr Kate O'Sullivan was presented as Honorary Fellow by Sharon King, Lecturer in Veterinary Science in the Department of Life Sciences, on Thursday 20 July 2023.
The full conferral presentation is available below, in the language in which it was delivered.
Presentation of Dr Kate O'Sullivan by Sharon King:
Cadeirydd y Cyngor, Dirprwy Is-Ganghellor, graddedigion, gyfeillion. Pleser o'r mwyaf yw cyflwyno Kate O'Sullivan yn gymrawd Prifysgol Aberystwyth.
Chair of Council, Pro Vice-Chancellor, graduates and supporters. It is an honour and a privilege to present Kate O'Sullivan as a Fellow of Aberystwyth University.
Cafodd Kate O'Sullivan ei geni, ei magu a'i haddysgu yn Lurgan, Swydd Armagh, Gogledd Iwerddon, cyn iddi raddio o Goleg Prifysgol Dulyn gyda gradd meddygaeth filfeddygol MVB ym 1988. Ar ôl graddio, mentrodd ar draws y dŵr i Gymru a dechrau gweithio yn Llandelio lle bu'n gweithio mewn practis anifeiliaid cymysg a ble bu iddi gyfarfod â'i darpar ŵr, Phil. Yma, fe ddysgodd Gymraeg, a dywedir wrthyf mai gyda chymorth Phil, fe gyrhaeddodd rownd derfynol Dysgwr y Flwyddyn Eisteddfod Genedlaethol Cymru yn 1991.
Between 1991 and 1994 she worked as a Voluntary Service Office (VSO) with the Cambodian Ministry of Agriculture, working to develop veterinary services in Battambang, one of the Cambodian western provinces. On her return to the UK, she studied at the Centre of Tropical Veterinary Medicine at the University of Edinburgh, before going on to help teach on that course.
Yn 1996, dychwelodd Kate i weithio mewn milfeddygfa gymysg, gydag Aberystwyth yn dod yn gartref iddi ers 1997, ac Ystwyth Vets yn dod yn gartref proffesiynol iddi lle mae wedi dod yn gyfarwyddwr ers hynny. Yn ystod yr adeg hon y cwrddais i â Kate am y tro cyntaf, fi fel myfyriwr milfeddygol brwdfrydig a Kate fel y mentor a'r athrawes brofiadol, pwyllog. Gallwn adrodd hanes y nifer anturiaethau a gawsom wrth deithio ffyrdd Gogledd Ceredigion yn trin gwahanol anifeiliaid fferm ond nid wyf am godi cywilydd ar yr un o'r ddwy ohonom ar y llwyfan hwn!
Kate has successfully juggled a prominent veterinary career with raising 4 children with her husband Phil, achieving a Certificate in Small Animal Surgery in 2004 and entering the RCVS register as an Advanced Practitioner in Small Animal Surgery. Up until last year she was the president of the Welsh Branch of the British Small Animal Veterinary Association and heavily involved with the Wales Veterinary Science Centre in organising the Vets Cymru Conference that was held here at Aberystwyth University in 2019 and 2022.
Yn ogystal a bod yn fabolgampwraig brwd, yn cynrychioli Cymru mewn trywyddu, ac yn aml yn rhedeg i fyny Cader Idris ar doriad gwawr cyn dechrau gwaith am 9.00 am, mae hi'n dipyn o seleb teledu ar ôl cymryd rhan mewn amryw gyfresi teledu fel 'Y Fet a Fi' ac 'Y Fets' i S4C, cyfres pry ar wal yn dangos uchafbwyntiau a digalondid bywyd go iawn milfeddyg yng nghefn gwlad canolbarth Cymru.
Lately Kate has transitioned from being a mixed practitioner to full-time surgeon, having taken on the services offered by Mill Referrals based within Ystwyth Vets accepting varied referral surgical cases from across Wales. She has also taught on varied University courses over the years and most recently for the veterinary science undergraduates at the Aberystwyth School of Veterinary Science. Kate's passion for her profession is undeniable and her desire to continue challenging herself and others admirable.
Cadeirydd y Cyngor, mae'n bleser gen i gyflwyno Kate O'Sullivan i chi yn Gymrawd.
Chair of Council, it is my absolute pleasure to present Kate O'Sullivan to you as a Fellow of Aberystwyth University.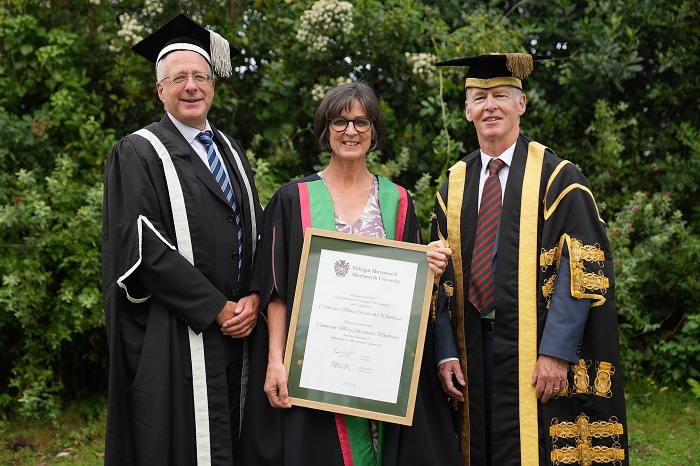 Professor Neil Glasser (Pro Vice-Chancellor Faculty of Earth & Life Sciences), Dr Kate O'Sullivan (Honorary Fellow), Dr Emyr Roberts (Aberystwyth University Chair of Council)
Aberystwyth University Honours 2023
Each year, Aberystwyth University confers Honorary Awards on a small number of distinguished individuals in recognition of their outstanding achievement and contribution.
Aberystwyth University awards celebrate individuals who have roots in, or connections to, the region and have either: made an exceptional and outstanding contribution to the development of the University over a prolonged period; gained recognition for national or international excellence in an academic area relevant to the University; or made a significant contribution to the cultural, academic, educational, professional or economic arena.
The 2023 Honorary Fellows are (in order of presentation):
Helen Prosser, Director of Teaching and Learning at the National Centre for Learning Welsh
Tina Evans, 'Human on Wheels' inspirational blogger and motivational speaker, and television presenter
Ben Thompson, Short Film Programmer at Tribeca Festival in New York
Ann Griffith, Leader of Wales and the World at the 2022 National Eisteddfod
Professor Dato' Dr Rahmat Mohamad, Professor of Law at MARA Technological University in Malaysia
Kate O'Sullivan, veterinary surgeon for Mill Referrals, Director of Ystwyth Vets and British Small Animal Veterinary Association volunteer
Phil Thomas, veterinary surgeon, Director of Ystwyth Vets and Director of Iechyd Da
Ian Gwyn Hughes, Head of Public Relations at the Football Association of Wales and former BBC Wales football correspondent.