New study calls for a step change in how decision-makers value nature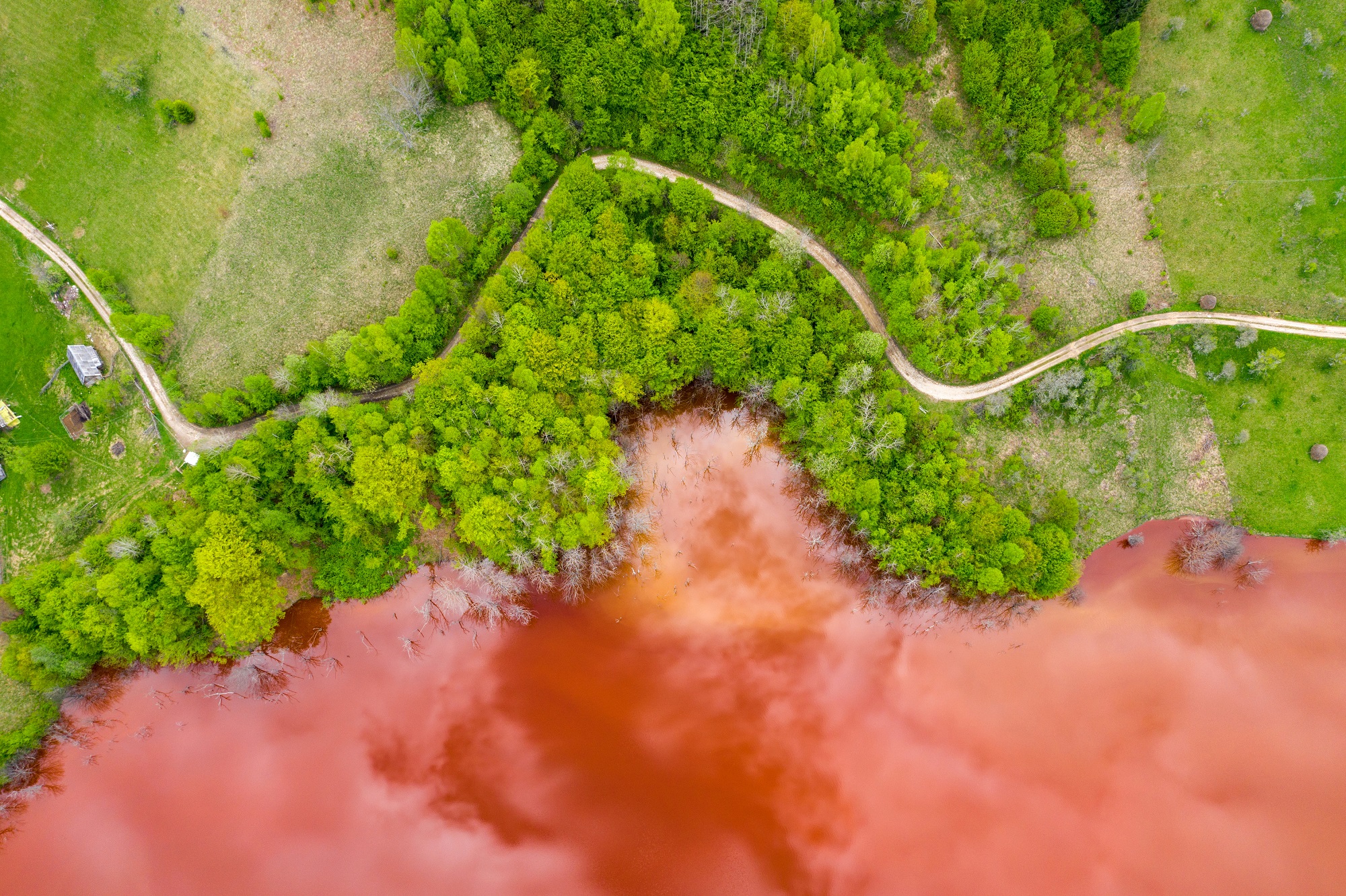 Aerial view of red copper mining waste.
The different ways in which nature contributes to people's social, cultural and spiritual well-being needs to be better reflected in key political and economic decisions, according to a new study published in the prestigious science journal Nature.
The study, co-authored by Mike Christie, Professor of Environmental and Ecological Economics at Aberystwyth University's Business School and his colleague Professor Jasper Kenter, says the value of the natural world extends far beyond the current emphasis on short-term profits and economic growth.
According to the study's international team of authors, market-based values of nature - such as those associated with intensively-produced food and other commodities - are often prioritised at the expense of the non-market values associated with nature's many other contributions to people, such as adapting to climate change or nurturing cultural identities.
At the same time, biodiversity conservation policies - such as the expansion of protected area networks - have also often prioritised narrow sets of nature's intrinsic values, frequently marginalising those values held by Indigenous peoples and local communities, who in many cases have been shown to protect biodiversity on their territories.
The paper argues that the undervaluation of nature is a fundamental cause of today's global environmental crisis and that the continued dominance of a narrow set of market-based values is unfit for the purpose of dealing with the biodiversity and climate emergencies.
It follows the publication in July 2022 of the Assessment Report on the Diverse Values and Valuation of Nature, approved by the 139 member states of the Intergovernmental Science-Policy Platform on Biodiversity and Ecosystem Services (IPBES).
Professor Mike Christie from Aberystwyth University, who was also co-chair of the IPBES report, said:
"If we wish to achieve a more just and sustainable society in the future, it is imperative that we depart from the predominant focus on short-term profits and economic growth. We need to rebalance how we consider nature in the decisions we make through recognising and accounting for the multiple ways people relate to and value the natural world."
The paper in Nature identifies four 'values-centred approaches' that could foster the necessary conditions for such a transformative change.
These include recognising the diversity of nature's values, embedding these diverse values in decision-making, reforming policies and stimulating institutional change, and shifting society-level norms and goals to support sustainability-aligned values across sectors.
Professor Unai Pascual from the Basque Centre for Climate Change (BC3) and the Basque Science Foundation, Ikerbasque, lead author of the study and also one of the co-chairs of the IPBES's Values Assessment report, said:
"A better understanding of how and why nature is (under)valued by private and public decision-makers is more urgent than ever, and while it is positive that global agreements like the Kunming-Montreal Global Biodiversity Framework (GBF) and the UN Sustainable Development Goals (SDGs) call for an inclusive and participatory process of incorporating nature's values into actions, predominant environmental and development policies still prioritise a narrow subset of market-values of nature."
The full study is available onNature's website­- Pascual et al. 2023. Diverse values of nature for sustainability. Nature. DOI: 10.1038/s41586-023-06406-9.