EH Carr Memorial Lecture 2023 - 'Thinking with the Enemy'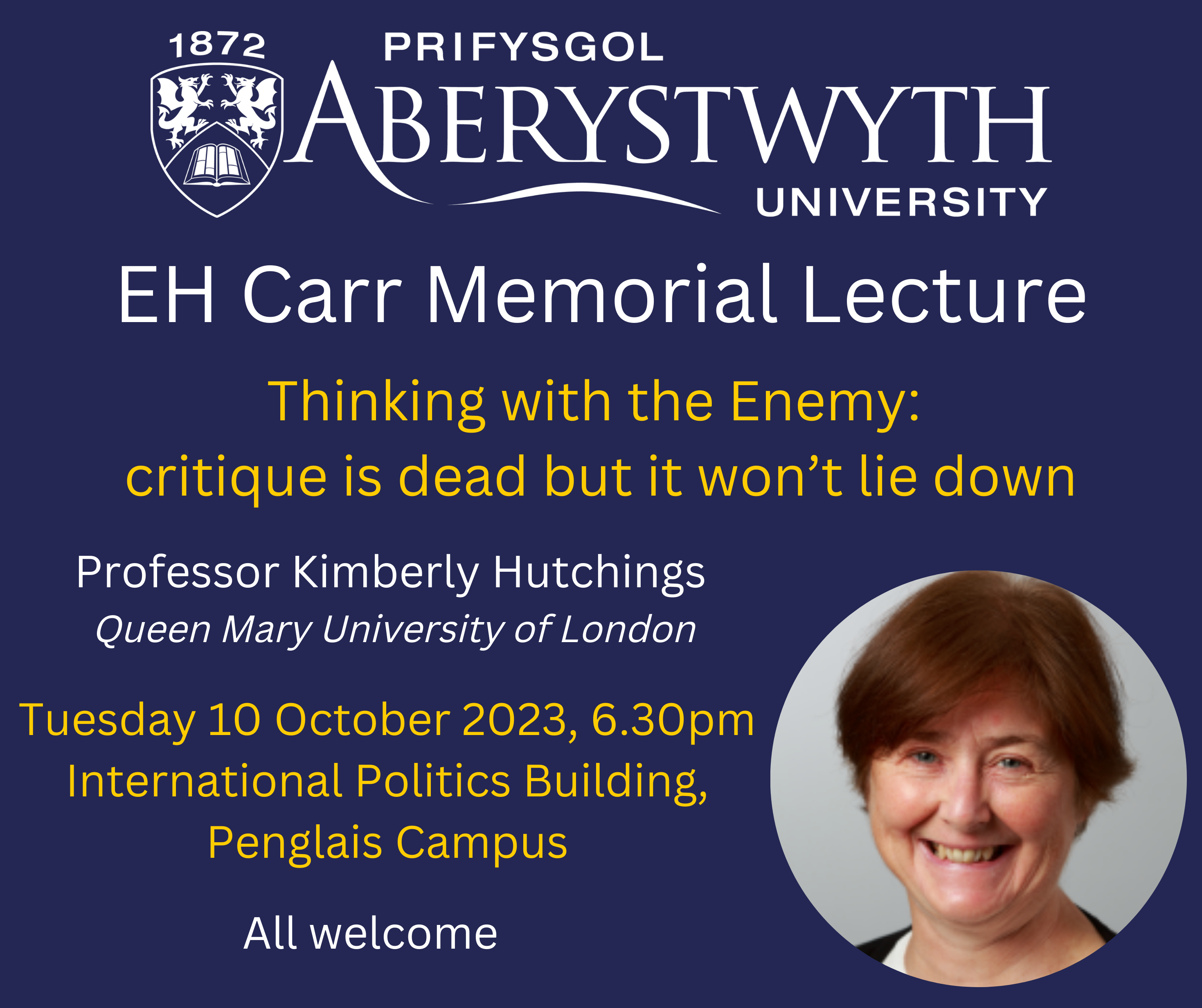 Leading scholar of international relations, Professor Kimberly Hutchings, will deliver the 2023 EH Carr Annual Memorial Lecture at 6.30pm on Tuesday 10 October at Aberystwyth University.
The EH Carr Memorial Lecture is now widely regarded as one of the most distinguished lecture series in the field of international politics.
The public lecture, 'Thinking with the Enemy: critique is dead but it won't lie down', considers the ways in which European colonialism still shapes our patterns of thought. Can perspectives from the Global South and indigenous thought, for example, provide fruitful responses to this predicament? The lecture addresses this complex question.  
Kimberly Hutchings is Professor of Politics and International Relations at Queen Mary University of London. She interrogates important contemporary questions in international politics on just war, violence, inequality, gender and decolonisation.
She has been recognised with multiple national and international prizes for her distinguished contributions to the study of international politics and social sciences, including the Sir Isaiah Berlin Prize for an outstanding lifetime professional contribution to Political Studies earlier this year.
Speaking of the upcoming lecture, Professor Mustapha Pasha, Director of Research in the International Politics Department, said:
"Professor Kimberly Hutchings is the preeminent thinker in the discipline, and this year's Carr lecture offers a fantastic opportunity to enrich our understanding of international relations."
The lecture is sponsored by the journal International Relations and its publisher Sage as well as the David Davies Memorial Institute (DDMI).
The public lecture, 'Thinking with the Enemy: critique is dead but it won't lie down', takes place at 6.30pm on Tuesday 10 October in the Main Hall of International Politics Building on Penglais Campus. The lecture is preceded by a welcome reception at 6pm.  All are welcome to attend.