40. Crawling to the COP26 United Nations Climate Change Conference
Miranda Whall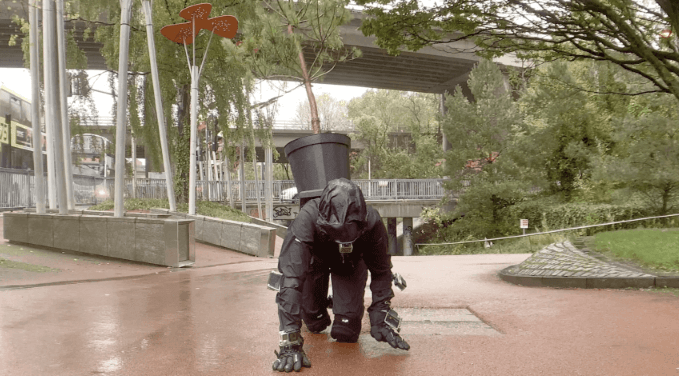 On Saturday 6th November 2021, I crawled with a 6 year old potted Scots Pine on my back through Glasgow City Centre.
Passers' by ignored, laughed, stared, cheered and filmed as the tree and I silently and determinedly lolloped our way through heavy rain and high winds to reach the Green Zone Conference Centre.
The intention of my heroic/tragic/comic slow and gentle art activism was an expression of my grief, my despair and my outrage with a world dominated by corporate and personal greed and negligence and an insistence that non – human nature, and in this case trees, be put at the centre of discussions on how to mitigate the climate emergency and ecological crisis.
Animals, plants, trees, air, earth and oceans should be, metaphorically, sitting at the discussion table with heads of government and delegates.
My hope was that crawling to the COP26 United Nations climate change conference carrying a tree, that was equal to my body size and weight, might inspire human beings to re- think and re- align their relationship to trees, seeing them not only as a resource to use and abuse but as an ally and a vital source of knowledge.
My performance work gently suggests that we all, literally, get down from our human centric, two - legged, dominant and hierarchical position and start recognising our non-human vegetal others as equals, and as sentient beings with a voice - that we crucially need to listen to if we are to find a way out of our human made catastrophe.
ClimateCultures – creative conversations for the Anthropocene
Further Information
Miranda Whall
Academic Department